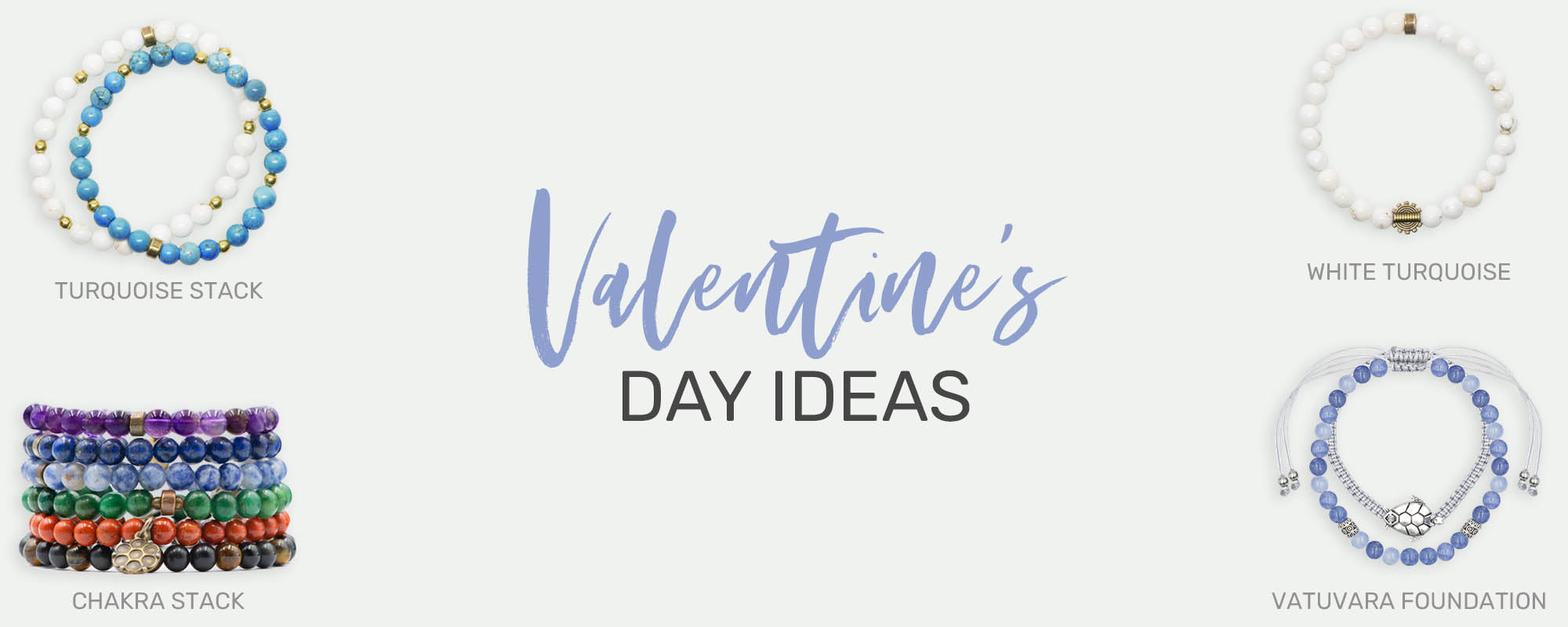 Posted on
---
The season of giving is barely behind us and we're already looking ahead to one of the most celebrated "gifting days" of the year – Valentine's Day!
But don't panic, we've got your back. We've pre-selected some of our best gifts for lovers – men and women alike – and with colours and causes like these, what's not to love?!
This is our Valentine's Day gift guide – a few ideas for beaded jewellery and charity bracelets to be given as gifts to those you love the most. 
This stone is for strength and self-acceptance. It is one of the most powerful in the gemstone family and its white and grey colouration, paired with a brass tribal charm, make it one of our most loved for men and women. Its natural colouration varies, so some are more grey-veined and others are pure white. It comes in three sizes – S, M, and L – and it is perfect worn on its own as a statement piece or stacked with a bunch of other bracelets. 
Sticking with the all-powerful Turquoise stone, this pair of bracelets showcases the classic blue and white Turquoise variations. Each string of beads is interspersed with little brass stoppers, giving these bracelets a bit of rustic glam. They look amazing together and each one brings a special essence – blue Turquoise symbolises friendship and stimulates love, while white Turquoise is a purifier. 
This six-string stack is the ultimate offering. It represents the wheel of energy in the body, each bracelet designed to represent and communicate with a certain chakra. From head to toe, this colourful, powerful stack of semi-precious gems is a joy to give or receive. Sending this to someone special is a gesture of love and care and it can only be given with the purest of intentions. What a treat!
This Aquamarine, adjustable charity bracelet is a firm favourite. The colour of this stone is beautiful lilac, beaded along with silver charms, and it is paired with a silver turtle bracelet on a knotted string. It is all about creating awareness and supporting the restoration of Fijian coral reefs and marine biodiversity. When you buy this bracelet for a loved one, 50% of what you pay is donated to the Vatuvara Foundation – so you are directly playing a role in marine conservation. 
There's so much more to choose from and we're sure you'll find the perfect Valentine's Day jewellery gift for a nature loving wildlife warrior.
Take a browse and thank you for supporting a small business and sustainably sourced jewellery that makes a difference in conservation!
Written by Chloe Cooper
Don't miss out on future posts so be sure to sign up for our Wild Tribe (scroll below to sign up).
New products and discounts first!
RETAIL STUDIO
The Farm House, R527
Hoedspruit LP South Africa
. . . . . . . . .
HEAD OFFICE
65/2 Arbor Ave, Robina
QLD 4226 Australia
. . . . . . . . .
contact@wildinafrica.store