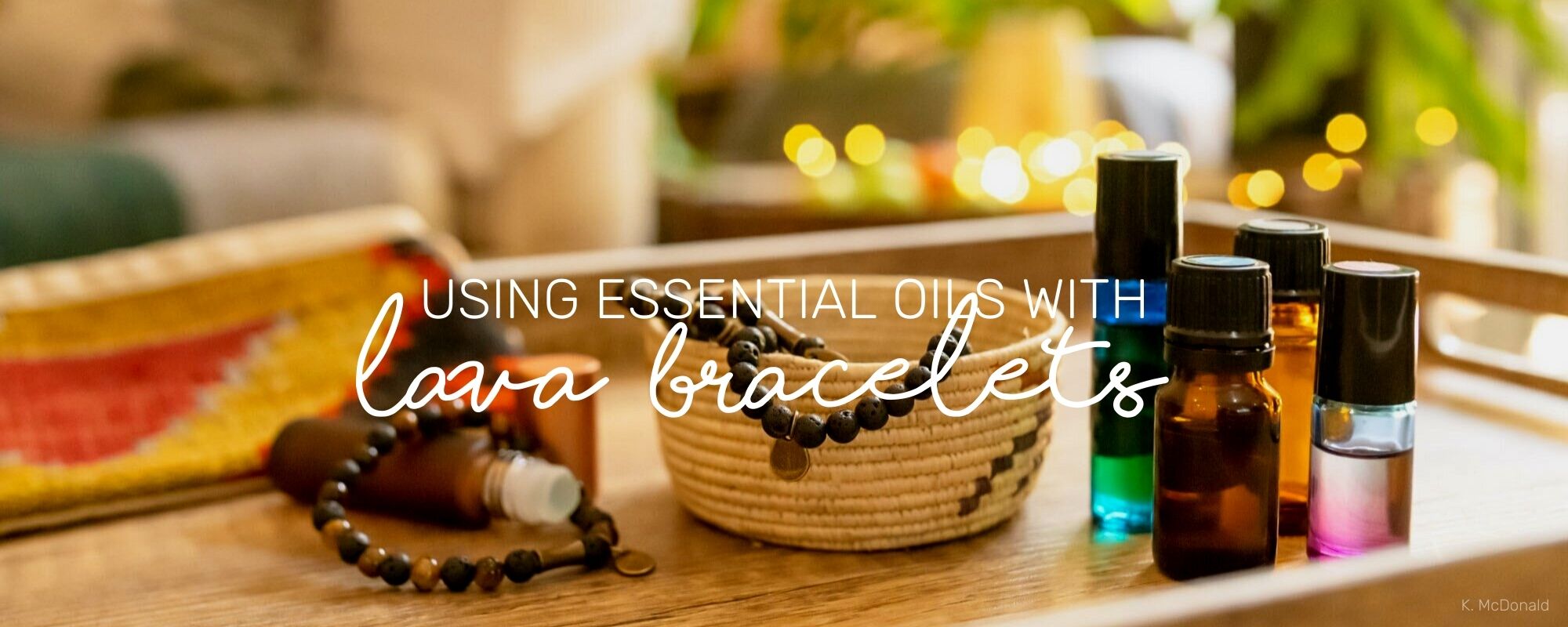 Posted on
---
"In addition to making gorgeous bracelets, lava beads are naturally porous and when used with essential oils, lets you take your favourite scent everywhere while enjoying the benefits of aromatherapy."
HOW TO TURN YOUR LAVA BEADS BRACELET INTO A DIFFUSER
It's super simple! Add 1 or 2 drops of your favourite essential oil on a couple of stones of your Lava bracelet and let the magic happen… The natural porous consistency of the lava stone captures and absorbs the essential oil to diffuse the scent effectively. Wait for a few minutes for the beads to dry and put in on! Depending on the characteristics of the essential oil you use, the scent can last for a couple of days and you can reapply your oils as needed.
USE THE BENEFIT OF AROMATHERAPY ON THE GO
Apart for their gorgeous smell, essential oils are also known for their positive physical and emotional effects. From relaxing to giving you an energy kick, you can find your own favorite combinations by trying different oils. Because at Wild In Africa, we love our coffee (a little bit) too much, we thought that we would use our lava bracelet as an energy booster to stay focused and avoid our daily overconsumption of caffeine! A blend of citrus and mint essential oils, which are recognized for properties that boost energy and motivation, go perfectly on our Lava bracelet to get through the week.
Citrus oils like Wild Orange provide an energising aroma and help uplift mood and increase feelings of energy. Mix with invigorating Peppermint oil, which works to stimulate concentration and reduce fatigue, this combination improves mental clarity and raises energy levels. Be aware of your skin sensitivity, and add dilution, such as fractionated coconut oil as needed or avoid using photosensitive essential oils (especially citrus) directly on your skin when spending a lot of time in the sun.
Now you are ready to enhance your Lava bracelet and #WearYourKarma
New products and discounts first!
RETAIL STUDIO
The Farm House, R527
Hoedspruit LP South Africa
. . . . . . . . .
HEAD OFFICE
65/2 Arbor Ave, Robina
QLD 4226 Australia
. . . . . . . . .
contact@wildinafrica.store