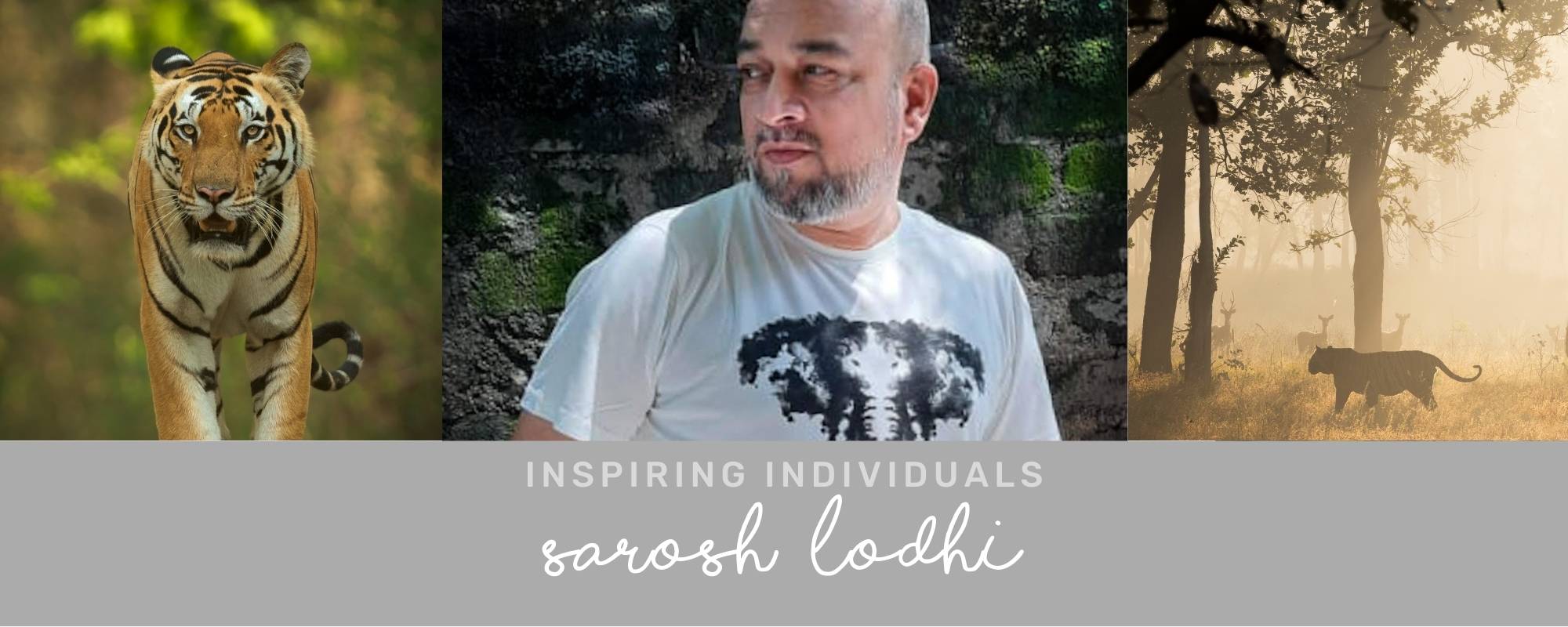 Posted on
---
Sarosh Lodhi shares, through his photographs, the deep majesty of the central Indian forests - a coveted habitat for some of the planet's most alluring mammals.
His career behind the lens, which began more than two decades ago, has morphed into a pursuit of conservation awareness and habitat preservation.
A Nikon influencer with celebrated wildlife images, Sarosh knows how to work with the forest's complex, dappled light and capture the secretive animals in the context of their environment.
The result is beautiful, but more than we admire his camera work, we appreciate Sarosh's dedication to spreading the message of environmental awareness. 
Please tell us about yourself.
I am a self taught enviro- friendly wildlife photographer for more than 22 years. I am based out of Central India, which holds a good number of tiger reserves and sanctuaries.
My works have been published by many national and international dailies. I am a Brand Ambassador for Wacom Tablets and Influencer for Nikon India.
In 2015 I co-founded CLaW ( Conservation Lenses and Wildlife), a Facebook group of like minded people that focuses on wildlife photography and helping in conservation measures.
Can you tell us a little bit about your professional background?
I started wildlife photography by chance, way back in 1998 using the conventional SLRs.
It has been a long journey since then, covering various parks and upgrading to newer technologies regularly.
My area of interest remains photographing animals in the most creative ways that hover on the principals of fine art.
My works and opinion about wildlife conservation issues are regularly covered by all forms of media.
What or who in your life influenced you to pursue this route?
My friend Late Mr. Bulleshah Tuli, who was constructing a resort in Kanha back then, convinced me to come along with him. That's how it all started.
Later as I kept visiting parks, he motivated me to go in for a camera and kept encouraging me at regular intervals.
Currently, what is the inspiration that keeps you motivated and passionate about your work?
Accolades and praises earned across various media - social, print and digital, keep me motivated.
What is the most impactful aspect of your work?
To be able to create awareness about the mute friends of the wild, to be able to serve the locals- who are the real protectors of our forests, and to be able to do my bit towards conservation.
Where is your favorite place you've traveled and why?
As mentioned earlier, Central India is surrounded by forests on all sides. The closest park is about 30 miles from where I stay. These are the places I mostly visit because of the proximity.
In India, I love travelling to Kanha, Kabini, Bandhavgarh and Corbett.
Masai Mara is a favourite destination abroad.
Tell us about your strangest experience while traveling?
Not really strange but one of the incidents that I would like to share is :
I chanced upon being on an elephant back in one of the safaris in central India, long ago. We were in a trench, almost at the same level as the tiger that we went to click. The tiger was in a bad mood, it suddenly got up and came charging towards me, stopping only a couple of feet away.
Tigers usually don't attack and like to scare away by mock charge, thankfully nothing untoward happened, but the incident remains deeply etched in my mind. 
Why do you feel that wildlife conservation is important?
Wildlife is reduced to the task of delaying the inevitable.
The problems are many, massive industrialization, shrinking habitats, man-animal conflicts, poaching, linear development projects through forests, etc. Most of these have irreversible effects.
Humans need to sacrifice and let go of a few things for the betterment of nature, for it to heal, and it has to be done before it's too late.
It's time everyone contributed their bit of conservation, it could be as small as shunning use of plastic or cycling your way to work or helping locals around forests, etc.
What is your favorite Wild in Africa bracelet style and why?
The idea of drawing people closer to the idea of conservation through proceeds from sales of well crafted jewellery, has appealed to me a lot. The bracelets are themed on various elements of nature, hence increasing awareness in a subtle way. My favourite designs are
The Earth Stack - as it's elegant , attractive and made with a great combination of stones, like the Dragon's glass, basalt and tiger's eye metamorphic beads.
The Big Five Stack - For it represents the big 5 of African wildlife, something that the photographer in me would like to wear on my game drives. 
The Black and White Stack - for the simplicity in design.
Could you share the story behind your favourite photograph you've taken?
Over the last 23 years, there have been many.
One of them could easily be the one that I made in Satpuda Tiger Reserve in India, where a tiger cub curiously sat on the edge of a cliff which was once a stone mine right in the middle of the forest.
Do you have a favorite place or subject to photograph
Since I live in central India, which is a wildlife rich region, there are many places to visit and photograph animals. There are parks right from 25 miles onwards from my place. I often visit these parks for high tiger sightings, hence making it the most photographed species in my collection.
I also love travelling to Africa for the photography opportunities one gets there.
Are there any animals you feel especially passionate about?
I feel for all of flora and fauna- cause our existence totally depends on them rather than the contrary belief. Though various groups and organisations, I have been vocal in raising concern for animals or forests in peril 
Can you share your future plans and hopes for yourself?
One we are free from the pandemic, I wish to travel extensively to all the locations that I have been planning for, it consists of domestic as well as international travel.
I also want to be back in Africa for a longer time to create some artistic images, something which has been due in my wishlist.
New products and discounts first!
RETAIL STUDIO
The Farm House, R527
Hoedspruit LP South Africa
. . . . . . . . .
HEAD OFFICE
65/2 Arbor Ave, Robina
QLD 4226 Australia
. . . . . . . . .
contact@wildinafrica.store