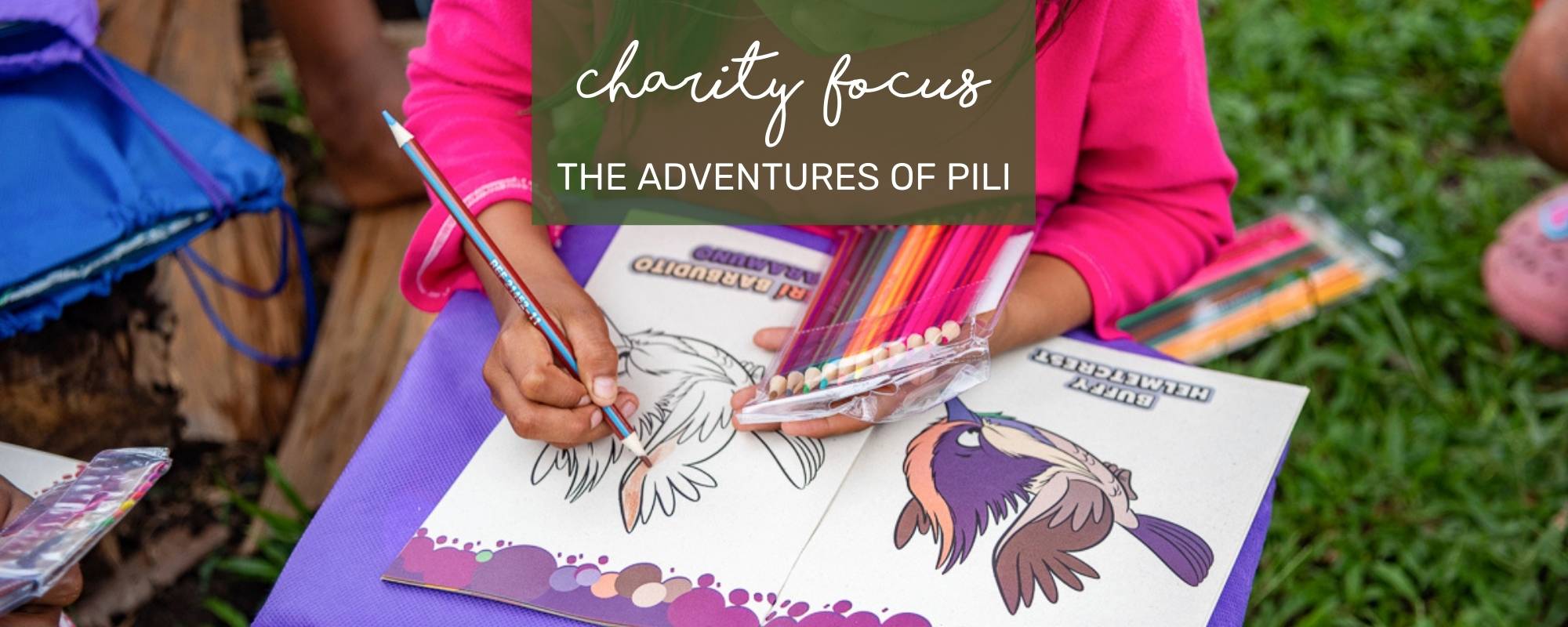 Posted on
---
Breaking Boundaries Through Books
Wild In Africa is extremely excited to present one of our newest partner charities, The Adventures of Pili, an organization that is breaking cultural boundaries, planting trees, and helping children learn new languages.
The Adventures of Pili funds the creation and production of multilingual books, as well as the delivery of books to children in need around the globe.
Additionally, Adventures of Pili offers the opportunity to become a "Tree Ambassador," by contributing funds to plant trees in areas suffering from deforestation.
Although the organization works on a global level, Latin America and South America are primary areas of focus.
Our PR Consultant, Taylor, had the chance to interview Kike Calvo, the founder of The Adventures of Pili, to learn more about how this unique movement came to be.
"Continue on to learn about the beginnings of The Adventures of Pili, an inspiring story that illustrates the power of a father's love."
Kike Calvo, a lifelong photographer and author, has an extensive background that tells the story of his prowess as a professional. However, his most important project today, possibly the most important of his entire life, is a line of children's books.
Children's books weren't on Kike's radar until 2015, when his daughter was born. He describes this transcendent experience as one that permanently changed the trajectory of his life.
 "Since the birth of my daughter, which was in 2015, there was something that transformed inside my heart and my brain. I became a different person right away. I realized the influence of fathers and teachers and mothers and the supporting team around the individual. So, I decided to start writing books to inspire children." -Kike
As his daughter grew, Kike began to write books that captured the essence of lessons he wanted to teach her. Those lessons began with general lessons of kindness and generosity, but cultural appreciation quickly became a key focus.
Kike, a strong believer in the benefits of being multilingual, cited that are bilingual speakers are less likely to develop dementia and Alzheimer's later in life, in addition to a variety of other mental health benefits. From this knowledge, Kike's family focused on integrating different languages into every aspect of his daughter's life - from travel to speaking in different languages to each other at home. Now, at only five years old, Kike's daughter is able to speak Chinese, French, English and Spanish.
Are children the key to a brighter future?
Although Kike holds great hope for the entirety of the human race, he feels specifically that children are the way forward.
Kike's books, which are illustrated by ….. Are produced in a variety of languages and shipped all over the world - for free! Not only is this team producing amazing content in a variety of languages, but they are also providing books to children in need all over the world.
When it comes down to it, teaching children different languages allows them to break the cultural boundaries that keep us apart. From there, children, who will eventually run the world, can connect and work together to fight issues as friends, rather than trying to tackle global problems alone.
"100%, because I believe we are the result of our own life experiences. And that's why I feel it's so important to get an education with an open mind in terms of cultures and ideas and backgrounds because every single household is different." - Kike
Although they are a relatively new organization, Kike and his team at Adventures of Pili are gearing up to make a fantastic impact in the lives of children and our world.
With new initiatives, books and ideas popping up all the time, there's no telling how much good they'll be able to do.
If you're interested in hearing more about the next chapter for the Adventures of Pili, keep a lookout for our next update!
The Adventures of Pili Bracelet 
You can also get involved and show your support to Adventures of Pili by purchasing a Wild In Africa The Adventures of Pili bracelet.
With each purchase of The Adventures of Pili charity bracelets a children's book will be donated to a child in remote communities with a special emphasis in Latin America AND a tree will be planted in Colombia in areas in need of reforestation, with local emblematic species, such as Palma de Cera, Colombia's national tree.
50% of the purchase price is donated directly to The Adventures of Pili!
Written by Taylor Plate
Don't miss out on future posts so be sure to sign up for our Wild Tribe (scroll below to sign up).
New products and discounts first!
RETAIL STUDIO
The Farm House, R527
Hoedspruit LP South Africa
. . . . . . . . .
HEAD OFFICE
65/2 Arbor Ave, Robina
QLD 4226 Australia
. . . . . . . . .
contact@wildinafrica.store