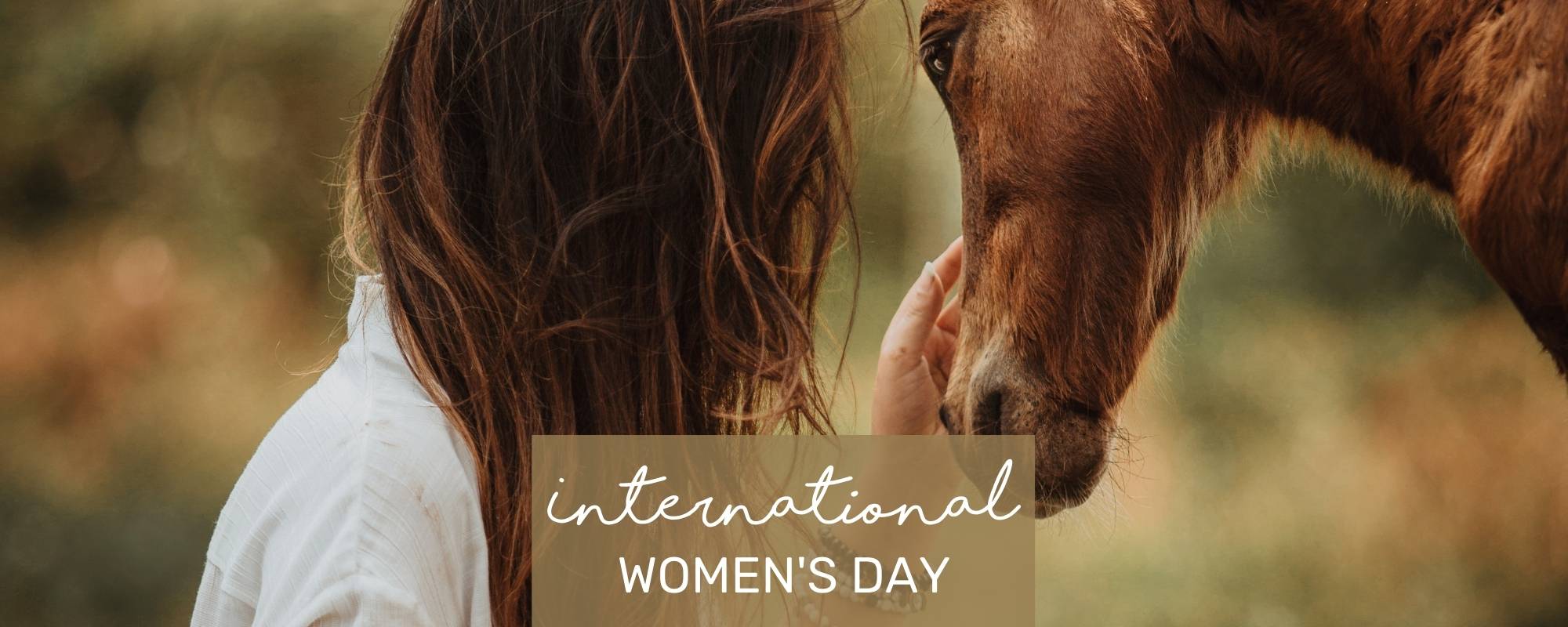 Posted on
---
Did you know that most of the wildlife charities we support are run by women? 
Behind the rescue projects and conservation innovations are passionate, powerful and motivated women. These are people who are dedicating their lives to understanding and protecting endangered species, preventing suffering, and paving the way to a brighter future for wildlife.
International Women's Day is the perfect opportunity to celebrate these women.
We are so proud to be associated with the likes of Zoha, Anna, Kathy and Misha, Carrie, Lucy, Lorinda, and Wendy that we wanted to use this day's spotlight to shine a light on these ladies and the amazing work they do.
Your support directly contributes to the important and amazing work each of them do, and you're playing a role in fuelling female-run projects in the field of conservation. 
Today we'd like to honour the women from six of our affiliated charities who are working hard to protect endangered species, rehabilitate injured animals, and conceptualise solutions for human-wildlife conflict and habitat loss. Happy Women's Day!
Zoha Jung founded The Backwater Sanctuary three years ago in the south of India when her love and compassion for horses in particular motivated her to help the ones in need. Abused and neglected horses and donkeys find a place to live their lives and retire in their old age at Zoha's family ranch which overlooks Nagarhole National Park.
Over three short years, Zoha has taken in and saved the lives of more than 40 equines. Dogs, goats, and other animals also roam around safely and loved thanks to her giant heart and the compassion of those who work alongside her. The success stories are uplifting and bring us an incredible amount of joy and pride in our friendship with Zoha and support of The Backwater Sanctuary.
Purchase our black onyx beaded charity bracelet with horseshoe charm and 50% of what you pay will be donated to The Backwater Sanctuary.
Anna Mussi is the orphanage manager at Rhino Revolution located in South Africa's Greater Kruger region. She is also a member of the mounted patrol, which gives ex-racehorses purposeful work in anti-poaching. Anna's passion for horses and wildlife brought her to South Africa from her homeland in the UK, and over 10 years later, she's more immersed in the wildlife world than ever before.
She is an indispensable member of the Rhino Revolution team, having helped care for and rehabilitate orphaned rhino calves and critically endangered pangolins, and facilitating life-changing wildlife conservation experiences for the youth in local communities. She also regularly volunteers as a foster mom to sick puppies and helps treat neglected and abused dogs through Hoedspruit Animal Outreach (HALO).
Purchase our brown snowflake jasper charity bracelet with pangolin charm and 50% of what you pay will be donated to Rhino Revolution's Pangolin Preservation programme. 
Misha Jannard and Katy Miller are two women making waves in the field of marine conservation in the Northern Lau islands off Fiji in the Pacific Ocean. The incredible, delicate ocean environment is in safer hands thanks to the sustainable tourism and conservation projects of the Vatuvara Foundation, founded by Misha and directed by Katy.
In 2017, Misha channelled her passion for conserving the magnificent and unique reef systems of south Fiji by founding the Vatuvara Foundation as a project of the Vatuvara Private Islands. Katy, a scientist, came on board to direct the non-profit organisation's work with the local island communities to foster a sustainable relationship between the island's wildlife and its people. From turtle conservation to scientific research, anti-poaching, and environmental education, the women behind the Vatuvara Foundation are proud ocean ambassadors. 
Purchase our aquamarine beaded charity bracelet with turtle charm and 50% of what you pay will be donated to the Vatuvara Foundation.
Carrie Hickman is a postgraduate student and researcher at the APNR Ground-Hornbill Project, which has been aiding breeding success in endangered southern ground-hornbills for over 20 years. Lucy Kemp is a conservation biologist managing the Mabula Project, which has helped hand-raise and rehabilitate ground-hornbill chicks since 2009.
Together, these two women working in wildlife science are helping the endangered "thunderbirds" breed successfully and repopulate their South African territory where more than two thirds of their population have dwindled due to habitat loss and human-wildlife conflict. These two organisations work hand in hand to achieve conservation success, and both women bring a coordinated and professional work ethic fuelled by passion and compassion for these traditionally and culturally significant birds of southern Africa. 
Purchase our obsidian and red jasper beaded charity bracelet with ground-hornbill charm and 50% of what you pay will be donated to these two ground-hornbill conservation projects. 
Dr Lorinda Hern is the co-founder of Rhino Rescue Project and has qualifications in the fields of strategic marketing and economics. Her commitment to protecting and conserving rhinos is driven by passion and determination to save the species after being devastated by a shock poaching incident on her family farm over 10 years ago.
Her concern for the future of rhinos led her to found Rhino Rescue Project alongside in 2011 and since then Lorinda has channelled her energy into creating awareness and advocating for the devaluation of rhino horn. She's an incredible force for the cause and a powerful woman at the helm of anti-poaching strategy. 
Purchase our variscite beaded charity bracelet with rhino charm and 50% of what you pay will be donated to Rhino Rescue Project.
Wendy Hapgood is the co-founder and director of Wild Tomorrow Fund – one of our first charity collaborations. Her vision for the organisation she started with her husband was about facilitating a mutually beneficial relationship between people who live alongside protected areas and the wildlife that resides within those natural areas. The insight into the issues of poaching and habitat encroachment she gained during a volunteering trip she took in 2015 encouraged her to start Wild Tomorrow Fund. Her connection with people and her desire to help those who lived without basic resources led to a series of fundraising projects, which ultimately led to the success of the organisation today. The goal is to rewild and conserve natural habitats, while creating opportunities for people – the custodians – to benefit from thriving wildlife. 
Purchase our tiger's eye beaded charity bracelet with Africa charm and 50% of what you pay will be donated to Wild Tomorrow Fund.
We're so proud to partner our own female-founded business with organisations that are driven by strong women in the field of conservation.
In a rough and rugged environment often dominated by men, it's awesome to see women taking the lead and International Women's Day is the perfect opportunity to celebrate that fact!
Who are the women that inspire you most?

 
Written by Chloe Cooper
Don't miss out on future posts so be sure to sign up for our Wild Tribe (scroll below to sign up).
New products and discounts first!
RETAIL STUDIO
The Farm House, R527
Hoedspruit LP South Africa
. . . . . . . . .
HEAD OFFICE
65/2 Arbor Ave, Robina
QLD 4226 Australia
. . . . . . . . .
contact@wildinafrica.store