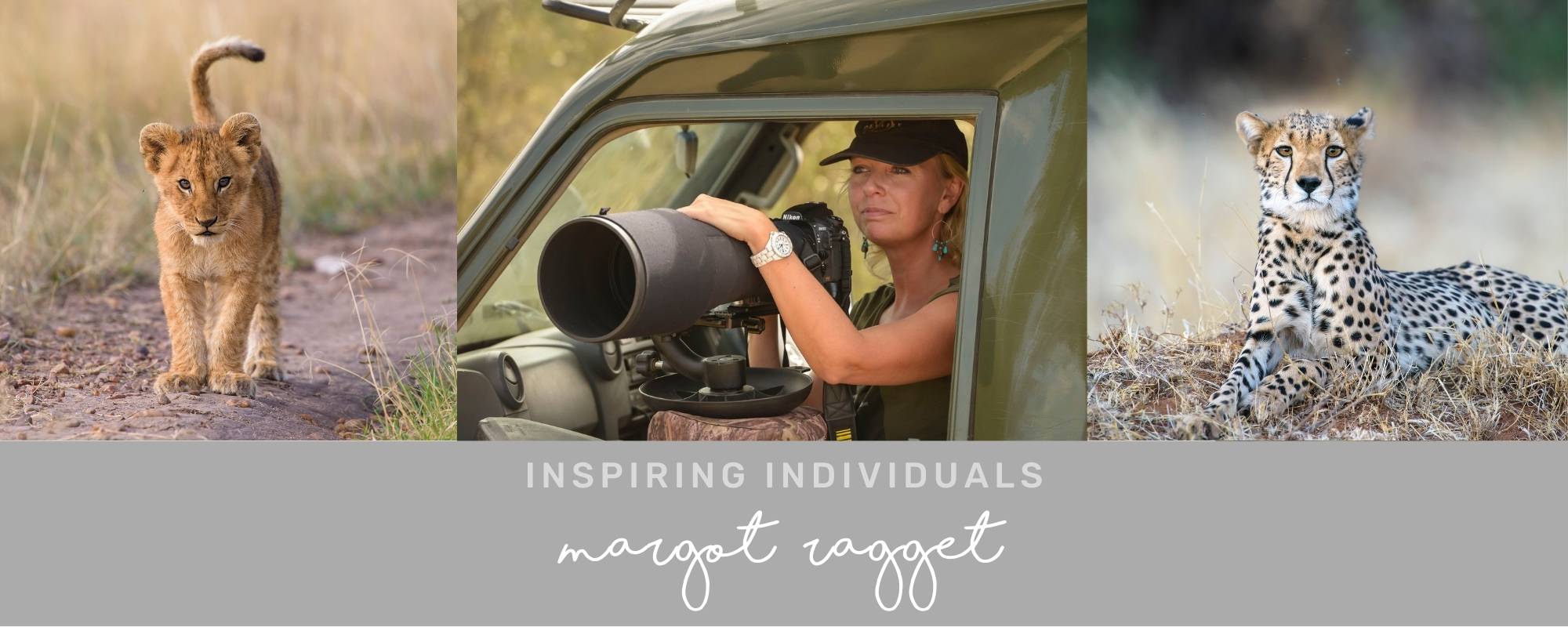 Posted on
---
Margot Ragget is a PR specialist turned wildlife photographer and the producer of the inspirational Remembering Wildlife campaign that has reached the homes of celebrities such as Chris Martin, Dr Jane Goodall, and former James Bond himself, Pierce Brosnan.
​It all began with a fateful visit to the Masai Mara, which ignited a fiery passion within her bones, and today her life's work is not only about selling her phenomenal wildlife photography, but raising and channelling funds into initiatives that combat human-wildlife conflict.
As the founder and producer of Remembering Wildlife, Margot is a shining example of how one impactful experience can change the course of one's life.
​We are in awe of the work she puts into making a difference and are honoured to have her wear our jewellery.

Tell us about yourself.
I am a former PR, turned wildlife photographer, turned conservationist, living in London. Nowadays most of my time is spent producing the Remembering Wildlife collaborative fundraising book series. 
Can you tell us a little bit about your professional background?
For twenty years I worked in public relations in London but I became disillusioned with that and in 2010 and left to pursue a career in wildlife photography.
Then in 2014, I encountered a poached elephant, which upset me so much I decided I had to take action and the idea for the first book in the Remembering Wildlife series, Remembering Elephants was born. The idea was to approach lots of wildlife photographers to donate an image each for a book to raise awareness of, and funds to fight, poaching.
It was so well received and successful that it became a series, and we've now published four (Remembering Elephants, Remembering Rhinos, Remembering Great Apes and Remembering Lions) with a fifth, Remembering Cheetahs, out this October. 
What or who in your life influenced you to pursue this route?
My biggest mentor is wildlife photographer (and former Wildlife Photographer of the Year) Angie Scott, who I first met in 2010. She and her husband Jonathan have dedicated much of their lives and their work, to supporting wildlife conservation and they inspired me by showing me what a difference can be made.

Currently, what is the inspiration that keeps you motivated and passionate about your work?
The plight facing our wildlife fills me with both dismay - and determination - every day.
As I research each new book in the Remembering Wildlife series (Remembering Cheetahs will be the next, out in October 2020) and learn how much trouble they are in, it motivates me more than ever to keep going.
So far the series has raised more than £630,000 GBP / $830,000 USD for more than 40 projects across 23 countries and the fulfilment I get when we are able to make a much-needed donation is immense. 
What is the most impactful aspect of your work?
I think it has to be the funds which have been raised by the Remembering Wildlife book series. We've funded everything from bee hive fences (which prevent conflict between farmers and elephants) to anti-poaching vehicles, flashing "lion" lights for bomas (again to prevent conflict between farmers and in that case, lions) to numerous collars to track different species.
Seeing our funds put into action is always a great reward for all the hard work.
Where is your favorite place you've traveled and why?
For the sense of being surrounded by more elephants than anywhere else I have been, Amboseli in Kenya is hard to beat.
To see hundreds of elephants in one place as you do there, takes you back to a time when most of Africa must have been like that, magical and heartbreaking at the same time. 
Tell us about your strangest experience while traveling?
The most impactful experience was seeing the poached elephant which inspired me to start the Remembering Wildlife series.
We were woken early one morning in a camp I was staying in, in northern Kenya by the sound of hyenas going crazy. At first light we went to investigate what had happened and found a young elephant who had been killed by a poisoned arrow. His tiny tusks were still there and it was explained to me that it probably took many days of pain for the poison to kill him, during which time he managed to lose the poachers.
It seemed such a pointless death, I was left with an anger I had to channel.
Why do you feel that wildlife conservation is important?
We are literally at a tipping point for the future of most species of wildlife.
Without action, at the current rate of decline, within a couple of decades most will have disappeared, a terrible indictment on the impact of humanity.
I therefore think it is beholden on those photographers who earn their livings from photographing wildlife to give back and try and prevent that decline.
If we don't take action now, it will be too late. 

What is your favorite Wild in Africa bracelet style and why?
The blue stack you sent me is beautiful!
Could you share the story behind your favourite photograph you've taken?
This image is not the most beautiful I've ever taken, but one which means a lot to me.
It is of a semi-blind elephant in Mana Pools in Zimbabwe, a place where you can walk on foot among the elephants if you are accompanied by an experienced guide.
This particular elephant, who is known as Impy, was so gentle, and came so close, I could feel his rumble deep inside me. When it was explained to me that if he wandered into nearby hunting concessions, he was likely to be shot by a trophy hunter, I was deeply shocked and upset.
Having been around them on foot all his life, he trusted people so much and was so gentle. I resolved there and then to fundraise for a collar to protect him (hunters are far less likely to shoot a collared research elephant) and that was eventually deployed on him.
Our guide there, Nick Murray, who did the collaring, still sends me pictures of Impy from time to time and I feel great joy knowing he is still out there. 
Do you have a favorite place or subject to photograph?
The 'wild' place I've spent more time in than any other is Kenya's Maasai Mara, it is just magical.
Every day there, so many stories unfold, from the life and death of the migration, to new cubs and whether they might survive to adulthood.
It is a soap opera to which I am addicted!

Are there any animals you feel especially passionate about?
I started the Remembering Wildlife series with elephants and I have to say, if I could only spend one more day watching any animal, it would be baby elephants.
I admire their society, their manners, their joy and their peace so much that I feel almost a spiritual connection with them.
Can you share your future plans and hopes for yourself?
At the moment, all of my efforts are focused on the launch of Remembering Cheetahs, which is out on 12th October.
I pour so much of myself into each launch I have very little time to think about what will come after that until it is done!
I do hope the book series however will be a legacy that continues to sell and raise funds for wildlife for many years to come. 
Don't miss out on future posts so be sure to sign up for our Wild Tribe (scroll below to sign up).
New products and discounts first!
RETAIL STUDIO
The Farm House, R527
Hoedspruit LP South Africa
. . . . . . . . .
HEAD OFFICE
65/2 Arbor Ave, Robina
QLD 4226 Australia
. . . . . . . . .
contact@wildinafrica.store