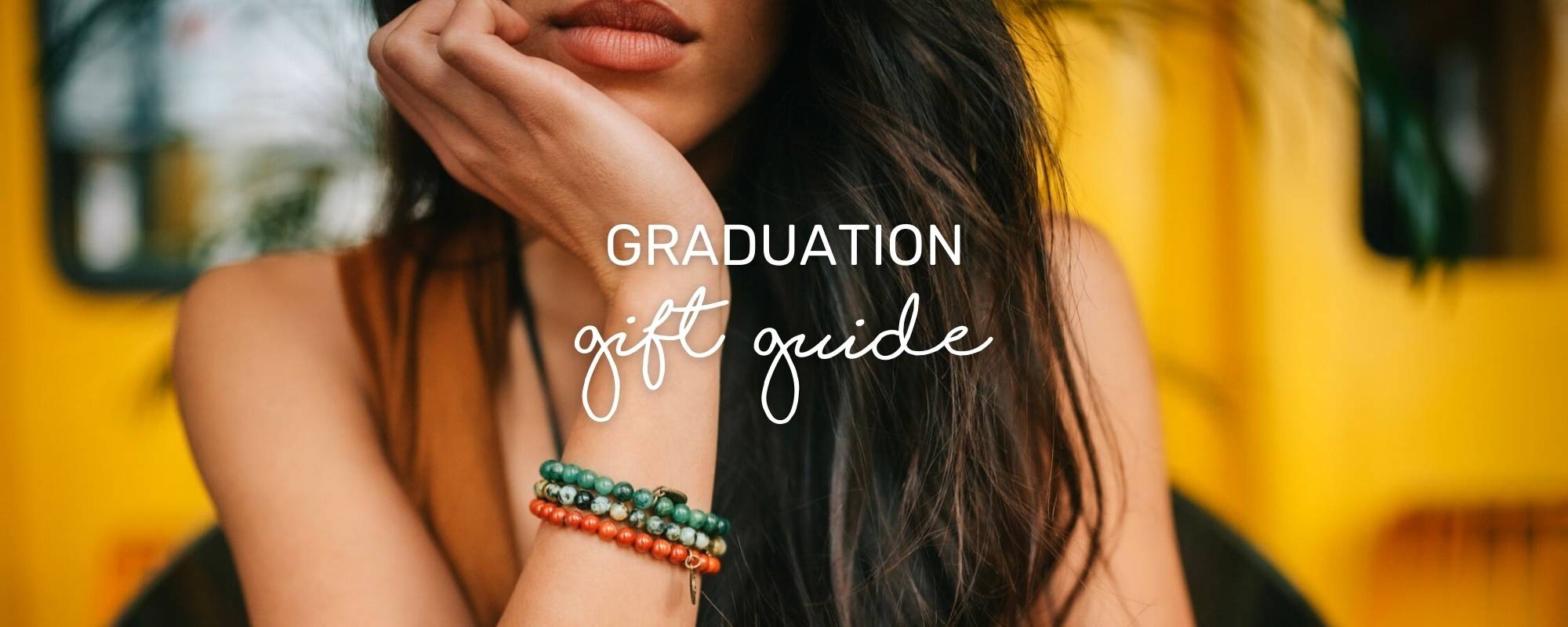 Posted on
---
Go on and Spoil a 2021 Graduate!
Let's hear it for the people who motivated themselves enough to push through school in the midst of an ongoing pandemic! 
Such a big portion of a College experience is the community, so the graduates of 2021 deserve special recognition for making it without spending time with their peers, in their classrooms, in their residences, and at social gatherings.
So, if you've made it to graduation, the chances are you've pushed through some tough times and have managed to achieve the results during an extraordinarily and unexpectedly difficult time. We salute you! 
If you're supporting friends or siblings who are graduating, and you'd like to send a meaningful gift from afar, we've got some ideas… 
Our gift guide that gives back – charity bracelet suggestions
Our beaded charity bracelets are gifts that give back, and what better way to show love and support for your friends than by showing that you love and support the causes they care about.
Animal lovers, environmental advocates and conservation champions wear our beaded jewellery that is sustainably sourced, made of natural materials, and gives back to charity. 
If you know a graduate who is passionate about wildlife, consider getting them a gift that directly supports anti-poaching in Africa – like our Nkombe Rhino bracelet.
Or maybe they are more of a beach bum and might like their jewellery to help rebuild and protect coral reefs in the Pacific – like our turtle bracelet for the Vatuvara Foundation. 
Maybe you're buying for someone who would be proud to support a horse rescue and rehabilitation sanctuary in India – like the Backwater Sanctuary. 
We give 50% of the purchase price for any of our charity bracelets directly to their linked organisations, which is our way of showing gratitude to the hard working people involved and it's a way for you to help contribute essential funds to assist the work on the ground. 
Stacks of love and support – jewellery stack suggestions
Some of our most popular gifts are bracelet stacks. Founder, Shannon Wild, personally designed all the styles and bead & pendant combinations, drawing from her own passion for mixing and matching. Our shop is now stocked with a bunch of different stacks, thoughtfully put together according to their colours, natural properties, and origins. These are some of our top picks for Graduates – collections of semi-precious stones to wear and celebrate this significant milestone in life.
Black and White Stack – popular among men and women, this stack of three bracelets is a monochromatic combination of white turquoise and Indonesian lava stone with brass accents. 
Blue Bead Bracelet Stack – a beautiful trio of blue and purple stones, this stack is full of power from the healing properties of Amethyst, Jasper, and Lapis Lazuli. 
Down to Earth Stack – a crowd pleaser and one of our original stacks, this three-strand collection has some organic colours and African roots, incorporating African Jade, African Turquoise and Red Jasper. 
The best part of our gift guide is you get to give a beautiful piece of jewellery that represents something important to someone you care about. It's one way to #WearYourKarma and remind you of your heartfelt donation.  
Written by Chloe Cooper
Don't miss out on future posts so be sure to sign up for our Wild Tribe (scroll below to sign up).
New products and discounts first!
RETAIL STUDIO
The Farm House, R527
Hoedspruit LP South Africa
. . . . . . . . .
HEAD OFFICE
65/2 Arbor Ave, Robina
QLD 4226 Australia
. . . . . . . . .
contact@wildinafrica.store