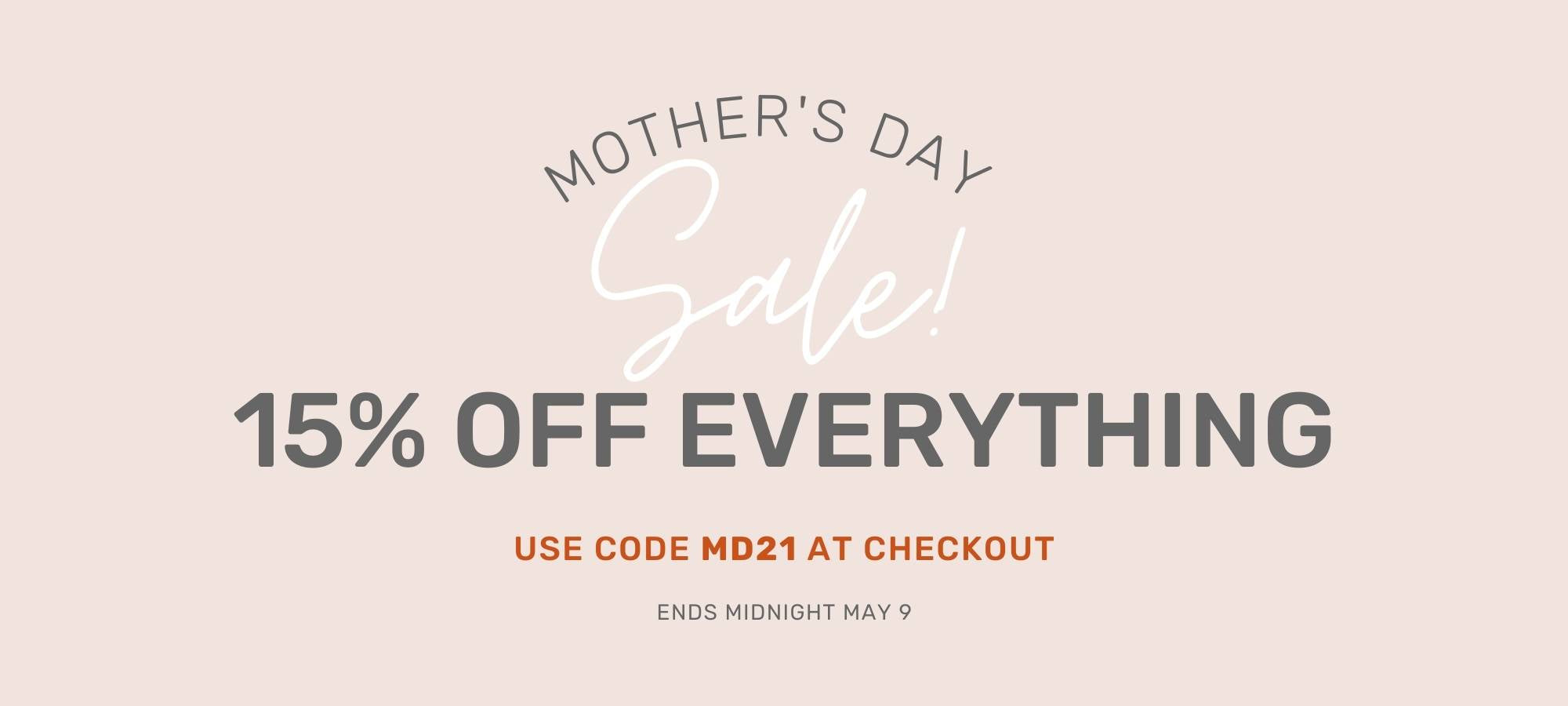 Posted on
---
If you are someone's shoulder to cry on, a guiding light, a role model, a disciplinarian, a cheerleader, a protector, or a teacher, the chances are you're a Mother.
Maybe you're a biological Mom, maybe you're a beloved Aunt, maybe you're responsible for your younger sibling, or maybe you're a Dad filling the role of Mom.
If you love unconditionally and you spend your waking hours torn between unbridled pride and aching worry, you're fit to label yourself "Mom". 
It's not an easy job, and often it goes unrecognised, but once a year, we are reminded to celebrate and appreciate the women in our lives who lead with love.
Mother's Day gives us the chance to make it up to our Moms, to offer a gift of thanks, and to say the words that so often go unsaid. On Mother's Day, we can say I love you, or I'm sorry. We can say thank you, and we can do the things we know make Moms happy. 
Often, a gift is the afterthought, following a meaningful exchange of words, or quality time spent with mothers, grandmothers, and children. The gifts we give signify our love and what is meaningful in a physical form. And trust us, when we've gifted the Moms in our lives something close to our hearts, they've put those gifts on the mantelpiece... 
You guessed it, we've got the perfect gifts for Mother's Day on the 9th May, which is South Africa's day dedicated to celebrating Moms. 
Our entire store is running Mother's Day sale offering 15% off all our bracelets! Just use the code MD21 when you check out. 
Our own mothers wear Wild in Africa beaded bracelets and just like proud Moms do, they tell the story of the charities their jewellery supports and the donations that go to wildlife conservation. Moms really are the perfect people to wear them! 
Here are a few your Mom might like:
This stack incorporates three bracelets, each with different blue and purple semi-precious stones. It's feminine and breezy, showcasing the colour of the sea and sky. Maybe your Mom is a nature nut or a beach bum – she'll appreciate the way these blues represent the Earth. The stones themselves also speak to the nature of Moms, which makes this stack one of our top picks for Mother's Day.
Lapis Lazuli is the symbol of wisdom and truth, and encourages the qualities of honesty, compassion and morality. Blue Spotted Jasper represents gentleness, comfort, and relaxation, and Amethyst promotes calm, balance, peace, and patience.
Speaking to the six chakras, this stack splurges on gemstones and colours. It's one of our newer products and packs a punch when it comes to energetic wellness and quality. Plus, it's currently on sale for $31 off AND you can apply our Mother's Day discount code for an additional 15% off. 
Give your Mom the full package with our Chakra stack and make sure you cover all the energetic bases! This stack includes a string of Amethyst, representing the crown chakra, Lapis Lazuli for the third-eye chakra, Blue Spotted Jasper on the throat chakra, African Jade covering the heart chakra, Red Jasper for the solar plexus and a combined bracelet of South African Tiger's Eye and Obsidian for the sacral and route chakras. 
This is one of our newest charity collaborations and it's particularly perfect for Mother's Day because it is a bracelet that supports teaching environmental awareness to children. Our Moms were our first teachers and we love the fact that the creator behind The Adventures of Pili has tapped into that parental role of teaching kids in an environmental context.
This bracelet is adjustable and is made up of two bracelets – one Green Jasper and one Yellow Jade. The best part of purchasing this style is that 50% of the retail price is donated to The Adventures of Pili to help them keep up their amazing work. 
There are so many different styles, stacks, and stones to choose from that we could go on all day! There is bound to be something for the Moms in your life, and there's no better way to pay it forward to our leading women than with a gift that gives back. 

 
Written by Chloe Cooper
Don't miss out on future posts so be sure to sign up for our Wild Tribe (scroll below to sign up).
New products and discounts first!
RETAIL STUDIO
The Farm House, R527
Hoedspruit LP South Africa
. . . . . . . . .
HEAD OFFICE
65/2 Arbor Ave, Robina
QLD 4226 Australia
. . . . . . . . .
contact@wildinafrica.store