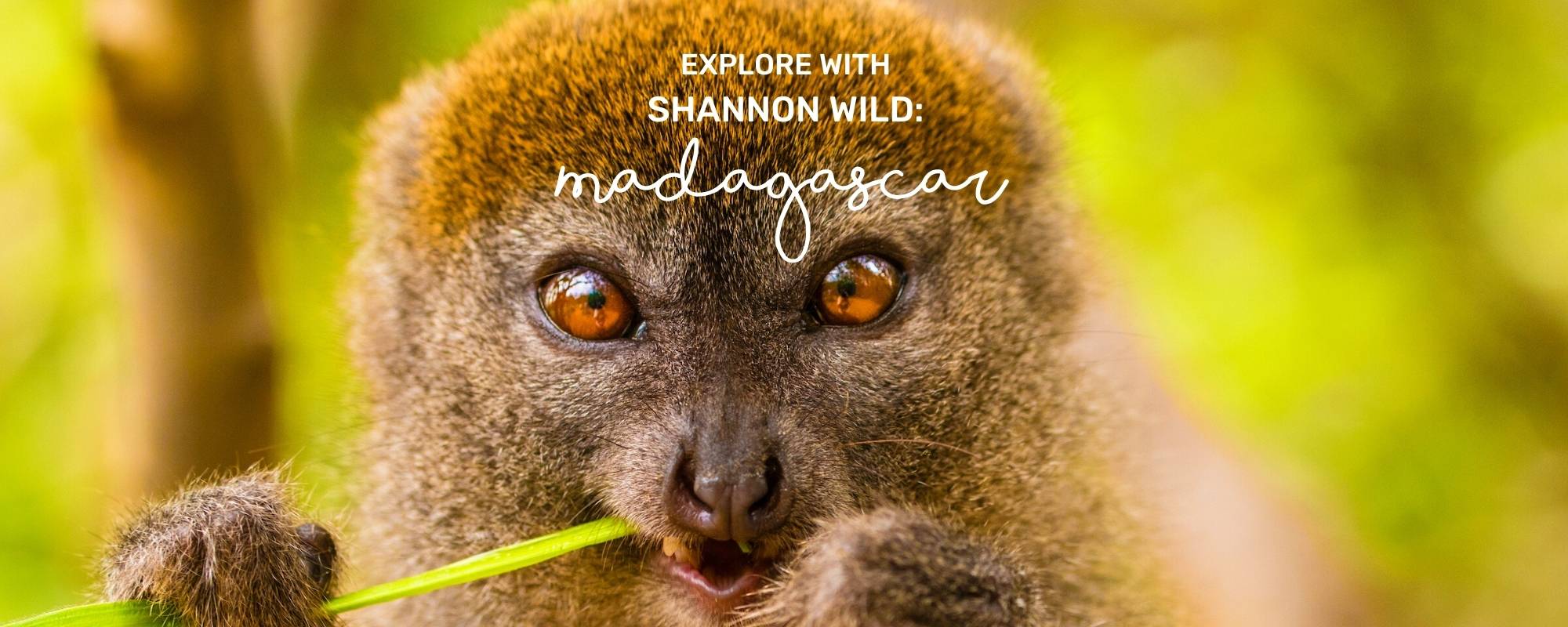 Posted on
---
Madagascar is the only place in the world where you can see lemurs in the wild! Plus it's home to a plethora of unique wildlife found nowhere else on earth, and that's reason enough to make it one of my absolute favorites!
Madagascar's fauna and flora are sadly endangered by human activity, a familiar story. Since the arrival of humans around 2,350 years ago, Madagascar has lost more than 90 percent of its original forest, a truly devastating reality.
So you can appreciate how excited I was to visit this endangered environment and see it for myself, especially before more habitat loss occurs, since it's a continuing issue. My very first trip to Madagascar was back in 2015 and visited every year since, well, until recently of course (given the state of the world and limitations of travel).
I fly into the capital, Antananarivo (the locals call it 'Tana'), which has a unique atmosphere with its French influence especially noticeable in the city and colourful roofs and rice patties as you enter the surrounding areas.
After some yummy food and a night of rest its time for a roughly three hour drive straight east to Andasibe National Park. I'm looking for chameleons and of course lemurs and even nocturnal lemurs by torchlight at night.
I had the opportunity to photograph the Indri, Madagascar's largest lemur, which likes to live in groups. They have one of my favourite calls, they actually sound like whales, it's really amazing!
Apart from lemurs, the rainforests are home to a wide range of reptiles including lots of chameleon and amphibian species and some rare and magnificent orchids. This is also a place to find the unique satanic leaf-tailed gecko and bizarre insects like the famous giraffe-necked weevil.
Next I took a bumpy four hour drive north-east to Lake Rasoabe, one of the great lakes of Madagascar. These great lakes were linked by man-made channels to form an inland waterway called the Canal of Pangalanes. I boarded a speed boat following part of this 600-kilometre long channel for about an hour north to the lodge I would spend three nights at. 
That afternoon I hopped in a pirogue (a dugout canoe) for a meandering ride on Pangalane's Chanel to Aye-Aye island, where I spent about an hour after sunset, being eaten by insects, waiting to see if a shy Aye-Aye would appear. The wait was worth it and I managed to capture some images and footage of these incredibly unique looking lemurs. To me they look a bit like a gremlin (if you're my generation then you'll know the movie!), but with a super fluffy tail and an excessively long middle finger, adapted to perfectly hook it's favourite food (worms) out of their burrows in wood.
My next stop is to fly into Morodava on a small aircraft and then drive to Baobab Alley, once of Madagascar's most iconic places. I was lucky enough to encounter a Giant Malagasy Chameleon as it was moving across the dirt road. I captured a few shots and then scooped it up and moved it off the busy dirt road so it didn't get squished. I was rewarded with a bite before it went on its way.
We continued our very bumpy drive north toward Kirindy to a research station where I was hoping to see and photographed the elusive Fossa! I'll admit I did need a few stops along the way to say bye to my breakfast. I don't do great as a passenger on very bumpy roads and this road definitely left me very queasy. But, I didn't come to explore Madagascar for perfect highways, I'm here to take the road less travelled and really experience the country. 
A few days spent exploring this captivating forest and I eventually got my wish to see and document a Fossa, and a feisty one at that! Wow, they are unique and so impressive! These cat-like carnivores are closely related to mongoose, but are much, much bigger!
Now it was time to head way down south to one of the last gallery forests to be found in Madagascar. Principally known for being one of the best spots to view ringtail lemurs and Verreaux sifaka, Berenty Reserve has been home to field researchers for more than three decades, who do fieldwork research of the lemurs, helping us to better understand how to protect them.
One of Madagascar's most instantly recognisable environments, the spiny forest, can also be found here. I was also hoping to photograph the charismatic Verreaux's sifaka as it hops along the ground on two feet between trees … dreams do come true!
Madagascar captivates me every single time. It's like taking a journey back in time to an old world filled with unique and bizarre creatures. The terrain and lack of infrastructure makes you work hard for your rewards and I always leave more in love with it than when I arrived.
Next time I'm going to take you on an exploration of south-west India where I search for an elusive Black Panther.
In the meantime, stay wild!
New products and discounts first!
RETAIL STUDIO
The Farm House, R527
Hoedspruit LP South Africa
. . . . . . . . .
HEAD OFFICE
65/2 Arbor Ave, Robina
QLD 4226 Australia
. . . . . . . . .
contact@wildinafrica.store