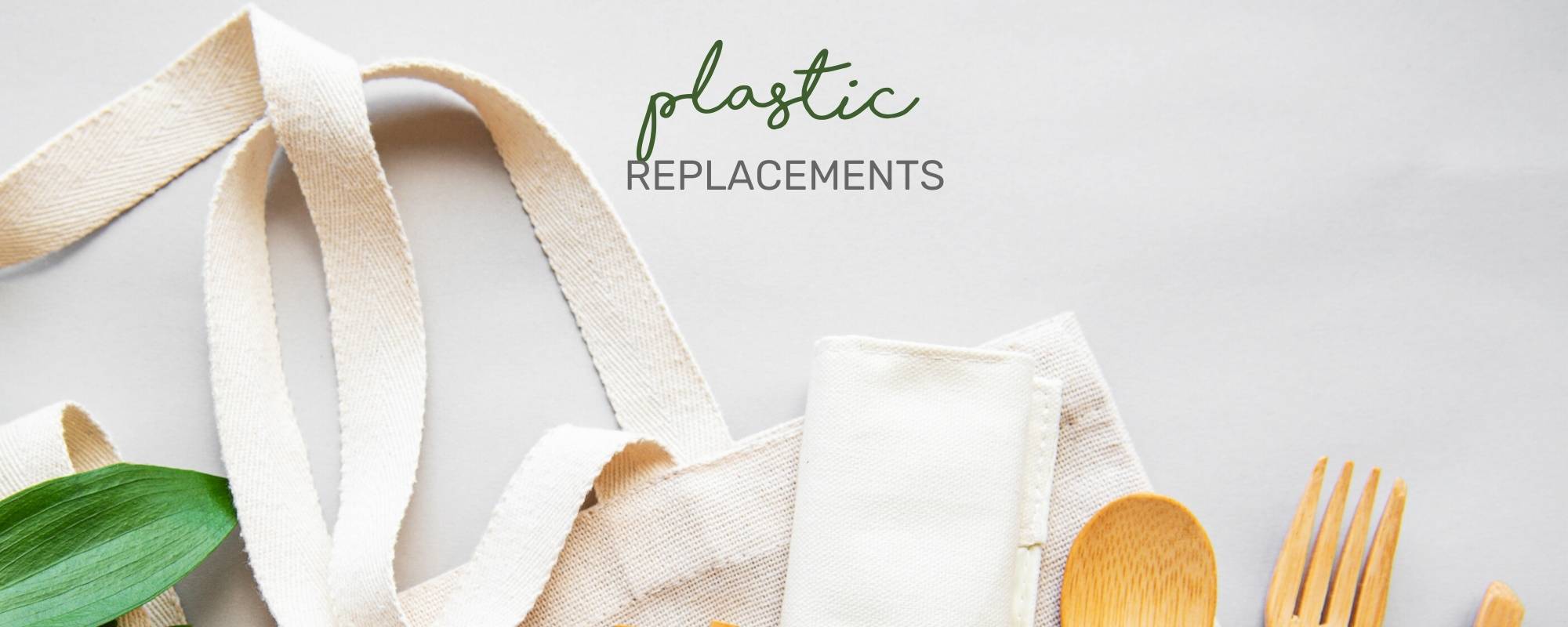 Posted on
---
5 Plastic replacements we can't live without
There are so many environmentally friendly products out there that it is difficult to choose just five! Not only have clever inventors created replacements for plastic, but they've designed substitutes for single-use items that all contribute to the amount of waste accumulated in our landfills and water systems. 
There are a million ways to be eco-friendly, whether it is about using green cleaning products in your home or switching to reusable sanitary or cosmetic products.
Long gone are the days of just saying no to a straw – now we have a responsibility to make better choices in our daily lives. 
Listed in this blog are five regularly used items in our daily life that we are so glad are no longer used once and then thrown away.
Like we said, there are so many, so please share your favourite plastic replacements with us!
1. Food storage bags or containers. 
Plastic containers do the trick for storing food, so whether you're using our favourite Stasher bags or your good old faithful Tupperware, thank you – you're making a good choice. Cling wrap or Ziploc bags are a big part of the plastic problem and they really aren't necessary. If you're using Ziploc, washing and reusing them is a good compromise! 
2. Bamboo toothbrushes
We brush our teeth twice a day every day on average and need to replace our toothbrushes about every three months. That's a LOT of plastic pollution piling up and drifting across the oceans for years and years (and years).
Plastic toothbrushes are one of the most commonly found items washed up on beaches and it's such a sad sight.
Luckily, there are bamboo toothbrushes available to ease the mind! Bamboo brushes are natural, and therefore can biodegrade over time. It is a renewable and sustainable resource. Definitely the better choice!
3. Shopping bags
There are a number of places in the world that have actually banned the provision of plastic shopping bags at grocery stores (Rwanda, France, Montreal, Taiwan). Such an important move and we applaud the leaders taking a stand for the environment.
Avoid using plastic shopping bags as much as possible by keeping a stash of fabric tote bags in your car that you can have on hand. There are even little fold up bags that can fit into your handbag for ultimate convenience!
Some stores offer cardboard boxes instead of plastic bags, which is a step in the right direction. This one is an easy one and a good place to start. 
4. Water bottles
People who travel a lot tend to use plastic water bottles because it's often the most convenient and seemingly safest option. But, the plastic consumption by way of water bottles is sky high and seriously toxic for our planet.
Airports and service stations around the world now fortunately have clean water dispensers available, so we can refill our own reusable bottles regularly, safely, and affordably.
We'd love to see a change from tourism service providers, which we've found often supply their guests with endless 500ml bottles of water.
Movements and change like this have to start with us, and speaking from experience, getting yourself an epic Hydroflask is one way to have cold water wherever you go. 
5. Coffee cups
Don't know about you, but coffee is a daily ritual. (We also like turmeric-orange shots and kale smoothies, but… coffee.) 
Take away coffees and the plastic and cardboard cups they come in do such damage to the environment.
They fall into the same category as straws and for years, eco-advocates have pleaded for change. We're with them, and we fully support the "bring your own" coffee cup movement.
Most, if not any, coffee shop you go to would prepare your drink of choice in your own reusable tumbler, so it's really up to us to keep one in the car or somewhere handy if we know stopping at cafe en route to work is a must. 
While these are just five ideas, we strive to use environmentally friendly products as much as possible. We'd love to hear your plastic reducing hacks or some favourite reusable products on the market!
Written by Chloe Cooper
Don't miss out on future posts so be sure to sign up for our Wild Tribe (scroll below to sign up).
New products and discounts first!
RETAIL STUDIO
The Farm House, R527
Hoedspruit LP South Africa
. . . . . . . . .
HEAD OFFICE
65/2 Arbor Ave, Robina
QLD 4226 Australia
. . . . . . . . .
contact@wildinafrica.store