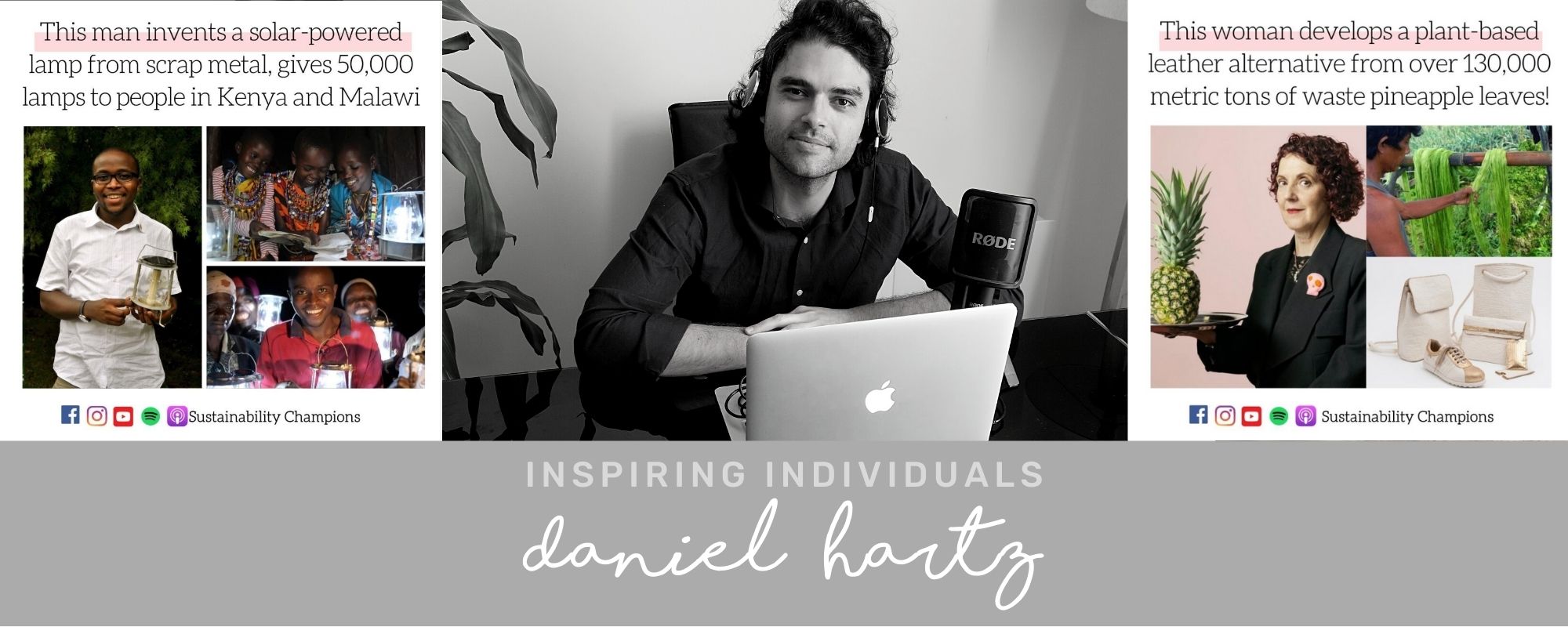 Posted on
---
Daniel Hartz loves alpacas, but that's not our favourite thing about him.
He has created a media platform showcasing an inspiring community of individuals who are reducing carbon footprints and toxic pollutants on our natural environment, one invention at a time.
Aptly called Sustainability Champions, this podcast and social media channel spreads good news stories about different ways people are championing the earth by reducing, reusing, and recycling, creating clean water, using clean energy, and having an amazing impact on our planet.
The simple act of finding these unique inventions and sharing their stories online inspires so many people to keep choosing sustainable options in their everyday lives.
When more people start making small changes, we are all better off.
Do yourself a favour and follow him on @sustainabilitychampions and get to know him a little more in this interview…  
Tell us abour yourself
My name is Daniel Hartz and I'm the founder of Sustainability Champions.
Sustainability Champions is a podcast and Instagram channel that highlights people who are working hard to solve the biggest environmental challenges we face today.
I'm originally from California and now live in London.
Can you tell us a little bit about your professional background?
I worked in finance, PR and tech before starting Sustainability Champions. I have noticed that there is always the opportunity to adopt greener practices in any industry and it is often good for business too.
What or who in your life influenced you to pursue this route?
Since I was a kid, I have been saving the seeds from the fruits and vegetables I eat so that I could plant them later. I always assumed this was normal. I am inspired by people who make a positive contribution to the environment and I have always wanted to hear their stories.
When my family encouraged me to interview sustainability leaders to learn about ways to take action, I started Sustainability Champions as a New Year's resolution and it was one of the best decisions I have ever made.
Currently, what is the inspiration that keeps you motivated and 
passionate about your work?
It is very motivating to receive messages from people who say that they feel happy or inspired after looking at the Sustainability Champions Instagram channel. That was precisely the reason I started it: as a positive alternative to the doom and gloom we see every day in the news.
There are people, companies and communities all over the world finding ways to both heal and protect the planet and I wanted to highlight their work in one place.
What is the most impactful aspect of your work?
The message that anyone with an idea, big or small, can make a positive impact on the environment and every contribution counts.
Where is your favorite place you've traveled and why?
I love Costa Rica. It is such a beautiful country and they prioritise the environment.
Did you know that Costa Rica is one of the only countries in the world to both stop and then reverse deforestation? Costa Rica has also run almost entirely on renewable energy for the last five years.
Tell us about your strangest experience while traveling?
It is not so much strange as it was amazing. Seeing a well-protected beach in Costa Rica full of thousands of sea turtle nests, each one filled with eggs.
It was incredible to witness the circle of life and it's so cool to know that Costa Rica balances attracting tourists with protecting the environment.
Why do you feel that wildlife conservation is important?
Wildlife numbers have dropped at alarming rates over the last few decades. When animal populations disappear, it creates artificial imbalances to local ecosystems around the globe.
Studies are showing that we are encroaching on the land that belongs to wildlife and this is one of the major contributors to the current Coronavirus pandemic.
I also believe that it is our duty to protect wild animals because they cannot speak for themselves.
What is your favorite Wild in Africa bracelet style and why?
The Lava and Tiger's Eye bracelet. Tiger's Eye is a beautiful stone and I like the way it changes color when it moves. It is amazing to know that lava came from the depths of the earth - where it was so hot that it was once liquid - and now I can wear it.
Are there any animals you feel especially passionate about?
This is slightly embarrassing talking to someone who works in wildlife conservation, but it is the truth: I am passionate about alpacas.
They are sweet and hilarious.
Can you share your future plans and hopes for yourself?
I would like to continue building the Sustainability Champions media channel, sharing positive messages and inspirational stories of people who are doing what they can to protect and regenerate the environment and raise awareness for their causes, just like Wild in Africa.
I will be following your work!
Don't miss out on future posts so be sure to sign up for our Wild Tribe (scroll below to sign up).
New products and discounts first!
RETAIL STUDIO
The Farm House, R527
Hoedspruit LP South Africa
. . . . . . . . .
HEAD OFFICE
65/2 Arbor Ave, Robina
QLD 4226 Australia
. . . . . . . . .
contact@wildinafrica.store