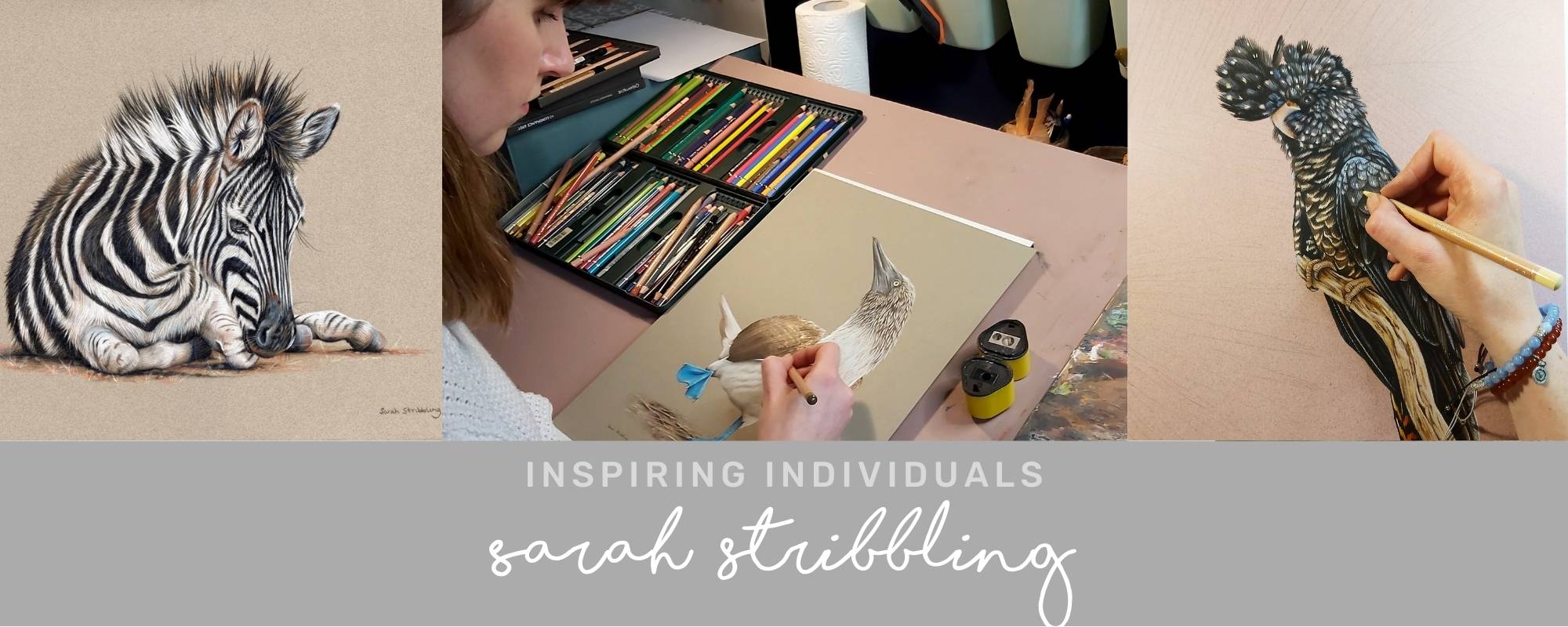 Posted on
---
If you've ever been on the receiving end of a beloved pet's gaze, you'll understand the value in having that loving look immortalised in the form of art. (Cat people over here… and dog people. Ok snakes, too.)
Sarah Stribbling is an English artist who captures with exquisite detail, the faces of pet pooches and sassy cats, but she also uses her masterful talent to feed her passion for wildlife conservation.
Her degrees in Zoology and Biodiversity give her the scientific understanding of habitats and species, and her genetic gift for painting and drawing have made her an admired member of Art society. 
Her works mean a lot to individuals and organisations alike as she creates pieces that bring joy to families and pieces that raise funds for important conservation projects.
It was a pleasure having a few moments of Sarah's time, and it's an even greater pleasure adding her incredible art to our Instagram feed!
Tell us about yourself.
I'm a wildlife artist based in Cheshire in the UK.
I've always been passionate about the natural world, I have a degree in Zoology and a masters in Biodiversity and conservation.
Can you tell us a little bit about your professional background?
I have always loved art but my first passion was wildlife.
While I was studying for my undergraduate degree, any free time I had would be spent drawing or doodling wildlife.
It wasn't until one of my friends asked if they could buy a sketch, I had done of some lions, that I then started to sell them and after that I never looked back!
I drew and sold drawings after university and that paid for my masters degree (with some help from my parents) and I started professionally drawing and painting full time in 2008 after I had finished my masters degree.
I am a self taught artist and I'm always experimenting with new mediums and techniques.
What or who in your life influenced you to pursue this route?
I was inspired and encouraged by my Father who has been a wildlife artist since I was about 5 years old.
I used to watch him paint as a little girl and loved to try and copy him.
He inspired me to travel and to visit the amazing places he was painting.
Currently, what is the inspiration that keeps you motivated and passionate about your work?
At the moment my main motivation is getting replies from customers who have bought work from me.
A lot of them have lost pets and my work brings them joy in a time of great sadness and that to me is something very special.
What is the most impactful aspect of your work?
I think one of the most impactful aspects is using my art to bring knowledge and awareness of conservation issues.
Where I can I try to help out organisations by donating artwork for fundraisers or fundraising myself for causes I'm passionate about.
Where is your favorite place you've traveled and why?
 Africa, It's like no other place on earth.
I had the privilege to spend a month travelling around Kenya and doing some research there during my masters.
Tell us about your strangest experience while traveling?
That's a hard one! When I was in South Africa in 2007, I went cage diving with Great whites with a guy who takes out national geo photographers.
It was a magical yet strange experience for me and I was surprised at how calm I felt under the water.
I expected to see this scary animal coming at me and instead I saw a graceful, inquisitive and misunderstood animal.
Why do you feel that wildlife conservation is important?
We only get one chance on this planet and we are currently destroying it.
In order for this planet to flourish we need to maintain healthy and functional ecosystems and these depend on plant and animal species. 
What is your favorite Wild in Africa bracelet style and why?
I don't think I could pick a favourite as they are all so lovely but punchy colours stand out to me :)
Are there any animals you feel especially passionate about?
At the moment I feel very passionate about the Pangolin and the threat they are under. 
Can you share your future plans and hopes for yourself?
I'm currently in the process of getting a patreon channel up and running so I can bring tutorial videos to my followers.
Don't miss out on future posts so be sure to sign up for our Wild Tribe (scroll below to sign up).
New products and discounts first!
RETAIL STUDIO
The Farm House, R527
Hoedspruit LP South Africa
. . . . . . . . .
HEAD OFFICE
65/2 Arbor Ave, Robina
QLD 4226 Australia
. . . . . . . . .
contact@wildinafrica.store