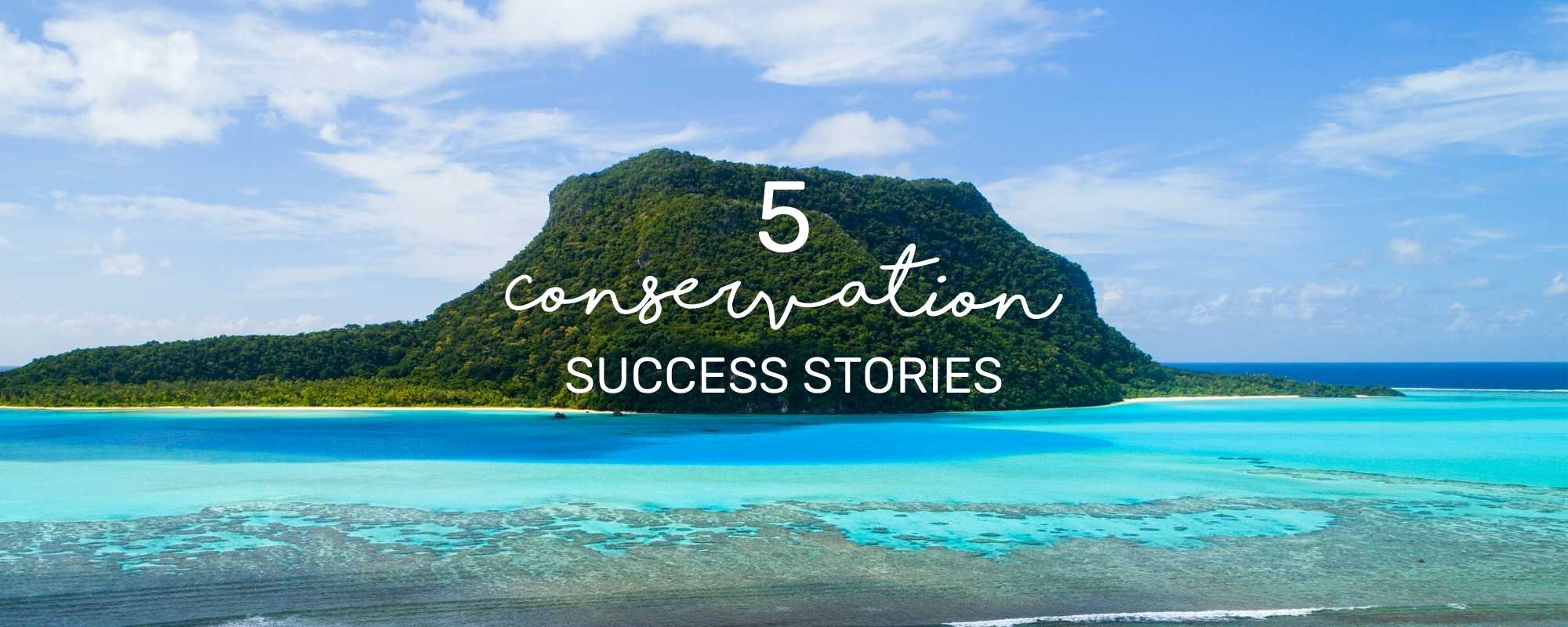 Posted on
---
Good news is medicine for the soul, especially during times like these. We know our Wild Tribe is as encouraged by conservation success stories as we are. The more endangered wildlife stands a chance, the better; the more wilderness habitats that get restored, the better; and the more coral reefs are regenerated, the better. 
Fortunately, we get to feed our souls with good news stories often, thanks to the incredible work being done by the charities we work with.
It's an honour to know the people who are putting plans into action, and who are paving the way for a better future for our wild species and landscapes.
We wear our beaded charity bracelets with pride knowing we can support their projects in any small way! 
Here are five conservation success stories from our charities – five times their work has saved an animal's life or prevented a protected area from development.  
Neglected ex-racehorse, Hannibal, gets a second chance at life
Hannibal was found in a terribly neglected state. He was once a racehorse and was bought by a wealthy family who left him in his stable for days on end without giving him food, water, or exercise. 
When he arrived at Backwater Sanctuary upon being rescued in 2018, it was clear that he was severely underweight, malnourished, and matted with dirt and his own excrement. On closer inspection, it was obvious his teeth were in very poor condition and he had ulcers in his bloated tummy. 
Just a few months after arriving at the Sanctuary, Hannibal was looking like a different animal. A proper diet with added protein for his special requirements sorted out his stomach issues and necessary dental work and medication saw Hannibal on the mend. 
Today, he is one of many horses rescued and rehabilitated at Backwater Sanctuary (not to mention donkeys, dogs, and cats!)
In just a year, this amazing organisation in South India rescued over 40 equines, and we couldn't be prouder to support Zoha and the team. 
Mfuleni Conservancy saved from development and adds to protected wilderness in Kwazulu Natal, South Africa 
In 2019, Wild Tomorrow Fund succeeded in declaring its second habitat conservation project on the south bank of the Msinene River – the 1171-acre Mfuleni Conservancy, which borders iSimangaliso Wetland Park in Kwazulu Natal. 
This stretch of wilderness is within one of the world's 36 biodiversity hotspots and joins two supreme wild habitats. By expanding this protected land, Wild Tomorrow Fund has given more safe space to endangered species like elephant, rhino, and cheetah, among many others. 
"We are delighted to contribute to global efforts to save and restore habitat for wildlife. We hope to see elephants crossing over into this riverine habitat soon, expanding their herds and rediscovering land to which they have been blocked access for 80 years" said Wild Tomorrow Executive Director, John Steward. 
Snared male lion, 'Cut Throat', rescued in Zambia and goes on to raise cubs
Snares are a global issue wherever human and wildlife areas intersect and unfortunately, they can cause an incredible amount of pain and suffering to the animals that find themselves caught in them. Luckily, anti-poaching patrols and organisations like the Zambian Carnivore Programme are constantly monitoring areas where wild animals are at risk. 
In 2018, a male lion from the Chipela Coalition in South Luangwa National Park was found with a snare caught around his neck. His throat and face were hugely swollen, and he was struggling to breathe as the wire cable was tightly wrapped around his neck. Fortunately, the team could mobilise him, remove the snare, and treat the injury, which left scars that gave him his nickname, 'Cut Throat'. 
Thanks to this rescue, not only was Cut Throat saved from a slow, painful death, but he has gone on to sire a number of cubs since his recovery.
Losing one lion can have a far-reaching ripple effect on the lion population of an entire area, so this is most definitely a conservation success story!
Mother rhino Thandi continues to survive and thrive after horror poaching incident in South Africa 
Thandi could have been just another poaching statistic, but to the team at Saving the Survivors (STS), she was a mother with a baby who needed their urgent help. She and her calf Themba were rescued near death after poachers had darted them and hacked their horns off. Fortunately, they were found and tended to by the veterinary experts at STS, but baby Themba did not make it and soon succumbed to his injuries. 
Thandi proved her resilience and fought over several months to make a remarkable recovery.
What makes Thandi's survival even more remarkable is that, while she lost her little one, Themba, she went on to give birth to three more calves!
Coral reefs recover from climate change and extreme weather damage in Fiji's remote Northern Lau islands
What goes on under the sea is just as important as what happens within eyesight, and thanks to organisations like the Vatuvara Foundation, some of the precious, life-giving coral in the remote Fijian Northern Lau Islands is being restored with huge success. 
Vatuvara has established lagoon coral nurseries to restore the natural reefs and repopulate areas that have been damaged from severe cyclones and other extreme weather related to climate change.
The Coral Restoration Project is re-growing and replanting a diversity of corals, which are seriously threatened by climate change, as well as unsustainable fishing and pollution.
Growing coral in nurseries and replanting on the reefs is allowing the team at Vatuvara to counter the damage inflicted on the natural area. An initiative that is having great success thanks to the dedicated team.
By purchasing the bracelets linked to these charities, you are directly helping to fund some of these projects and keep the good work going.
Thank you for your support and for choosing to buy Wild in Africa!
 Written by Chloe Cooper
Don't miss out on future posts so be sure to sign up for our Wild Tribe (scroll below to sign up).
New products and discounts first!
RETAIL STUDIO
The Farm House, R527
Hoedspruit LP South Africa
. . . . . . . . .
HEAD OFFICE
65/2 Arbor Ave, Robina
QLD 4226 Australia
. . . . . . . . .
contact@wildinafrica.store