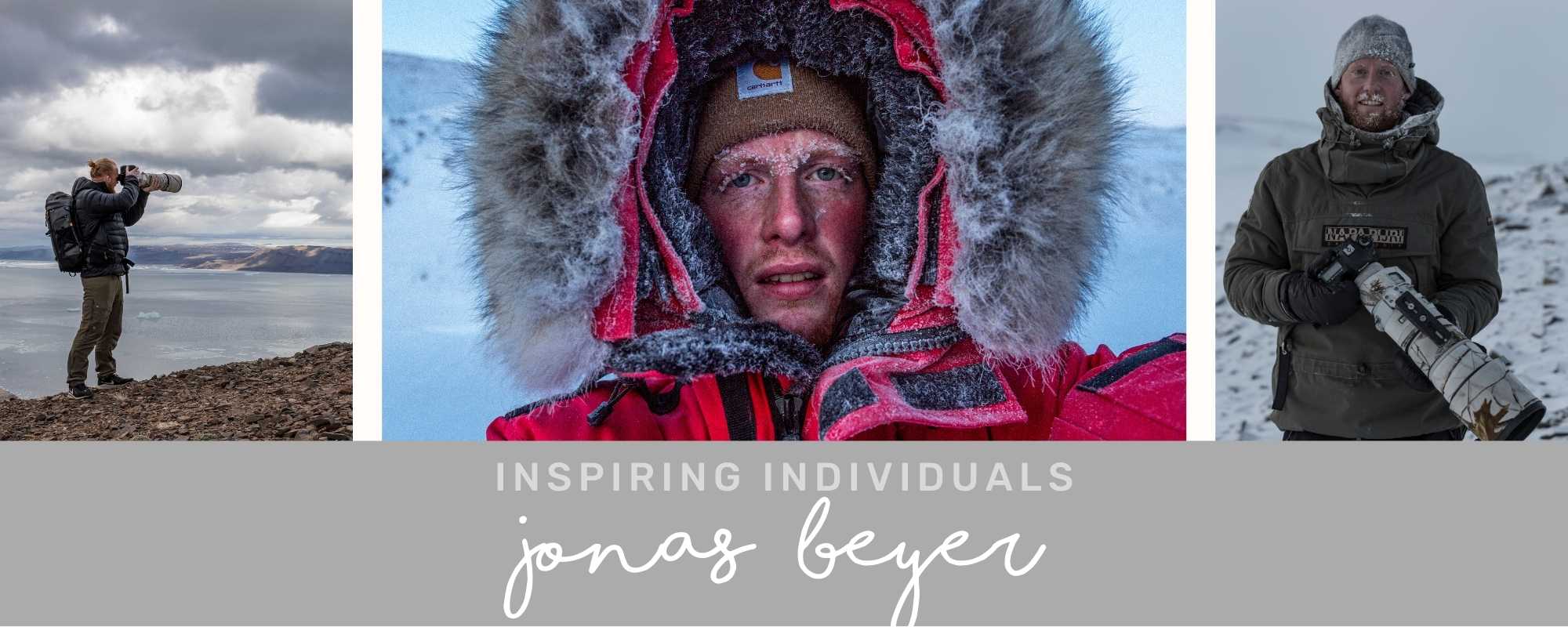 Posted on
---
Snowman, Jonas Beyer, fulfils some people's biggest dreams and other people's greatest nightmares as he submerges himself in Arctic waters and swims with the world's giants of the deep.
His photography of creatures both above and below the ice is breathtaking and it captivates the vast, blue and white world so few of us ever get to experience.
Based in Greenland with a career history including dog sled guiding in Svalbard, he now conducts photographic experiences for those brave enough to swim with orcas.
As a self-taught wildlife photographer and adventurer at heart, Jonas believes in the power of nature to change one's perspective and teach valuable lessons.
While his work is dominated by incredible work in freezing cold climates, we've glimpsed his images from the African jungle where he captured gorillas, leopards, elephants, and chimpanzees with just as much magic.
It was a pleasure to talk to him about his photography journey in this interview.
Tell us about yourself.
I began doing photography when I was a teenager.  My fascination for wildlife ultimately peaked my interest in capturing them in their natural habitat. 
I moved to Greenland in 2012 to work as an Activity Guide for the United States Air Force. In 2014, I moved to Svalbard and became a Dog Sledding Guide. 
These experiences made me realize how much I love doing wildlife photography and I found that my true passion lies within the Arctic environment. 
What I really enjoy about being a guide or leading a workshop is sharing all my knowledge, my techniques, and giving the absolute best experience to my clients.  As a guide, I am very open minded and I love sharing my passion for nature and discovering wildlife together.
Aside from the colder areas, I have done a lot of diving in Asia, where I have done underwater photography. Over the past 5 years, I have moved my diving to the cold environments and had the pleasure of swimming with killer whales and humpback whales in Norway.  I have held photography workshops in Denmark, Uganda, Norway, Antarctica and Greenland.
Can you tell us about your professional background?
I don't have a professional background in the photography or filmmaking world.  I have taught myself everything by looking at the photographers I admire and finding inspiration through their work. 
Most of my learning has happened out in the field with friends and other amazing photographers and naturalists.
What or who in your life influenced you to pursue this route?
My passion for wildlife photography grew even bigger when I moved to Greenland for the first time. 
Everything I wanted to photograph was right in my backyard and amazingly beautiful.  Shortly after moving, I met a good friend, Morten Hilmer, who is a remarkable wildlife photographer and he became a huge inspiration to me. We went out on many trips together and I believe he shaped me into the photographer I am today.
After entering the world of wildlife photography, I got to know several other inspirational photographers; Shannon Wild, Paul Nicklen, David Yarrow and Bertie Gregory.
They have set the tone for the conservation of wildlife, which I admire about them even more.    

Currently, what is the inspiration that keeps you motivated and passionate about your work?
If my followers are positively impacted by my photographs, they will become more aware of what is happening in  nature and how we can help animals.
I hope the images of the wildlife I capture will create deep connections and love for these amazing creatures and lead to favorable actions as we stand together to protect what is being destroyed.  
What is the most impactful aspect of your work?
I want to create the same feelings for my followers as I have felt shooting the photos. 

Every single moment and every photograph of wildlife should create a memory.
If I generate that feeling in my visual storytelling, then I think I have done a good job!
Where is your favorite place you've traveled and why?
My favorite place is Antarctic because everything is so raw and wild.
I have a really hard time putting into words what I experienced and felt there.  It was raw, beautiful, and powerful.
The relentless nature was truly beyond anything I've ever seen or dreamt before.
Tell us about your strangest experience while traveling?
I haven't experienced a specific event that I would consider strange, but I do find it very alarming how aggressive people can be while trying to capture photos.
Even if it is on an expedition or a daily tour, operators are approaching wildlife with an incredible lack of respect.
How strange is it, that as a wildlife photographer, an ambassador for the animals, you can treat them in a disrespectful way? If you really are out in nature to get photos of undisturbed behavior, you can't rush and approach fast and aggressively.
The animals will need time to feel comfortable and relaxed with you around before you can start creating content. 
A good photographer and conservationist can sneak up on the animals without disturbing them and can sneak away without destroying natural habitats.  

Could you share the story behind your favorite photograph you've taken?
It is difficult to choose a favorite photograph.  I love the photos where the animals show some curiosity and interact with the camera; whether it is the Gentoo penguins walking closer to the edge of the ice to look at me floating around, the arctic fox who thinks the camera could be a snack, or the big male orca who comes straight up to the camera. 
The one photo that comes to my mind is a photo from Antarctica.  I was swimming around capturing split photos of an iceberg and I knew I had a group of Gentoo penguins swimming behind me! I tried to be completely calm while waiting for the Gentoos to swim between the iceberg and me.
It worked after some patience and I really like the image because it shows both worlds and the home of these amazing penguins.
Do you have a favorite place or subject to photograph?
Blizzards! I love the atmosphere you can create in the photos when you have a white-out.
Why do you feel that wildlife conservation is important?
I believe conservation can teach me and people around the world how to better understand the animal kingdom, and make us aware of why we should protect and help the wildlife instead of hunting and killing them for reasons we can't justify.  

What is your favorite Wild in Africa bracelet style and why?
I really love the "Lava and Tiger Eye" bracelet because of the dark tones.
Are there any animals you feel especially passionate about?
In general, I feel very passionate about Arctic animals!
I am very fascinated by all kinds of animal life and how they adapt to their natural home.
However, I love the cold area so much and I think the animals that live there are fantastic   
Can you share your future plans and hopes for yourself?
My future plan is to keep learning and becoming a better photographer. 
Understanding our ecosystem is very important to me and I never want to stop educating myself about the environment and the wildlife in it. 
I hope to bring more enthusiasts with me on my tours, where I can show them the animals in their natural homes and give my guests an experience of a lifetime.  I have available tours to swim with Orcas in Norway, and I would love for everyone to give themselves that opportunity. 
Also, I hope to take photos with other passionate wildlife photographers, while sharing skills and mutual understanding of the importance of conservation. 
For the near future, I am going to focus on the Arctic.  I have a few more projects and images I want to get before I can start my coffee table photo book, which I'm excited about!

Don't miss out on future posts so be sure to sign up for our Wild Tribe (scroll below to sign up).
New products and discounts first!
RETAIL STUDIO
The Farm House, R527
Hoedspruit LP South Africa
. . . . . . . . .
HEAD OFFICE
65/2 Arbor Ave, Robina
QLD 4226 Australia
. . . . . . . . .
contact@wildinafrica.store