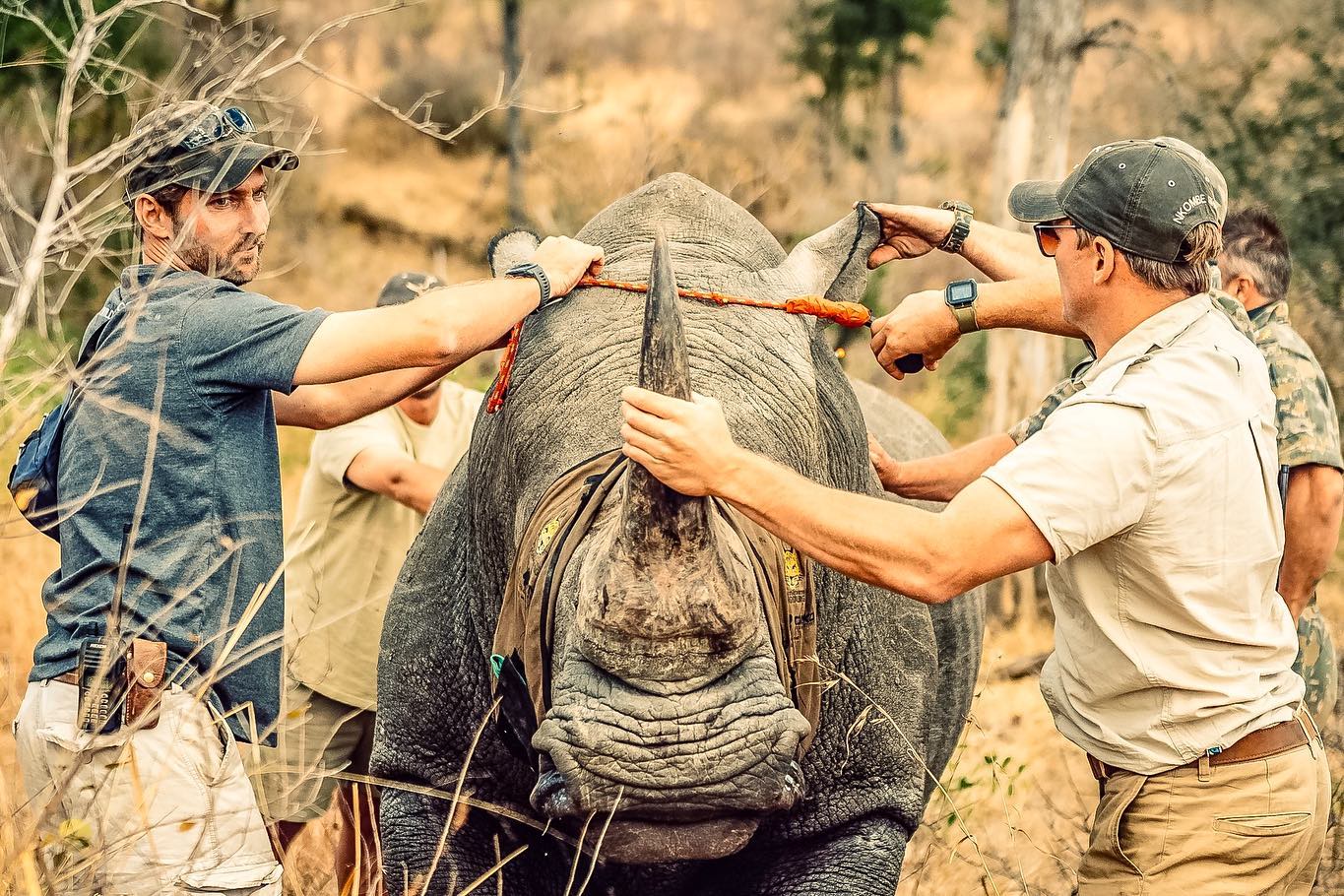 Posted on
---
The alarming decline of rhino and threat of rhino extinction has become a pressing issue for conservationists and nature lovers alike, as their habitats are being destroyed, poaching is rampant, and numbers dwindling. In this article, we will explore various initiatives aimed at curbing this devastating trend.
Firstly, we'll delve into Nkombe Rhino's Dehorning Program which is making strides in combating rhino extinction by reducing the incentive for poachers. Next, we'll discuss the role of Anti-Poaching Units in safeguarding remaining rhino species and their habitats.
We will also examine how innovative programs like Ranger Fit are equipping those on the frontlines with necessary skills to protect these threatened species more effectively. Additionally, we'll highlight some cutting-edge tools employed by Nkombe Rhino that have proven instrumental in conserving these critically endangered animals.
Lastly, you can look forward to learning about other projects supported by Nkombe Rhino as part of their ongoing commitment towards ensuring a brighter future for all five remaining rhino species across Africa and Asia.
Table of Contents:
Fighting Rhino Extinction with Nkombe Rhino's Dehorning Program
As the threat of extinction looms over various rhino species, innovative conservation efforts are more important than ever. One such effort is the dehorning program implemented by Nkombe Rhino. This program seeks to shield the endangered black and white rhinos from poaching by trimming their horns while they are sedated.
Dehorning involves carefully trimming down a rhino's horn under sedation in order to make it less attractive to poachers. Removing the horns has been demonstrated to be successful in lessening poaching incidents for both types of rhinos, with no harm done to the animal. The horn regenerates and necessitates re-trimming every 2-3 years, based on its growth rate. Dehorning increases a rhino's chance of survival by 80%, making it an effective strategy for conservation.
The Importance of Dehorning for Endangered Rhinos
Persistent poaching: Despite international efforts by organisations like the International Rhino Foundation and World Wildlife Fund (WWF), illegal hunting remains one of the primary reasons why many magnificent creatures face extinction today.
Demand for horn products: Demand for traditional medicines containing powdered horn continues driving up prices on illegal markets - making it even more lucrative for criminals targeting these threatened animals.
In response to these challenges facing our planet's remaining population of iconic pachyderms, Nkombe Rhino developed its groundbreaking dehorning initiative. By removing the very object of desire that fuels poaching, dehorning has proven to be an effective deterrent against this illegal activity.
Dehorning as a Conservation Tool
While it may seem counterintuitive at first glance, dehorning is a crucial tool in the fight against rhino extinction. In addition to protecting individual animals from harm, the program also helps safeguard entire populations by reducing demand for horn products and making it more difficult for poachers to locate their targets. 
Nkombe Rhino's dehorning program is just one example of how creative solutions can make a real difference in protecting our planet's most vulnerable inhabitants. By supporting organisations like Nkombe Rhino, we can all play a part in ensuring these magnificent creatures continue to thrive for generations to come.
By dehorning rhinos, Nkombe Rhino's program is helping to reduce the poaching of these majestic creatures and protect them from extinction. To further help protect rhinos, we must also focus on anti-poaching units that actively patrol their habitats.
Protecting Rhinos with Anti-Poaching Units
The fight against rhino extinction is an ongoing battle, and Nkombe Rhino has made it their mission to protect the remaining rhino species from the persistent poaching that threatens their existence. One of the most effective strategies they have implemented is the establishment of anti-poaching units (APUs) in key areas where black rhinos, white rhinos, and other endangered species reside.
These APUs consist of highly trained individuals who work tirelessly to safeguard these magnificent creatures from illegal hunting activities. They employ a combination of advanced technology and on-the-ground intelligence to detect and deter potential threats before they can harm any wildlife. Some essential components of Nkombe Rhino's APU strategy include:
Persistent surveillance: The APUs maintain constant vigilance over vulnerable habitats by conducting regular patrols both on foot and using vehicles.
Rapid response capabilities: In case a threat is detected, such as signs of poachers or injured animals, these teams can quickly mobilise to address the situation effectively.
Cutting-edge equipment: To aid in their efforts, Nkombe Rhino provides its anti-poaching units with state-of-the-art gear like night vision goggles for nocturnal operations or GPS devices for accurate tracking.
Cross-border collaboration: Recognising that many conservation challenges transcend national boundaries, Nkombe Rhino works closely with neighbouring countries to coordinate joint efforts against poachers operating across borders.
Through these comprehensive anti-poaching measures, Nkombe Rhino is making a tangible difference in the fight against extinction for these threatened species. By supporting their work and raising awareness about the plight of endangered animals like the remaining rhino species, we can all play our part in ensuring that future generations have the opportunity to appreciate these incredible creatures in their natural environments.
Moving on, the Ranger Fit Program is an innovative way to further protect these majestic creatures by training rangers in physical fitness and preparedness.

Ranger Fit Program for Rhino Protection 
One of the key initiatives taken by Nkombe Rhino to protect the remaining rhino species from extinction is their innovative Ranger Fit program. This unique initiative aims at providing comprehensive training and resources to rangers, equipping them with essential skills needed to combat poaching effectively and ensure the safety of these magnificent creatures.
The Importance of Well-Trained Rangers in Conservation Efforts
Rangers on the ground must possess essential skills in order to protect endangered species from habitat loss and illegal hunting, thereby safeguarding them from poaching activities that have led to a decline in population size. It is important to emphasise how important skilled rangers are in conservation efforts as they play a pivotal role in protecting endangered rhinos from habitat loss due to human encroachment or illegal hunting.
What Does Nkombe Rhino's Ranger Fit Program Entail?
Fitness Training: Ensuring that rangers maintain peak physical fitness levels enables them to better patrol vast areas inhabited by critically endangered rhinos while also being able to respond quickly during emergencies.
Tactical Skills: Developing tactical skills helps rangers navigate through challenging terrains where many remaining populations reside while also enabling them to successfully track down potential threats before any harm comes upon these vulnerable animals.
Poacher Detection Techniques: Teaching effective techniques for detecting signs of poachers allows rangers to proactively prevent incidents before they occur, thus preserving the conservation status of these species.
Wildlife Knowledge: Enhancing rangers' understanding of rhino behaviour and habitat requirements ensures they can make informed decisions when it comes to protecting these animals from harm.
The Ranger Fit program by Nkombe Rhino is an integral part of their overall mission to protect all remaining rhino species. By investing in the development and training of dedicated rangers, this initiative helps bolster on-the-ground efforts against poaching activities that threaten rhino populations as well as other endangered species across Africa. 
The Ranger Fit Program for rhino protection is an invaluable asset in the fight against rhino extinction, and it's important to understand what tools are being used by Nkombe Rhino to protect these endangered animals.

Tools Used by Nkombe Rhino for Rhino Protection
Nkombe Rhino is committed to using innovative and effective tools in their mission to protect the remaining rhino species from extinction. By employing a combination of advanced technology, skilled personnel, and well-trained animals, they are making significant strides in safeguarding these magnificent creatures.
Better Equipped Entrance Control
To prevent unauthorised access to protected areas where rhinos and other endangered species reside, enhanced entrance control measures are implemented at key locations. These include smart technology systems that monitor visitor activity and provide real-time data on potential threats. This information enables rangers to respond swiftly when needed, ensuring the safety of both wildlife and visitors.
Patrol and Reaction Flights
Aerial surveillance plays a crucial role in monitoring vast expanses of habitat where rhinos live. Patrol flights equipped with high-resolution cameras are capable of capturing images even under challenging conditions such as low light or dense vegetation cover. In addition to regular patrols, reaction flights can be quickly deployed if suspicious activities are detected on the ground or through other intelligence sources.
Detection and Tracking Dogs
K9 Units: Highly trained detection dogs form an integral part of anti-poaching efforts. With their keen sense of smell, these dogs can locate hidden weapons or contraband used by poachers more effectively than human searchers alone.
Tracking Dogs: Once a poacher has been identified within a protected area, tracking dogs play an essential role in following their scent trail and apprehending them before they can harm any rhinos or other threatened species.
These canine units work in tandem with their human handlers, forming a formidable team that has proven highly successful in deterring and capturing poachers.
Other Projects Supported by Nkombe Rhino
Nkombe Rhino is dedicated to protecting the magnificent creatures of Africa, and their efforts extend beyond their primary focus on rhino conservation. They also support various other projects that contribute to wildlife preservation and habitat restoration in the region. Some of these noteworthy initiatives include:
Persistent Poaching Prevention: In South Africa, where black and white rhino populations are particularly vulnerable, Nkombe Rhino works closely with local authorities and communities to combat persistent poaching threats.
Habitat Loss Mitigation: Habitat loss poses a significant threat to all remaining rhino species. By supporting reforestation projects and working alongside likeminded organisations, Nkombe helps protect vital habitats for these threatened species.
Raising Conservation Awareness: Educating people about endangered species like southern white rhinos is crucial in fostering global support for their protection. Through partnerships with schools, community programs, and international organisations, they aim to raise awareness about the conservation status of different animals, including black and white rhinoceroses.
In addition to these ongoing initiatives, Nkombe continuously seeks new opportunities to collaborate with other conservation organisations and expand their impact. By supporting Nkombe Rhino, you are not only contributing to the protection of rhinos but also helping preserve Africa's rich biodiversity for future generations.
Join Wild In Africa in our mission to create meaningful connections between people and wildlife conservation projects by wearing your karma proudly. Our handcrafted bracelets made from semi-precious stones symbolise your commitment to protecting these endangered species and their habitats. Together, we can strive to combat extinction.

FAQs in Relation to Rhino Extinction
What is causing the extinction of the rhinoceros?
Rhinoceros extinction is primarily driven by poaching for their horns, which are highly valued in traditional medicine and as status symbols. Habitat loss due to human encroachment and agricultural expansion also contributes to their declining populations.
How would the extinction of rhinos affect humans?
The extinction of rhinos could disrupt ecosystems, leading to negative consequences for other species and human livelihoods dependent on these habitats. Rhinos play a crucial role in maintaining grasslands, dispersing seeds, and supporting eco-tourism industries. 
How close is the rhino to extinction?
Rhinoceroses face varying levels of endangerment depending on their species: Black Rhinos are critically endangered while Greater One-Horned (Indian) Rhinos have experienced population recovery through conservation initiatives but remain vulnerable. Sumatran and Javan Rhinos are also critically endangered with small populations left. 
Conclusion
In conclusion, the dehorning program and anti-poaching efforts of Nkombe Rhino are essential in the fight against rhino extinction. The Ranger Fit Program ensures that rangers are physically prepared to protect these magnificent creatures, while tools such as drones and tracking devices aid in their protection.
Nkombe Rhino also supports other projects aimed at conservation efforts such as community education programs. By supporting organisations like Nkombe Rhino and spreading awareness about the devastating effects of rhino extinction, we can work towards a future where these incredible animals thrive once again.
Join us in the fight against rhino extinction by purchasing beautiful jewellery from Wild In Africa, with a portion of each sale going directly towards conservation efforts.
New products and discounts first!
RETAIL STUDIO
The Farm House, R527
Hoedspruit LP South Africa
. . . . . . . . .
HEAD OFFICE
65/2 Arbor Ave, Robina
QLD 4226 Australia
. . . . . . . . .
contact@wildinafrica.store