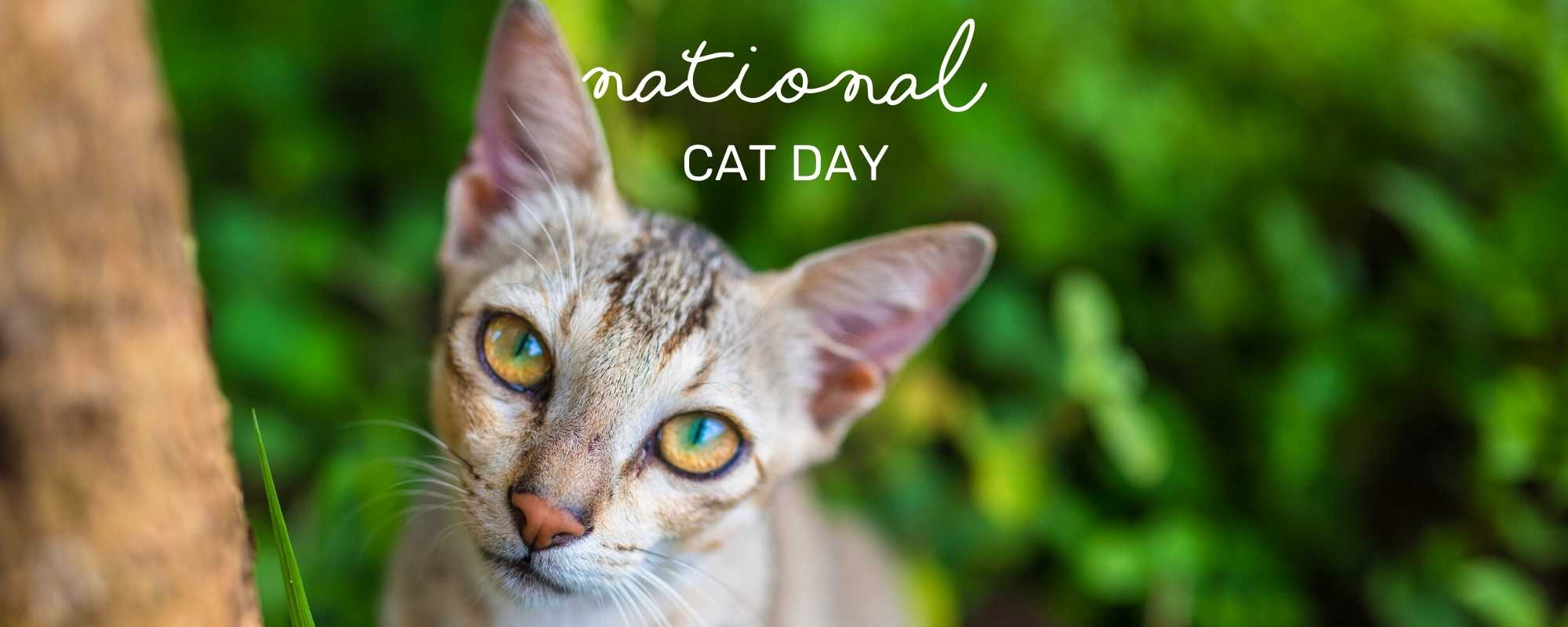 Posted on
---
National Cat Day is a highlight on our calendar because it's our opportunity to celebrate our Cat Executive Officer, VV. If you've been following us on Instagram for a while, he is likely to have graced you with his presence.
An unmistakable kitty-cat of the very most handsome kind, VV is the king of his castle and he deserves the luxurious life his Mama and our founder, Shannon, has created for him after he beat the odds as a sick little kitten in India.
Shannon found VV and his sister when she was filming Black Panther in India. Both tiny kittens were in bad shape and Shannon spent every minute of extra time she had trying to give them a chance of survival. Half Indian jungle cat and half domestic stray, VV had fighting spirit and after many days at the vet, some gut-wrenching touch-and-go moments (his sister didn't make it), VV pulled through and managed to gain the strength to accompany his Mom and Dad to his new home in South Africa. 
We've got a soft spot for cats of all shapes and sizes, so National Cat Day for us is kind of a big deal. The Black Panther – arguably the king of all cats – was Shannon's primary focus for a number of years as she spent months on end in India in search of this fairy-tale creature to film for her National Geographic documentary. This incredible melanistic leopard was the star of the show and he wasn't easy to find. Shannon went on to speak about her experience in pursuit of the black panther at a string of National Geographic Live events across the US. 
Back in Africa, our passion for these clever, curious, mischievous animals extends right across the realm of wild cats and domestic puddies alike. Sundar is actually our Quality Control Manager – a role he does not take seriously at all, but look at those dreamy blue eyes. VV rules the roost and naps on the job all the time, while his human puts in the work to keep our Wild Tribe inspired to conserve wildlife. 
Our love for cats is at the heart of our relationship with the Zambian Carnivore Programme, which is one of our selected charities. Our bronze and ochre coloured charity bracelet uses red jasper and leopardskin jasper beads with a custom designed lion pendant, and it is really popular as a unisex bracelet choice. The Zambian Carnivore Programme does amazing work for the conservation of large carnivores – feline and canine and all those in between (we're looking at you, hyena) – and takes action to conserve their precious ecosystems. 
This project addresses issues relating to human-wildlife conflict in Zambia, which often results in the snaring and poisoning of lions, leopards, and a variety of other animals. We believe whole-heartedly in the relationship building, education and action the Zambian Carnivore Programme fulfils to prevent tragedies and create sustainable solutions for both the wildlife and human inhabitants of the country. 
If you are a cat lover, this is one Wild in Africa bracelet you need to add to your collection. We donate 50% of the purchase price directly to the ZCP to help fund some of the cat conservation initiatives they undertake. 
National Cat Day is a good reminder not only to cuddle your kitty (if that privilege is bestowed upon you), but to show your support for the (p)awesome organisations that help keep wild cat populations strong.
 Written by Chloe Cooper
Don't miss out on future posts so be sure to sign up for our Wild Tribe (scroll below to sign up).
New products and discounts first!
RETAIL STUDIO
The Farm House, R527
Hoedspruit LP South Africa
. . . . . . . . .
HEAD OFFICE
65/2 Arbor Ave, Robina
QLD 4226 Australia
. . . . . . . . .
contact@wildinafrica.store