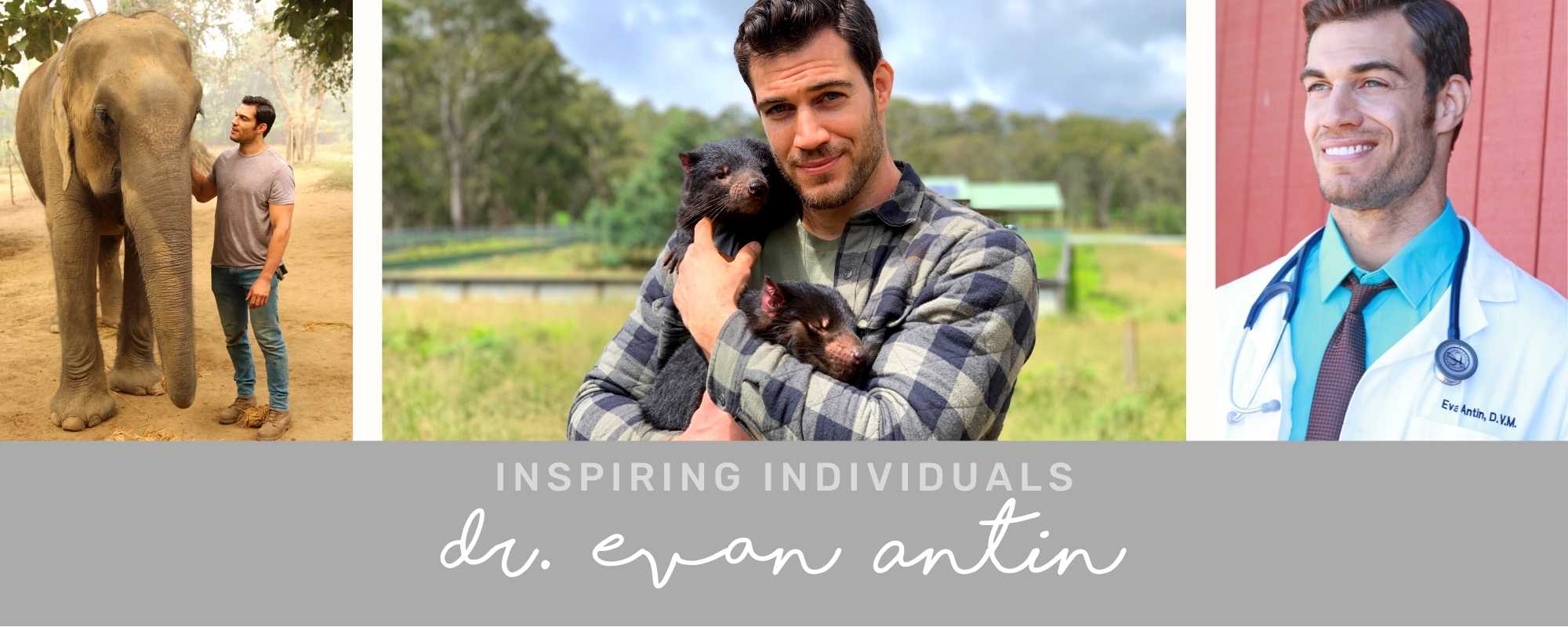 Posted on
---
We are drawn to people who love wildlife, and when it comes to conservation, this is at the heart of it.
So, when we reached out to Dr Evan Antin, we knew we were connecting with someone who has followed a childhood passion for animals and turned it into life-saving work as a vet – and an exotic animal vet at that.

But what we weren't prepared for (and what we love the most) is Evan's particular enthusiasm for reptiles! You'll know by now that we reckon the scalier the better, so when we learned that this globally admired vet from California not only has a dog and a cat, but also a lizard, a tortoise, and a snake, we felt like family!
Evan's conservation message revolves around educating pet lovers about the dangers of the exotic animal trade, which is so important.
We're so pleased to be able to share this interview with our Wild Tribe. He is most definitely one of us! Thanks for sitting down with us, Doc. 

Tell us about yourself yourself.
I'm a huge animal lover and passionate about wildlife and pets! I have 1 dog, 2 cats, a lizard, a tortoise, a snake, and tropical freshwater fish.
Can you tell us a little bit about your professional background?
I graduated veterinary school in 2013 from Colorado State University. I'm a wildlife, exotics and small animal veterinarian practicing near Los Angeles, CA.
My passion for wildlife also lands me doing voluntary wildlife veterinary & conservation work with many of my favorite species and habitats around the world. 
What or who in your life influenced you to pursue this route?
Coincidentally, my lifelong role-models are not veterinarians but I learned a lot from them and apply that to pursuing my goals.
First, Arnold Schwarzenegger, because I learned from him the concept of having a "vision." He had a vision of himself and how to attain his goals for every great success in his life. Arnold wanted to be the #1 bodybuilder in the world, the #1 Hollywood action hero, the governor of California and he accomplished all of these things. I applied this to my personal & professional goals.
When I decided I wanted to be a veterinarian I did everything I could to make that happen, making many sacrifices along the way.
I also appreciate Arnold's view of America being the land of opportunity because I agree - anything is possible here if you put the time in.

Another major influence for me is the late Steve Irwin. Steve's passion for wildlife and enthusiasm for working with animals was so contagious and I wanted to be him!
Steve and his legacy has probably raised more awareness for wildlife appreciation & conservation than anyone in history.
He significantly inspired me to work towards my goals of promoting wildlife conservation (and pet care) on a bigger platform to help give a voice for those who can not.

Currently, what is the inspiration that keeps you motivated and passionate about your work?
From the wildlife side - the conservation of our wildlife seems to be getting even more challenging from one year to the next. I truly think these animals & habitats need our help now more than ever and that drives me to do what I can for them.

Regarding pets - there's so many people out there with big hearts and love their animals but may have a bit to learn when it comes to their best care.
My motivation here is to continue to educate pet parents on how to optimize their pet's lives and health as well as theirs.
A big part of this message includes what animals should not be considered as pets ;).
What is the most impactful aspect of your work?
As a veterinarian, I'm not doing anything revolutionary or specialized that other good general practitioners or wildlife vets can't do.
Helping and healing animals is one of the most rewarding aspects of my life but I think the most value I bring for animals & wildlife is the ability to share their important messages on a larger platform.

Where is your favorite place you've traveled and why?
This is a tough question! But one of my favorite places in Indonesia. Their wildlife is unreal, and many of the most gorgeous reptiles I've seen in the wild were in this archipelago.
The diversity of primates and birds is also spectacular. The jungles are intense and the diving is solid too, so this place is up there...

Tell us about your strangest experience while traveling?
Taking a bite out of a raw, freshly "slaughtered" goat kidney was pretty strange for me.
I understand it's not strange at all but rather a very nice form of welcoming a guest for my Maasai friends that gave me the kidney but from my perspective it was very unusual.
I did a homestay with a Maasai village during my undergrad with a small group of students studying wildlife ecology & conservation. I had the honor of staying with the chief of the village and his son's friends had just asphyxiated a goat for our welcoming celebratory bbq.
Being a guest of the chief is what afforded me the privilege of drinking fresh goat blood and eating raw kidney.

Why do you feel that wildlife conservation is important?
For my entire life, the natural world and it's inhabitants have captivated my attention more than anything else.
I want to give back to the wildlife that I've so appreciated over the years and I want to help ensure generations to come can appreciate these wild habitats and animals.

What is your favorite Wild in Africa bracelet style and why?

The obsidian and tiger's eye bracelet is stunning. I like the color combination and I think it looks super sharp.

Are there any animals you feel especially passionate about?
I find myself being especially passionate about misunderstood animals.
These species are most often associated with ignorance and irrational fears and I'm on a mission to help set the record straight and share the value and ecological significance of animals like sharks, snakes, rats, spiders, etc.
Some of these misunderstood species are of severe conservational concern and if they're not appreciated by the general public then I fear their conservation will be that much more challenging.
I'm also a huge reptile fan in general. Not just because they're misunderstood but I have an inexplicable penchant for them. Venomous snakes, monitor lizards and crocodilians are amongst my favorite reptiles.

Can you share your future plans and hopes for yourself?
I plan to continue on my path with the hopes of getting progressively more and more outreach from my platform.
The voice of our animals & wildlife is never loud enough but I'd like to amplify it as much as possible.
 Don't miss out on future posts so be sure to sign up for our Wild Tribe (scroll below to sign up).
New products and discounts first!
RETAIL STUDIO
The Farm House, R527
Hoedspruit LP South Africa
. . . . . . . . .
HEAD OFFICE
65/2 Arbor Ave, Robina
QLD 4226 Australia
. . . . . . . . .
contact@wildinafrica.store