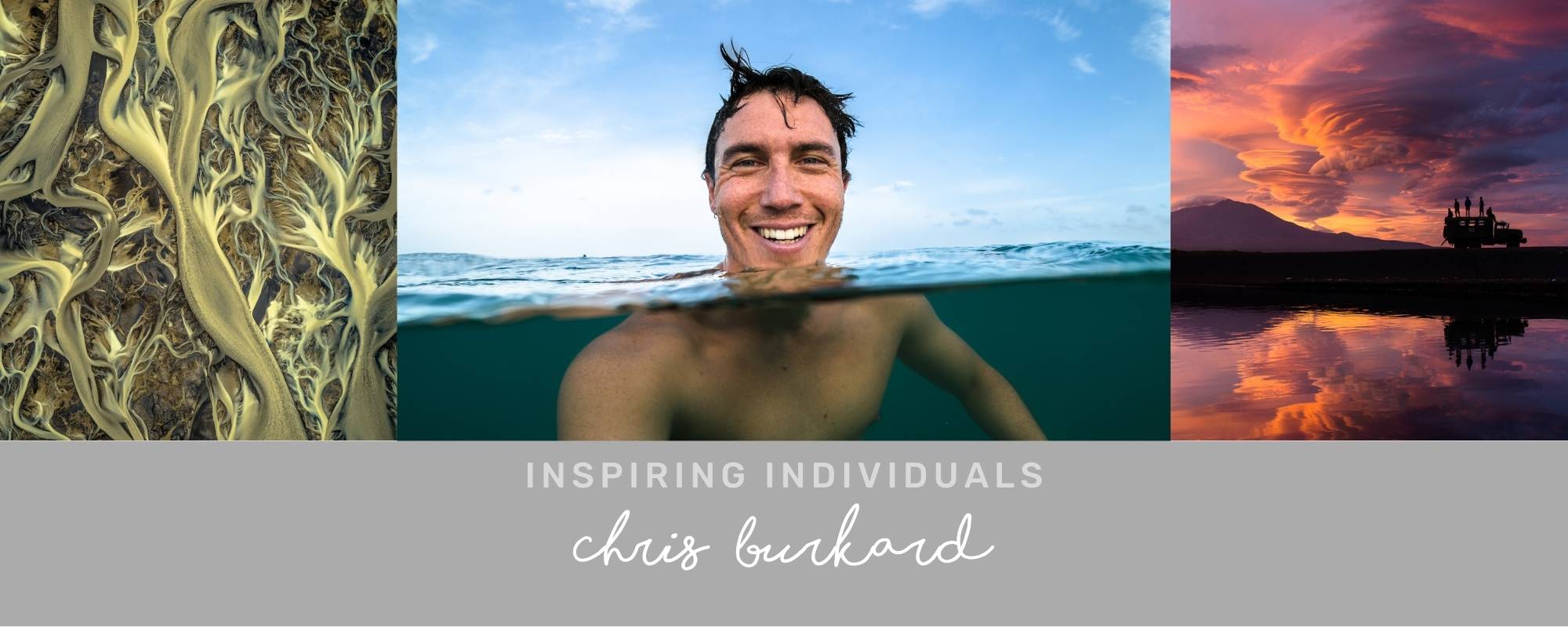 Posted on
---
Navigating glaciers, oceans, deserts, mountains, and forests in search of unique perspectives of the Earth we live on, Chris Burkard is an extraordinary photographer with a zest for adventure.
Always advocating for human exploration of this planet, Chris has an insatiable appetite for travel. His dramatic photography captures landscapes all over the globe (most notably, Iceland), depicting the curves, crevasses, ridges and valleys in ways we might never have seen them.
We're big fans of not only his work - which includes photography, authorship and motivational speaking - but of his lifestyle, which prioritises sustainability and authenticity.
Raising two sons and two alpacas alongside his wife, Chris is ensuring that a love for Earth exploration is passed down to the next generation.
More people like Chris, please!
Please tell us about yourself.
I would describe myself as an explorer, photographer, creative director, speaker, and author. Traveling throughout the year to pursue the farthest expanses of Earth, I  work to capture stories that inspire humans to consider their relationship with nature, while promoting the preservation of wild places everywhere.
Layered by outdoor, travel, adventure, surf, and lifestyle subjects, I am known for images that are punctuated by untamed, powerful landscapes.
Through social media, I strive to share my vision of wild places with millions of people, and to inspire them to explore for themselves.
Can you tell us a little bit about your professional background?
I started shooting photos when I was 19 years old after experimenting with drawing and art in high school. I realized that it enabled me to do art in a mobile state, to explore and adventure, and show people the beauty in the world around me.
At that point I realized that I enjoyed photography but the idea of turning it into a career was overwhelming. I knew I had to give it 100% if I wanted to make it into something without any formal training so I quit my job (at a magazine store) and started shooting anything for anyone.
I would go and shoot surfers at the local beach and try to sell them pictures on dvd's... I shot weddings and senior pictures and interiors store photos. That obviously wasn't my end goal but I had to start somewhere. I wanted to learn more about action sports and landscapes photography which is what I was excited about but didn't know where to turn so I started applying for internships.
I finally got an opportunity to intern with Michael Fatali, a large format landscape photographer, and I got an internship at Transworld Surf magazine which was an incredibly valuable experience.
Through trial and error, I taught myself and began to develop a style. Hard work, persistence, and having passion for what I do has taken me a long way.
For the first part of my career I slept in my car a lot, so nothing happens quickly. I would say it was about 4 years until I really started making an income. During my transworld internship I commuted 5 + hours every week and lived in my car.
I really look back fondly at those more challenging times because it makes you appreciate having to work for what you have and giving something of yourself for your career.
What or who in your life influenced you to pursue this route?
Being self taught, I learned almost entirely through trial and error. Practice and working at what I loved to shoot was a big part of it. I interned at Transworld Surf under Pete Tares which was a great opportunity that furthered my career.
I also interned with landscape photographer Michael Fatali which really influenced how I look at my own work. But these guys never picked up my camera and showed me how to shoot. They just led by example.
The goal was that nobody ever told me, " you have to do it this way". I was able to experiment and able to just learn in an openly creative state, which I think is really important for an emerging creative. It's good to have criticism when you are ready for it but I urge people to always go and just enjoy shooting first.
Shoot even without a memory card or film in your camera so you can just enjoy the simple act of shooting.
Currently, what is the inspiration that keeps you motivated and passionate about your work?
I would like to be remembered as a photographer who inspired people to get outside and explore wild places. This is what it's all about for me.
I want people to understand the importance of nature and of our environment and I think getting people outside is the way to do that. If I can make that happen, I will be incredibly happy.
What is the most impactful aspect of your work?
Like I mentioned before, one of the main reasons why I shoot what I do is to inspire people to get out and explore mother nature. My goal is to create images that inspire the everyday person to go on adventures and to feel like it is accessible to everyone.
So many adventure photographers shoot incredible images of people doing insane things which are awesome but at the same time it isn't very relatable to most people. I want the average person to be motivated to go and explore the outdoors, and I think people appreciate this.
One of my very favorite things is when someone tells me they went somewhere because they saw my photos and decided to go too, that's what it is all about for me.
Where is your favorite place you've traveled and why?
Iceland! No doubt. It's such a magical place and no matter how many times I go there I keep getting drawn back. I'm about to go back for my 29th trip and I am just as excited as I was on my first trip.
The key is to go where people aren't, which is pretty easy. You just venture to the locations that aren't on the tourist trail.
It's an amazingly diverse country but I cringe when people just stay in Reykjavik and only explore a couple hours from the main city. The country has so much to offer if you just get out there and explore!
Tell us about your strangest experience while traveling?
In Norway I was shooting surfers from the water, which hovered around 39 and the air was a brisk negative 10. After about 30 minutes I couldn' feel any of my hands or feet, but the surf was too good to go in.
I kept shooting until I physically could not move and was so disoriented I didn't know if the waves were pushing me out to sea or pulling me into the jagged shore. It took 3 surfers to pull me out of the water.
This was probably my coldest experience. I shared it in my ted talk and to this day it makes me head feel numb and my fingers tremble.
Why do you feel that wildlife conservation is important?
Sustainability is something I constantly think about and strive for.
Many of my daily decisions take the environment and their sustainable impact into account and this is something everyone should do.
Conserving Wildlife is very similar, not only should we care for the land we live on and visit, but we need to care for the wildlife that feeds on and gives life to the land we live on. There's only one Earth, and if everyone on the planet makes  a small effort to protect it each day, it will go a long way.
I like to remind people that it doesn't have to be some huge, dramatic action to save the world if you want to live a sustainable life. While those are great if you can pull them off, it's the sum of the consistent, smaller actions that add up.
I encourage you to think about small things in your day to day life that you could change that would benefit the environment and the world at large.
Are there any animals you feel especially passionate about?
I have two alpacas, Suzy-Q & Mistal, one of the many joys of my daily life. They're actually really great animals to have and it's awesome to have them at my house.
I particularly like raising my boys with animals around, I think it's great for learning and maturity.
Could you share the story behind your favourite photograph you've taken?
I took a trip to the Aleutian Islands, a chain of islands off the coast of Alaska, to shoot surfing. We didn't really know what to expect when we got there except that some of the world's biggest storms form there and that we had seen waves on Google Earth.
After exploring the Islands for a few days we stumbled almost accidentally on a pristine right peeling wave with a snow covered volcano for a backdrop. When I started shooting images I knew it was getting special but I still can't believe I captured the moments I did.
Nature was doing all the work, I was just lucky enough to have put myself in the right place for it to happen.
Do you have a favorite place or subject to photograph?
Iceland! No doubt again. I recently came out with a book called 'At Glacier's End' and it shows the journey of Iceland's glacier rivers from glacier to sea.
These glacier rivers have always been one of my favorite subjects to photograph, especially when it comes to aerial photography. 
Can you share your future plans and hopes for yourself?
Future goals would always be to simply inspire people.
Create work that is meant to last a lot longer than I am.
I always hope to continue exploring parts of the globe that feel wild and remote and ideally bring those experiences back to people through social media, books, films and articles. There are a couple remote Russian Islands I have my eyes on that I want to visit.
Additionally I have a book about Iceland's glacial rivers, and a new film project I've set my eyes on! 
Don't miss out on future posts so be sure to sign up for our Wild Tribe (scroll below to sign up).
New products and discounts first!
RETAIL STUDIO
The Farm House, R527
Hoedspruit LP South Africa
. . . . . . . . .
HEAD OFFICE
65/2 Arbor Ave, Robina
QLD 4226 Australia
. . . . . . . . .
contact@wildinafrica.store