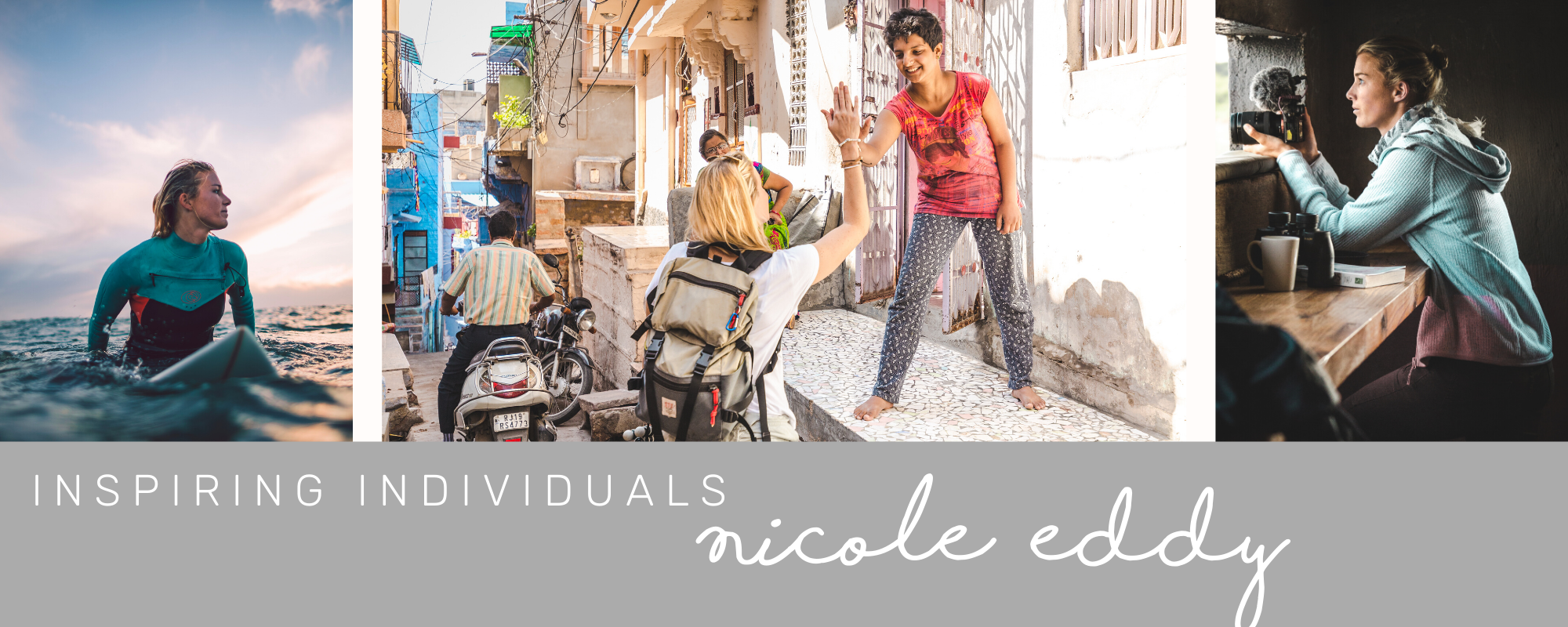 Posted on
---
One could say that safari, surf, and sunshine are the three pillars of this beach babe's life, but then you'd be forgetting the mountains, the stars, and the wide, open road!
Nicole Eddy is an adventurer and a traveller, documenting her journeys into nature and taking us along for the ride. She's happiest on a hike or in the barrel of a wave and is constantly in search of moments that make her "high on life". 
Born and raised in Cape Town, Nicole lives with a view of the breakers from her seaside apartment and bakes Jamie Oliver-recipe lasagna during Lockdown. She's inspired by all things Wild (that's why we like her) and her favourite WIA jewellery is the Big Five Stack. 
Tell us about yourself.
I was born and bred in Cape Town, South Africa and was raised by parents who was equally as passionate about being outdoors and active as I am today. Living near the ocean my whole life, surfing fast became a staple to my lifestyle and in turn, the ocean grew to play a big role in my life. 
In conjunction with living near the ocean, our family holidays always consisted of road trips whereby my parents sought after any opportunity to escape city living and would throw us...not quite literally, into the bed that they had made at the back of the VW Kombi. We would head off to one of the many incredible destinations that South Africa, and sometimes slightly beyond its borders, had to offer.
It only seemed natural that my love for the outdoors and adventure would grow stronger with each of these special family trips, and thankfully I'm now able to.
Can you tell us a little bit about your professional background? 
I always have a bit of a hard time explaining my career to people, but I guess for a lack of a better term, I would consider myself to be a 'social media influencer'. In a nutshell, I create videos for my YouTube channel and share some of my images on Instagram. My content varies from anything to do with my daily life at home as well as documenting and sharing my travels both locally and internationally as well. 
Earlier this year, myself and two friends started a company called Africa Unearthed. Due to having travelled Southern Africa extensively and East Africa to some extent, we wanted to be able to share these incredible places with others who might not know how to go about planning trips.
What better way to do this than to draw up itineraries unique to each individual or group in the hopes that they can get a glimpse into why we love this continent and her wild places so much. 
Our theory is that for many travellers to Africa, it seems to cast a spell which one just can't seem to shake, and should our guests hopefully fall in love with it as much as we have, that this will in turn promote an interest in protecting the land and its wildlife that they have so enjoyed.
What or who in your life influenced you to pursue this route? 
Wow, where to begin?! I guess that it makes sense to take it right back to the beginning of the story which I had very briefly touched on, and that was my childhood chapter.
My parents were probably the initial driving force, as without them and our outdoorsy family adventures, my love for the environment might not have been so engrained. 
Many of my fondest childhood memories have either been in the bush, or random places that always seemed to be a little, (or sometimes quite a lot), off of the beaten track. This was usually due to my Dad wanting to try new routes or taking unknown back-roads, much to my mother's horror, which resulted in us stumbling upon new places. So I guess that's where the direction of my content being more travel and outdoor orientated came from - just pursuing something that I thoroughly enjoy. 
With regards to the whole social media route - I got given a university assignment which involved having to create a blog and write several posts which our lecturer assessed us on. After not having written for so long, I had forgotten how much I enjoyed it and found myself continuing to write long after the assignment had ended documenting my trips to the Cederberg, West Coast National Park as well as scribbling random stories down. 
My boyfriend at the time was doing daily YouTube videos, and he had accumulated quite the audience whom had started to enjoy my posts and articles. This audience soon began to spill over onto my dormant YouTube channel and
before I knew it, I had built up a large enough following that thankfully made me somewhat desirable for some outdoor brands to be interested in working with me, and thankfully it carried on growing from there. 
Currently, what is the inspiration that keeps you motivated and passionate about your work? 
First and foremost, I just get such a kick out of being in nature - I really do.
Whether I'm hiking, surfing or running, I'm in my absolute element and therefore that fire and passion gets kept alive no matter what. That's the easy part! 
Apart from wanting to share my experiences, I hope that by documenting them encourages others to get outside. This aspect is a strong driving force for me to continue even when I question what I'm doing or why I'm on the path that I'm on. From learning to appreciate the outdoors at an early age, I, and I'm sure that for most of you reading this, knows how important a role that it plays for our health, sanity and mindset. 
What is the most impactful aspect of your work? 
As with any job, it can get a little mundane at times and despite traveling often being made to look glamorous online, I can assure you that it isn't. At times when the going gets tough or you're feeling a little unsure, someone who follows me will pop me a message perhaps sharing their own stories or letting me know how I might have inspired or encouraged them to do something out of their comfort zone.
That makes me so happy, knowing that I could have been a contributing factor to someone saying 'yes' to an adventure, no matter how big or small, that they otherwise would have overlooked or been to scared to take. 
Where is your favourite place you've traveled and why? 
Tough call! For me, I don't think that any place can come close the Kruger National Park. Apart from being a mecca of Southern African safari's, it is intertwined with many fond memories as a child, with early morning game drives, waiting for the sun to warm us up to having an evening 'braai' (a South-African version of a barbecue, it just tastes better) with the fire crackling and the call of a hyena somewhere in the distance. 
There is also something strangely soothing about knowing that for as far as the eye can see, only wilderness exists. 
With the bush aside, my favourite country thus far (of which I have only explored a tiny percentage of) is Canada. I was lucky enough to go on a trip there a few years back, and loved every single moment. It was my first time seeing 'proper snow', and so my mind was slightly blown. 
There was also a feeling of endless quiet and wilderness as we drove through National Park after National Park, the Rockies snow-capped peaks always in the background. I cannot wait to explore this place again! 
Tell us about your strangest experience while traveling? 
We had embarked on a 3 month long Cape Town to Kenya road-trip, and a little after 1 month on the road we found ourselves in the idyllic and wild Mana Pools National Park on the banks of the Zambezi River in Zimbabwe. We hadn't really been in contact with too many people on the trip thus far, so you can imagine the surprise that we got when we found ourselves being chased down a single, muddy track by a Land Rover loaded with water bins on the back. There was no other car in sight and we were minding our own business on a morning game drive, when this Land Rover appeared from out of nowhere. 
Eventually it pulled up next to us, and much to our surprise two gentleman who owned a lodge in Mana Pools, had recognised our vehicle and chased us down as the one man's wife was an avid watcher of our YouTube channel. 
We were invited back for lunch and a beautiful afternoon bush walk, and soon found out that the one gentleman by the name of John Stevens, is a renowned bush guide throughout Africa, providing some of the top walking safari's on the continent. It was a very special encounter! 
Why do you feel that wildlife conservation is important? 
I guess that the most obvious answer is to preserve our wildlife and promote biodiversity so that hopefully my children, and their children and so forth will be able to have the same experiences that we did growing up and come to appreciate nature in the same way. For our future generations to see animals such as rhino and elephant in their natural habitat, where they belong, is incredibly important and humbling. 
In this day and age, I think that we have lost touch with the importance of nature and how intrinsically connected to it we are. Unfortunately, humans have come to believe that we operate independently of nature, and that we can abuse and pillage the wildlife and land for selfish gain and greed.
It is up to us to action our passion, as well as educate and inform others who might not have the ease of access to resources and knowledge, in order to create awareness for our wildlife, so that future generations can enjoy it. 
One of my favourite quotes to sum this last thought up is by Robert Swan: 'Our greatest threat to our planet is that someone else will save it'. 
What is your favourite Wild in Africa bracelet style and why? 
The Big 5 stack. The colours are all my absolute favourites with the perfect mix of earthy neutrals and ocean blues. They are subtle enough to blend in with an outfit, however are unique enough to be a great conversation piece, and with the awesome work that Wild in Africa as well as Shannon Wild does - will certainly provide a lot to talk about. 
Are there any animals you feel especially passionate about? 
I don't feel necessarily more passionate about one animal than another, but I do think that the pangolin is one of the most understated animals. It's not uncommon for majority of people to ask 'What's a pangolin?' When mentioning it (before COVID-19 that is),
I find it quite fascinating that despite it being the worlds most trafficked animal, it is still widely unknown by majority of the world. 
I have also never seen a wild Pangolin before, so it's exciting to know that I still have that species to tick off. 
Can you share your future plans and hopes for yourself? 
I'm not too sure to be completely honest and haven't done much future planning. I hope that Africa Unearthed will be fully off the ground and if that is the case, I have no doubt that my traveling will have to take a bit of a back-seat in order to grow it. 
With that being said, I'm sure that I will continue to travel and experience new countries and cultures whilst sharing these journeys with my audience online. 
I am itching to do another big adventure or expedition of some sorts - what that is, I still need to figure out :) 
Don't miss out on future posts so be sure to sign up for our Wild Tribe (scroll below to sign up).
New products and discounts first!
RETAIL STUDIO
The Farm House, R527
Hoedspruit LP South Africa
. . . . . . . . .
HEAD OFFICE
65/2 Arbor Ave, Robina
QLD 4226 Australia
. . . . . . . . .
contact@wildinafrica.store