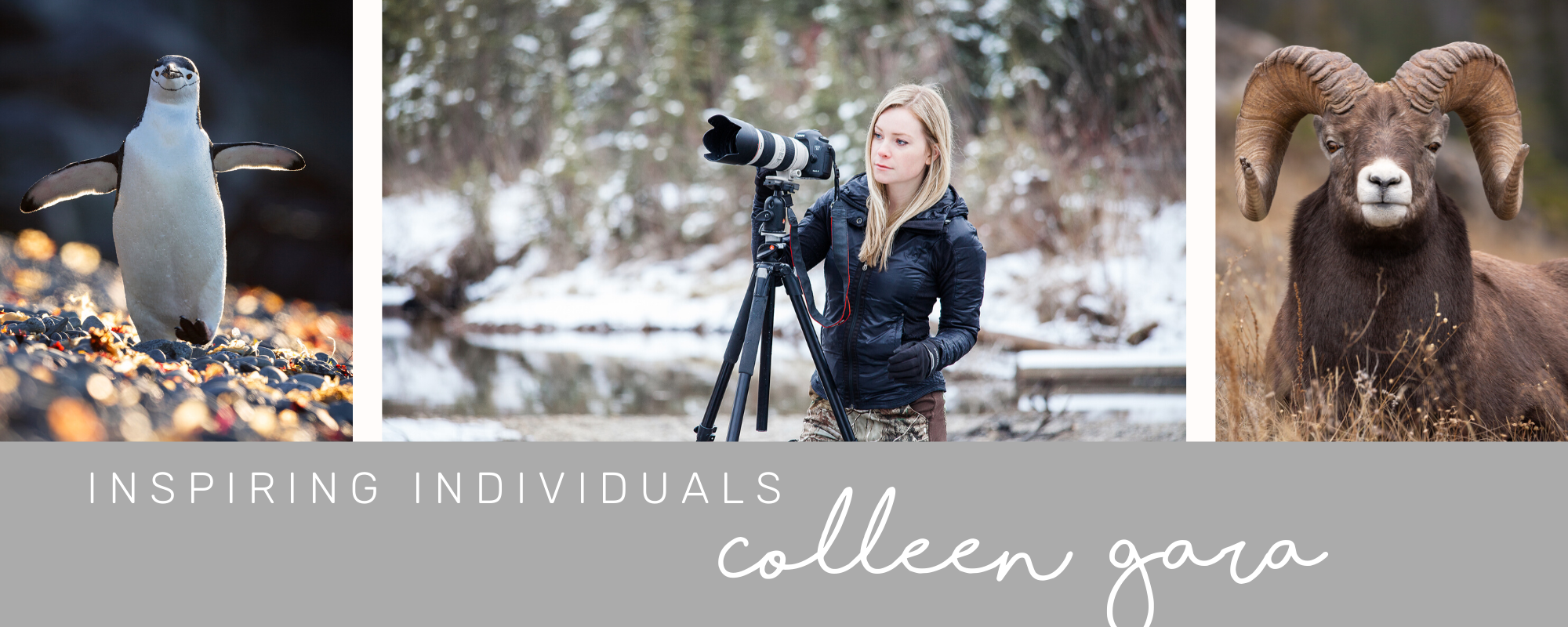 Posted on
---
An animal lover and outdoorswoman since childhood, Canadian Colleen Gara truly followed her lifelong passion by delving into the world of wildlife photography.
Her images reflect her love of her homeland where all that is crisp, white winters, and emerald green springs come to life in the frame. A (wild) dog person (we like her already), Colleen's greatest pleasure is to watch and photograph wolves. 
This enormous wilderness in the northern hemisphere is world's away from our hot, African climate, but Colleen has also ventured way down south to capture the stark contrasts of the Namibian desert where resilient animals thrive on so little.
From photography workshops, published works, and campaigns, Colleen has turned her passion into so much more than a hobby. Amazingly, she also leads a life as a lawyer - so, it's safe to say we're impressed with this wild woman's talent, and it has been a pleasure to sit down and talk about it all. 
Tell us about yourself.
I'm a wildlife and nature photographer based in Calgary, Alberta, Canada. I'm passionate about photographing wildlife in their natural surroundings and my focus is on Canadian wildlife. 
Can you tell us a little bit about your professional background?
I've been photographing wildlife for the past six years and have been lucky to travel to various corners of the planet to do so. I am currently a workshop leader, educator and writer for two Canadian photography companies and I also research and write for a web series that tackles important wildlife conservation issues here in Canada.   
In 2019, I was fortunate to partner with Mattel and National Geographic as a mentor for the Barbie 'You Can Be Anything' campaign which aimed to inspire young girls to seek out careers in exploration, science and photography. I also work with commercial clients and sell prints and stock photography. My work has been featured in several publications, including Audubon, Canadian Geographic, Wild Planet Photo and Nature's Best. And while wildlife photography is my absolute passion, I also currently work as a corporate lawyer here in Calgary and have managed (so far) to balance the two careers. 
What or who in your life influenced you to pursue this route?
I've always been an animal lover at heart. Growing up, my room was plastered with posters of wolves and polar bears and I was constantly reading nature magazines and books. Both of my parents were interested in photography and some of my earliest memories are of trying to use their cameras. Eventually I received my own point and shoot and I took it with me everywhere. I started documenting all our camping holidays, hikes and road trips. After a short time, I realized that what I loved most to photograph on our outdoor adventures was animals. 
Wildlife photography was a natural fit that combined my love of animals, the outdoors and photography.
Also, having spent a lot of my childhood outdoors camping or hiking, I grew up with an appreciation and respect for nature and understood the importance of maintaining that relationship and of coexisting with wildlife.

 
Currently, what is the inspiration that keeps you motivated and passionate about your work?
The beauty of the natural world and being able to share that with others keeps me motivated and passionate about my photography. I love being able to share information and stories about wild animals with people and help foster that connection between the viewers of my images and my wild subjects.
Even if just one person, after seeing a photo, wants to learn more about an animal, or how they can help protect it and its habitat, then that's all I could ask for.
I believe wildlife photography can play a big role in motivating a greater interest in conservation and can inspire a better appreciation of nature.
What is the most impactful aspect of your work?
I would say educating, either through my images, writing or workshops, is the most important aspect of my work.
I want to help others connect to wildlife and nature and inspire them to learn more about a particular species or even advocate for that animal. Maybe piquing someone's interest in an animal they never knew much about.
Photography can be a powerful way to convey a message about wildlife and the issues or threats they may face.  
Where is your favorite place you've traveled and why?
That's a tough one. I love so many places for different reasons. I spend most of my time here in Canada, but I've also been lucky to have travelled to many incredible places to photograph wildlife, like Antarctica and Africa.
I would have to say that the Great Bear Rainforest in British Columbia is my favourite place to travel to.
The GBR is a coastal, temperate rainforest that covers 6.4 million hectares on BC's north and central coast. It is an incredibly beautiful place where you're constantly surrounded by lush rainforest, mountains and the ocean. And it's a place where you can see and photograph some very unique animals that you don't see in many other places, like the spirit bear (Kermode bear) and the coastal (sea) wolf. 
What I also love about the GBR is that you can really feel disconnected from the rest of the world there. There is little to no cell service in some areas which forces you to be present and just soak in the experience of where you are and the wildlife you're seeing.
It's a very peaceful and special part of the world and I've always felt at home there more than anywhere else.
Tell us about your strangest experience while traveling?
A few years ago, I was visiting the Great Bear Rainforest and one morning. we were sitting alongside a creek waiting for black bears to appear and fish. We sat there for a few hours and nothing appeared. Finally, we could see a large black bear ambling down the river. He approached and as he got closer and closer I realized he was going to pass quite close to where we were positioned. Bears have a reputation for being aggressive, dangerous animals and while they can be under certain circumstances, generally they're an animal that is quite tolerant and accepting of us. As the bear approached, we sat still and watched as he passed with only a couple sideways glances at us. 
It was an exciting, strange yet surreal moment to be so close to such a beautiful, powerful animal and yet to feel so completely at ease.
I had photographed black and grizzly bears prior to this encounter but this was the closest I had been to a bear and it was incredible.
Could you share the story behind your favorite photograph you've taken?
One of my favourite photographs that I've taken is of a lynx and her kitten, taken in the Canadian Rockies.
I had been searching for lynx for several years but they always managed to elude me. The closest I ever came to seeing one was the tracks left behind in the snow. A couple of years ago, I was out snowshoeing when I spotted what I thought was a coyote in a meadow up ahead. As I approached, I was shocked to discover it wasn't a coyote at all, but a lynx! Then another, smaller, shape appeared – a kitten. I then spent over an hour with this female lynx and her kitten as they maneuvered through the forest, weaving in and out of the trees. 
Eventually they stopped in a small clearing where they lay down to rest. They napped, then groomed themselves and cuddled. After some time, the mother stood up and slowly ambled away into the trees. Her kitten continued to lay in the snow for another few moments before getting up and following her mother.
It was such an amazing encounter, being in the woods with the snow falling, and witnessing the special bond between a mother and her baby.

Do you have a favorite place or subject to photograph?
Wolves would be my absolute favourite subject to photograph. Not only are wolves gorgeous animals, but they share a lot of characteristics with us - they form family units and look after one another, they're intelligent and they can be very curious and playful. I think wolves are incredibly misunderstood. They are also my favourite animal to photograph because they are challenging to find due to their elusive nature. When I do get that chance, the encounter is that much more thrilling. 
Every time I have seen a wolf in the wild, I feel a tremendous, powerful rush of excitement.
They can simply be laying in the grass, or actively playing or feeding on a carcass – any behaviour interests me. For me, the wolf is the animal that truly symbolizes the wild.
Why do you feel that wildlife conservation is important?
Wildlife faces increasing pressure and threats around the world. I think we have a responsibility to speak up about these issues and educate others if possible. The more people who care about an animal or about the dangers they face, the better chance there is for change. People generally don't care about things they know nothing about so it's about raising that awareness. 
Wildlife is crucial for our own existence and can teach us so much about beauty, strength and survival.
I was lucky to grow up with parents who loved the outdoors and exploring and I was taught to respect nature. I feel strongly that the more people are exposed to nature and to wildlife, the more they will value and respect it. 
What is your favorite Wild in Africa bracelet style and why?
I love the semi-precious stone bracelets. I have several of them and wear them everyday.
I especially love the charity bracelets. My favourite is the Invictus K9 bracelet.
The colour and style of the bracelet is simple and classic and I like that the bracelet was created for the anti-poaching work of the Invictus K9: an organization that uses canine units in various countries in Africa to track suspected poachers, as well as search for illegal wildlife products and firearms.
Such an important and timely cause. 
Are there any animals you feel especially passionate about?
I'm especially passionate about the members of the canid family. I love photographing foxes (red and swift), coyotes and wolves as much as possible. They are extremely intelligent and inquisitive animals and I think they're generally misunderstood and persecuted unfairly.
They're often viewed as pests or as threats and I feel strongly about showing people a different side of them.
Can you share your future plans and hopes for yourself?
With current events, things are a little up in the air, but I hope in the future to continue teaching workshops and educating people about the importance and value of wildlife. I plan to spend a lot of time photographing here at home in the Rockies, but I would also love to return to the Great Bear Rainforest and maybe travel to the Canadian Arctic. 
I would love to photograph polar bears, muskox and arctic foxes up north.
I also hope to focus more of my work on conservation projects and to continue learning and advancing my knowledge in photography, conservation and animal behaviour. I think there is always something new to learn.

 
Don't miss out on future posts so be sure to sign up for our Wild Tribe (scroll below to sign up).
New products and discounts first!
RETAIL STUDIO
The Farm House, R527
Hoedspruit LP South Africa
. . . . . . . . .
HEAD OFFICE
65/2 Arbor Ave, Robina
QLD 4226 Australia
. . . . . . . . .
contact@wildinafrica.store