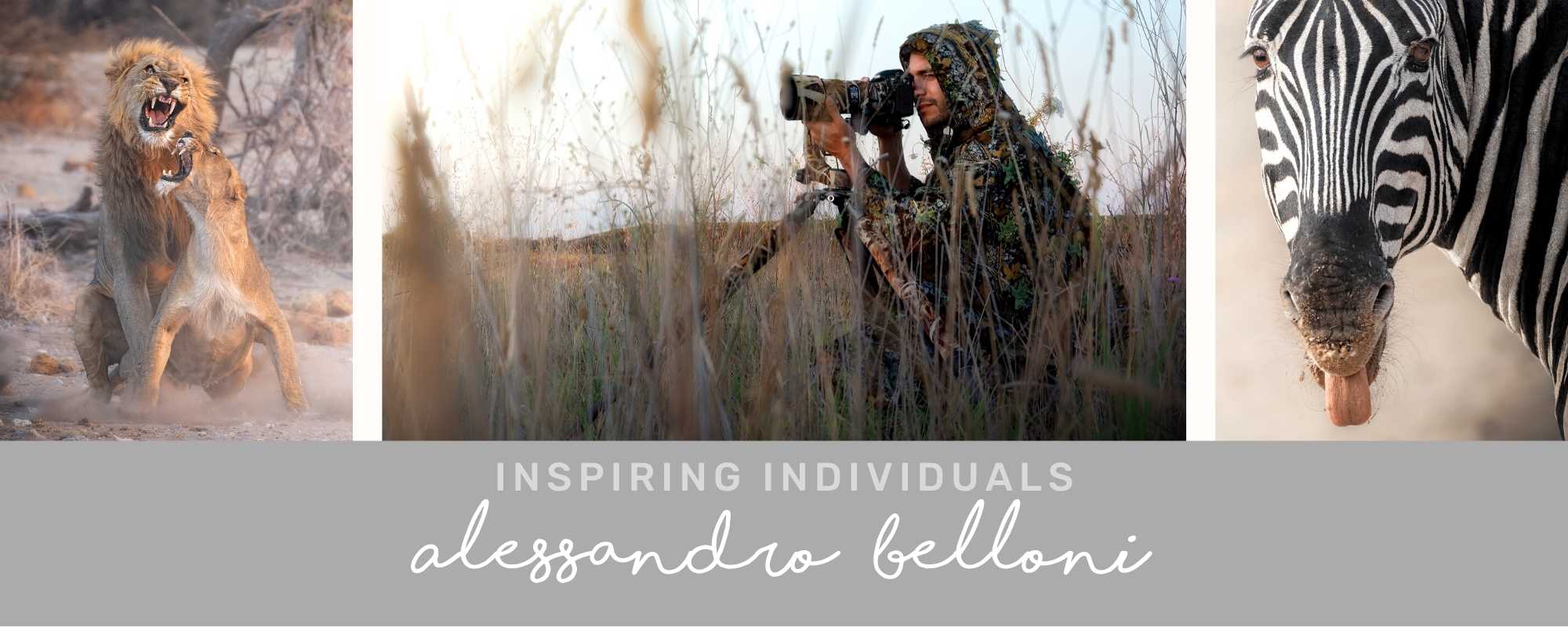 Posted on
---
Alessandro is an Italian airline pilot with a passion for wildlife that has led him on adventures around the globe in search of opportunities to photograph the world's most amazing wild animals.
A Roman, born and raised, whose career in the cockpit has allowed a lifestyle of travel to nurture a love for wildlife photography.
Alessandro is not only incredibly talented behind the lens, but the life he leads speaks to his genuine belief in conserving Earth's precious resources, habitats, and natural residents.
Leading a vegan lifestyle for over a decade, Alessandro's dedication to sustainability is evident in the choices he makes and he believes that everyone can make small changes to lighten their footprint on the planet.
Through his photography, he feels he is able to connect people with the natural world and in this way encourage them to take steps towards protecting and conserving it.
This Italian loves Africa, but holds space in his heart for the elusive wild animals that populate his home country, and often make for the most rewarding photographs. 

Please tell us about yourself.
I am an Italian Wildlife Photographer passionate about Wildlife Conservation and travel. I was born and bred in Rome, and I have spent a lot of time travelling around the globe.
I have always felt connected with nature, and photography for me has always been a tool to capture it.
With travelling as a tool to discover the world's most amazing wildlife, and a camera always ready to capture it, I hope to raise emotions and help raise awareness to protect and preserve wildlife.
Can you tell us a little bit about your professional background?
Although everyone thinks I am a full-time professional photographer, I am not!
I am an airline pilot based in Europe; my job gives me the chance to travel around the world and leaves me plenty of time to practice photography and work on my conservation project.
I have always been into photography, and a few years ago, having the possibility to invest time and money in this beautiful world, I have decided to merge my passions about animals and photography, hoping to be able to show the beauty of nature to everyone.
What or who in your life influenced you to pursue this route?
I have always been passionate about animals; when I was young, I used to spend a lot of time in front of the TV watching documentaries and dreaming of going to those places someday.
When I was 12 years old, I got my first dog, and I immediately fell in love with it. I have started getting closer to animals, and I have felt the need to do something to preserve wildlife and their environment.
That's why almost ten years ago I went vegan, and I started to study ways to impact our planet as little as I could.
With my photos, I try to show people how beautiful our world is, and I hope to inspire people to take actions to protect it.

Currently, what is the inspiration that keeps you motivated and passionate about your work?
As I said in the last answer, my main objective is to raise awareness toward wildlife and their habitat to help protect and preserve it.
Wildlife cruelty, and the hope to stop it completely one day, is what keeps me motivated.
What is the most impactful aspect of your work?
I believe the best part of my work is that it brings me very close to wildlife. It is fascinating to watch how different animals react and interact with yourself and with their environment.
Where is your favourite place you've travelled and why?
Although Africa is one of my favourite places to photograph, first place goes to Borneo. Walking under the Tropical Rainforest canopy at night is mesmerizing, once you step into the jungle, you feel nature, the sound, the smell, the wildlife, everything is in balance. As much as you can get close to nature, you know you will never be all in one with the jungle as all the critters that live in it. I believe travel is essential to understand how vital it is to preserve these places.
Tell us about your strangest experience while travelling?
Although I have a lot of travel stories to tell, I believe the strangest travel experience I have had lately was during the Covid-19 Pandemic.
Back in February, I was travelling across south-east Asia; when countries started closing borders, I was lost in the jungles of Sabah, Malaysian Borneo. Fortunately, I was able to find some flights through countries with open borders to get back home just in time.
The experience of travelling in the middle of a Pandemic was awful.
Hopefully, we will be travelling again soon enough.

Why do you feel that wildlife conservation is important?
I believe we, as humans, have the duty to protect our Earth.
It is crucial that at this point, we take actions to preserve the beauty of our lands. Each effort can drastically help, can be an example to others, and can shape our future.
I believe that wildlife conservation is vital; protecting wildlife means to preserve the environment animals live in. Protecting and preserving these gorgeous places can even help local economies.
As a photographer, I believe that photos can connect the viewer with the animal, helping him to appreciate the beauty of nature and why we need to preserve it.
What is your favourite Wild in Africa bracelet style, and why?
I like all the Wild in Africa bracelets, but I absolutely love the Charity Bracelets.
I like the idea of getting something beautiful to support a meaningful cause.
Out of all of the Charity Bracelets probably my favourite is the Zambian Carnivore Programme Lion Bracelet, colours are amazing, and I love the work this organization is doing. 
Could you share the story behind your favourite photograph you've taken?
Well, when you get out in the wild to photograph wildlife in their habitat, you have plenty of stories to tell, every picture I take has its own story behind, from the studying to the waiting to the shoot.
One of my favourite photos though was taken at a restaurant in the middle of the Bornean Jungle. It was the last day of my latest trip in the island; we were having lunch in a conservation area, when a young female Orangutan came by looking for some food, she spent a lot of time nearby our table, and I had plenty of time to get some beautiful close-up portraits and to interact with this gorgeous primate.
I love the story behind this picture because it shows we can live together in the same world respecting each other.
Do you have a favourite place or subject to photograph?
As I was saying previously, I travel a lot, and I have been to a lot of wonderful places, but my favourite place to photograph is my own country, Italy.
Sure, African mammals are always very fascinating, but let's be honest, most of them are not too difficult to see.
When you are looking for wildlife in Italy you have to be very cautious, in most places animals are not used to humans, they are afraid, and they can run off quickly.
When you can finally get a shot of a wolf, or a Marsican bear, you will have the best feeling ever.
Are there any animals you feel especially passionate about?
I really enjoy photographing foxes, they are inquisitive animals, and interacting with them is just a pleasure.
Everywhere I go, independently of what animal I am looking for, meeting a fox would make my day, even if I don't get any other shot.
Can you share your future plans and hopes for yourself?
As soon as possible I will start travelling again; I have a few trips in mind that I am looking forward to.
In the mid-time, I am working on being more active on my social media platforms in order to connect with more fellow nature enthusiasts.
Furthermore, I have a few projects in mind I will share with you soon, including a brand new YouTube channel dedicated to Wildlife Photography.
For the time being, stay connected and support wildlife conservation, and Shannon's fantastic work!
Don't miss out on future posts so be sure to sign up for our Wild Tribe (scroll below to sign up).
New products and discounts first!
RETAIL STUDIO
The Farm House, R527
Hoedspruit LP South Africa
. . . . . . . . .
HEAD OFFICE
65/2 Arbor Ave, Robina
QLD 4226 Australia
. . . . . . . . .
contact@wildinafrica.store