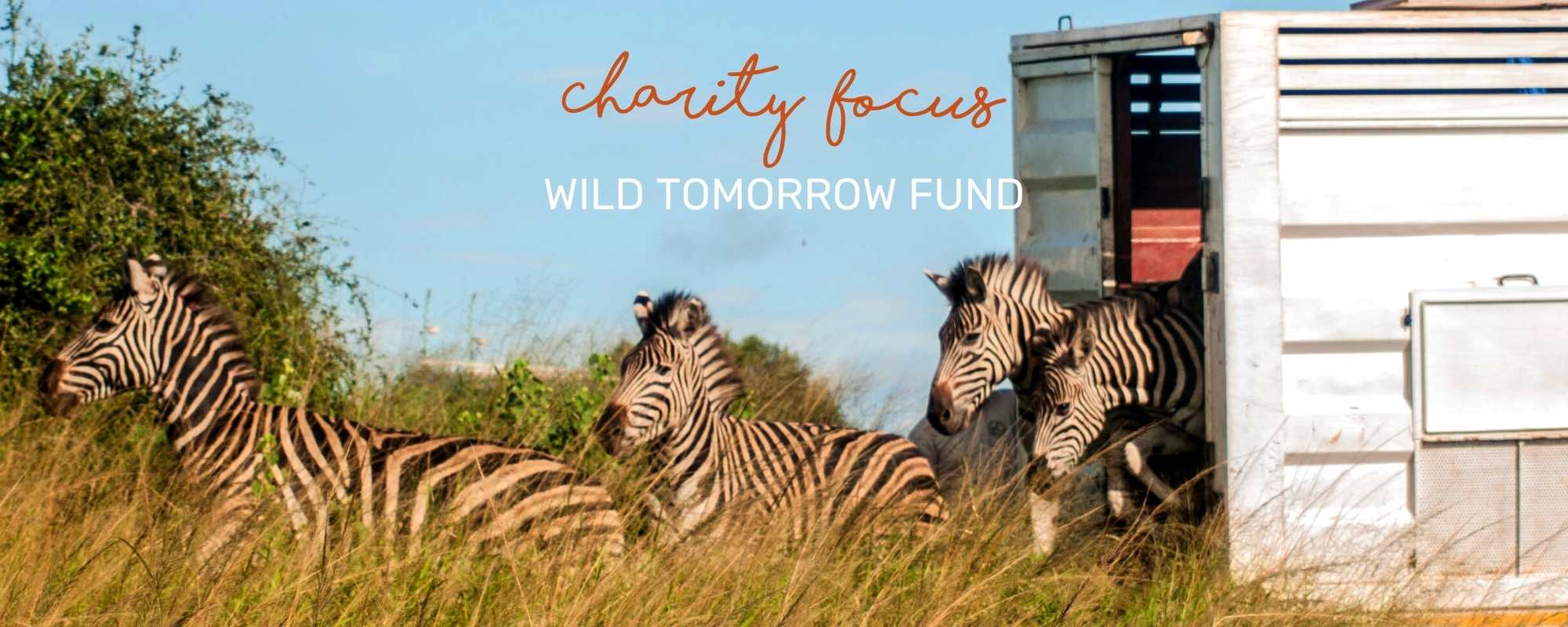 Posted on
---
Calling Hearts to Conservation
Wild In Africa is incredibly proud to support Wild Tomorrow Fund's efforts to preserve and protect wildlife and their habitats.
Their organization funds the conservation of protected areas and helps to develop and grow wild habitats for wildlife.
Their primary focus is the Mfuleni Conservancy - a land corridor connecting the 73,900 acre Mun-Ya-Wana Conservancy to iSimangaliso Wetland Park in KwaZulu Natal: home to the largest hippo population in Africa.
Our PR Consultant, Taylor, had the chance to interview Wild Tomorrow Fund founders, John Steward and Wendy Hapgood, to learn more about the passion that drives their work, how their conservation story began, and the importance of conserving the wild spaces left in our world.
"This is a special look into the creation and motivation behind Wild Tomorrow Fund: Calling Hearts to Conservation!"
John and Wendy didn't originally start out in conservation; John worked as a creative director in advertising, while Wendy was a foreign exchange banker. Although successful in their careers, both knew that they didn't feel satisfied or fulfilled in their corporate positions.
This all began to change during a volunteer trip to Africa in 2015. John went with Wildlife Act - an organization that monitors endangered species - to spend time observing wild dogs in South Africa.
If we don't care, who will?
When John arrived home, he knew both he and Wendy needed to do something different.
"It changed my life. I was like a sponge. As much as I was entertained, I was also saddened by what I saw. It really woke me up to the need for people to start caring about wildlife."
During John's trip, he was able to visualize poaching statistics that others only read about. From that experience, both he and Wendy were able to see why people are often discouraged by the gravity of such problems. 
There was one positive aspect that John was able to take away from his experience and that was that there were a number of small problems that were fixable. Many people working in government reserves didn't even have basic supplies like boots or water filters. John realised he and Wendy could address these issues and help provide necessary resources and supplies that could help people get their jobs done. This was how Wild Tomorrow Fund began - funding, as Wendy would say, "the not so sexy stuff," that truly allows people to protect wildlife. 
The Impact of Ordinary People 
As Wendy described the beginning of Wild Tomorrow Fund, she described how she and John needed to convince people that they really could make a difference and have an impact.
"We wanted to empower people like us, who felt despondent about what was happening to the planet. We wanted them to feel like they were really making a difference. So in the beginning, it was small."
In their first year, Wild Tomorrow Fund was able to raise $40,000, which may not sound significant, but that amount made a huge difference.
John emphasized the positive impact that seemingly insignificant actions has on wildlife. 
"In a nutshell, the large problems in these communities seemed like small fixes to us, coming from the western world. It wasn't all that much money, but it allowed for people to have clean water and shoes. We knew we would be able to help and we knew other people would want to help too."
Conservation work may not always be easy, but it's always worth it.
After about a year and a half of focusing on fundraising for basic equipment and operational needs, John and Wendy were made aware of a habitat emergency. With the awareness that habitat is essential to the survival and prosperity of wildlife, they knew they had to act. 
A plot of wild land in a crucial wildlife area had put it up for sale, and the owner was considering selling to two pineapple farmers - a sale that would have completely destroyed the wildlife habitat.
Wendy described the necessity of the project, but also the uncertainty they faced because of the enormous cost. 
"We had been asking people for $50 for boots and all of a sudden, we needed to raise a million dollars. But we were in New York City, and there are a lot of very philanthropic, animal-loving people in New York. So, we knew we just needed to meet the right people quickly. And we did. That truly kickstarted where we are today.

What I love about our project is that it's super hopeful. Restoring land, protecting wildlife, training local women to be involved, and employing rangers are some of the things we get to facilitate and support. And together, we're rewilding."
Since its beginning, Wild Tomorrow Fund has expanded its conservation efforts to encompass greater expanses of land and a greater variety of wildlife.
If you're interested in hearing more about John and Wendy's story, keep a look out for part 2!
Wild Tomorrow Fund Bracelet 
You can also get involved and show your support to Wendy, John and Wild Tomorrow Fund's work by purchasing a Wild In Africa Wild Tomorrow Fund bracelet.
Tiger's Eye, also called Chatoyance, was chosen because of its beautiful "cat's eye" reflection, in addition to the belief that the stone aids in balance and harmony. 🐕🦏
50% of the purchase price is donated directly to Wild Tomorrow Fund!
Written by Taylor Plate
New products and discounts first!
RETAIL STUDIO
The Farm House, R527
Hoedspruit LP South Africa
. . . . . . . . .
HEAD OFFICE
65/2 Arbor Ave, Robina
QLD 4226 Australia
. . . . . . . . .
contact@wildinafrica.store