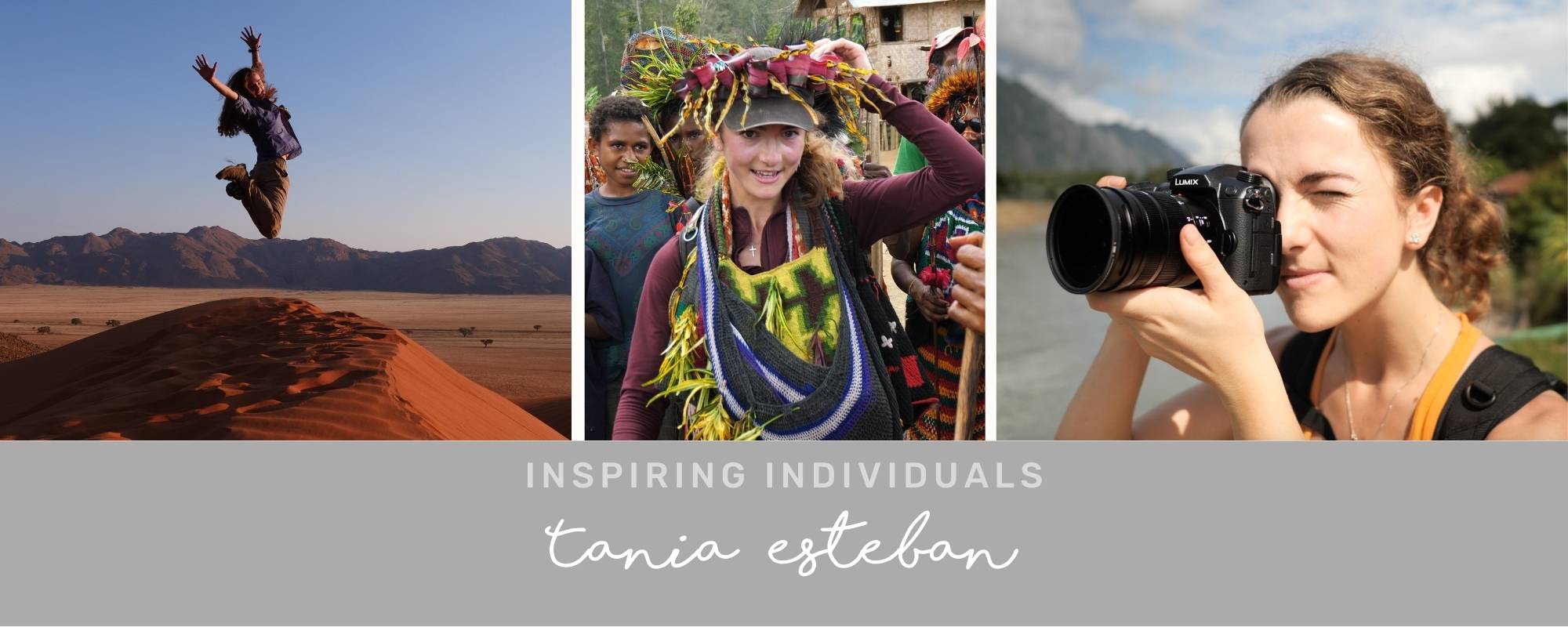 Posted on
---
Tania Esteban is a fellow female camera operator working in the field of natural history, and we couldn't be prouder to know that she is an ambassador for women in the industry.
She is vivacious in the way she speaks about her work in the wild corners of our planet, dazzling her audience with her unrivalled passion.
There is no doubt that her determination to make memorable films that tell stories with meaning will continue to take her along the paths she has carved out for herself in wildlife film.
Tania shares our appreciation for the intricate details of nature and comes alive in the wild surroundings of a jungle, or in the sizzling heat of a desert. Her energy is contagious and her respect for ancient cultures and animal behaviours allow her to see deeply the components of our world, and that which makes us the same and that which makes us unique.
It's an honour to watch her work unfold and to share her story with you. 
Please tell us about yourself
Hi there! I am a half English/Spanish zoologist and wildlife filmmaker with a passion for storytelling, conservation and natural history.
I've always been fascinated and curious about the natural world around me since I was young and graduated with a degree in Zoology and MA Wildlife Filmmaking Masters in Bristol affiliated with the BBC NHU.
I now work as an assistant producer, 2nd camerawoman, licensed CAA drone pilot and produce/shoot exclusive 4K/HDR natural history content for Panasonic and Atomos for their global channels as one of their ambassadors.
Can you tell us a little bit about your professional background
When I turned 18, I got a scholarship to study Zoology at university in the UK and subsequently a Masters in Wildlife Filmmaking in Bristol which was my main goal; knowing that this beautiful city was the global hub for the industry. It makes a staggering 40% of the world's total TV and film input for wildlife film!
At university I joined the radio, television and photography societies so that I could begin to create a portfolio and apply for the masters that I had dreamed of getting into for so long. I then completed a CAA drone pilot course to obtain a license to do aerials and got work as a researcher and camera assistant/2nd operator.
Previously I worked as a BBC researcher on Big Cats, Wild Cities, digital/online projects alongside BBC Planet Earth 2 and Blue Planet 2, Our Planet; Halo in collaboration with WWF for Netflix, as well as series researcher on a programme about Canadian wildlife for Channel 5. 
I am now at Silverback Films, having recently completed a new 8K BBC Landmark series, and now working as an Assistant Producer on a new Netflix project.
I also do freelance camerawork for Panasonic and Atomos as one of their ambassador, creating exclusive content for their channels in the UK and Europe, testing their latest equipment, giving talks, lectures as well as produce on remote location shoots.
However most importantly, I'm someone who's hugely passionate about conservation and using technology and storytelling techniques to share the amazing efforts of dedicated people around the world who are working endlessly to protect our amazing planet – as well as documenting the stunning and incredible lives of all the animals I'm fortunate to meet.
What or who in your life influenced you to pursue this route
I was raised in the countryside of Andalucía (Spain), and always been hugely passionate about wildlife, photography, film, storytelling - wanting to work in natural history filmmaking since I was very young. Southern Spain is a wonderful migratory pathway for many bird species, I remember seeing my first Short-Toed Eagles and European Bee-Eater colonies that visited every spring and wanting to record more than just field notes/sketched to honour their visit.
Eventually I saved up enough to buy a digital SLR and could finally capture these captivating characters for the first time on camera.
I had also grown up watching natural history documentaries with Sir David Attenborough and was dazzled by the sights of the enigmatic birds of paradise and the first ever high speed and aerial shots of a cheetahs hunting on the plains of Africa. Seeing the 10 minute 'making ofs' at the end of each programme made me realise that I could pursue this and combine my love of the visual arts/storytelling/film and science.
I was also inspired to work in this industry (aside from Attenborough of course!) by the very talented Sophie Darlington, Justine Evans and of course the amazing Shannon who were (and still are) my absolute heroes in the cinematography world – the only women at the time shooting when I was growing up.
They are so incredibly dedicated to their craft and respect the wildlife they are clearly so passionate about- you can't help but be in awe of their remarkable devotion and humble nature.
They are the masters of emotional storytelling and connecting audiences with their characters on screen – you feel a sense of true empathy and delicate beauty when you watch their work.
I certainly aspire to follow in their footsteps in the many years it will take to come! And it is important to show young women that there is every equal opportunity to work in this field.
Currently, what is the inspiration that keeps you motivated and passionate about 

your work

Passion is absolutely key - this is something you cannot teach, read about in a book, or learn on an online £99 course about life motivation.
It comes from within you, a pure joy and energy that flows through you when you do what you do best.
It could be camera work, editing, sound design, producing, directing, researching, managing…whatever it is, you find yourself in utter awe through the highs and lows, the tears of joy and frustration – that YOU in fact, were right there in that very moment that you captured the story. And that story can go on to inspire one person to take up a job in conservation, or learn music, or paint, or climb Mt Everest…. Or it can even influence policy and change the way that we live in society, the way we make decisions and how governments coordinate policies that have an impact globally – touching millions of lives right around the world.
To me, that's what so incredible about what we do as wildlife filmmakers – we share the stories of these astonishing species that have evolved over countless ages, that have lived through their own dramas every day, and share the same vulnerability and fate as all living creatures…
That's truly a humbling honour to share. If my work just inspires another person to be a more compassionate individual, care about our planet and feel awed by the beauty and wonder of the natural world, then that will make me very happy indeed!
What is the most impactful aspect of your work
The most important thing we do as filmmakers is tell stories based on the amazing work scientists or passionate naturalists spend their lives doing. It drives everything we do; from the research to the colour grading – all our decisions feed back to that simple and powerful premise. Technology will always be an innovative tool to move your audiences but they should never replace good storytelling!
Empathy is key no matter what subject you film and on what… Know what your story is in the first place, and not simply filming off the cuff with no plan. The biggest productions of natural history (called super landmarks) spend months in pre-production researching and working out the stories – how they all connect. Comparatively speaking much more time is spend in this stage of a production in natural history than any other – so if you don't like being behind the desk a lot get out there a be a freelance camera person rather than a researcher!
However, you don't always have to re-invent the wheel – the greatest stories out there, no matter what genera, all have a similar plot. Research is of course critical to fleshing it out, and often you will find twists and turns in the plot that will add the drama and texture to your film. For thousands of years we've been telling them, from the basic yet beautiful cave art to the complex and inspiring new innovations in VR storytelling.
We have so many ways we can tell stories and on a range of platforms – it's truly an exciting time to be a filmmaker.
Where is your favorite place you've travelled and why
Another hard question! So many amazing places… would say the most extraordinary experience I would have to say one of my favourite highlights was when filming in Papua New Guinea, one of the most biodiverse places on our planet and home to over 895 bird species including the famed birds of paradise.
Many know it to be a notoriously dangerous place for women to travel to, with rates of domestic abuse high. Sadly, this beautiful country is not on the top of many solo female travellers' lists. I recently went on a shoot with a team of two and for me, getting the opportunity to visit this staggeringly beautiful country, meet its incredible people and see the remarkable wildlife was truly a blessing.
The amazing women I met in some of the local villages were equally inspirational as we set off in search of the birds. Maia, who lives in a remote village 3,000m high in the Upper Montane forests, welcomed me to the village along with all the other women who had not seen a European girl before. In a country with over 850 different languages, the only way we could communicate (apart from with my broken Pidgin English) was with the universal language of dance.
We all partook in an enormous flash mob in the village, freestyling it with a mixture of salsa and contemporary bird courtship dance moves, which I had been studying before the shoot.
The women looked positively radiant and resplendent dressed in traditional head gear and paint, with me looking rather less appealing covered in sweat and donning my hiking gear (at this point with a thick layer of mud).
They blessed our onward journey and gave me a new nickname – 'upisa oromo', which translated literally means bird of paradise girl! A name and experience I shall treasure forever.

Tell us about your strangest experience while traveling
There have been quite a few! From meeting an extraordinarily quirky elderly Japanese man showing me his collection of cloud photography and likening them to dragons, to being proposed to on the spot because of my love for camels.
But one strangest experience was out in the deserts of Oman last year, kilometres away from any water and the nearby Arabian sea. We were driving along a pane-of-glass flat stretch of salt pan with no sight of any landmarks in 55-degree heat, the haze made it look like we were about to approach a secret oasis that never did get any closer… when suddenly out of nowhere we came across the remains of a turtle and what look like a whale bone graveyard in the middle of our now new road.
We pulled over to take a closer look, and somehow (in the middle of this desolate, scorching part of the earth) these remains had gotten there and managed to survive the taphanomic process even in the afterlife. They lay there looking up at us – with bleached grins and bright white teeth protruding from their skulls that would make any toothpaste model jealous.
There are occurrences of ancient deposits of marine mammals and reptiles right across the country (and even 1000's of metres up in the crimson coloured mountains), but it was still nevertheless rather remarkable to find them in a place where you're least expecting it…what I would have given anything for a swim in that previous ancient stretch of ocean.
Why do you feel that wildlife conservation is important
Without it – there is no hope for this planet.
The only reason why many of us are in this industry of wildlife filmmaking is to try share the work of the amazing and brilliant scientists, naturalists and conservationists that dedicated their lives to studying and understanding the animals we film.
We are quickly running out of time to save many of the astounding life forms on the planet and the precious habitats they live in through our reckless behaviour and consumptive habits.
It is the work of conservationists that is helping to preserve this precious biodiversity that not only deserves to be protected because it is a source of extraordinary and endless fascination – but because it is essential for all life on earth…including ourselves. Whilst there are enormous challenges that face the planet including overpopulation, climate change, deforestation, overfishing - protecting the habitats these animals live in and changing the way we consume is one of the big keys to conserving a better future for us all.
What is your favorite Wild in Africa bracelet style and why
Ahh so many stunning bracelets to choose from!
Each with their own unique story and charity which makes this range so truly fantastic – all too often you see fast fashion with low health safety standards, large negative impacts on the environment and that gives nothing back to the earth it came from.
Must say I do love the Rhino, Lion or your Down To Earth stack... each one of them are so beautifully crafted and represent the giving to an amazing wildlife charity (I especially value the brilliant work the Zambian Carnivore Programme does). They make such wonderful gifts to animal and jewellery lovers alike, and the quality is superb – it really is.
I've been wearing them on runs, shoots and the shower in all manner of conditions and they're still as brilliant as ever.
I think it's a fantastic venture Shannon has embarked on, and you can clearly see how incredibly passionate and dedicated she is to preserving the natural world not only through her incredibly cinematography but also her everyday and personal life too. She's such an amazing, inspirational human being!

Are there any animals you feel especially passionate about
This is a very hard one! All of our incredible wildlife is so beautifully unique and fascinating in their own right, and I've been fortunate to have some amazing encounters with them.
I adore birds and have been filming a variety of them most recently, but I've always had a soft spot for big cats.
When I was out filming my masters project in Kenya, 'A Lion's Tale' – whichlooked the born free legacy and how they have been able to secure a future for Africa's lions. The shoot was going well but we hadn't gotten the money shot, and one very special moment was during the last day. We had been out in the bush for just over a week and hadn't spotted a single lion…and although a terribly cliché, on the evening of the very last day in absolutely perfect golden light conditions, we came across a small pride with two very young cubs.
I leapt up onto the top of the vehicle, slipped the camera rig onto the tripod, focused and held my breath to try and contain my excitement. The wild lion cub then peered through a thicket and looked straight down the lens at me with a look of sardonic curiosity – pure cat magic!
I also love bats and this was the animal that I studied/researched at university for over a year, it's remarkable to think they make up one quarter of all the mammal species and only ones that possess powered flight. They are certainly underappreciated and sometimes feared (especially more recently with zoonotic disease outbreaks) which is completely unnecessary – they are some of the most magnificent mammals you'll meet.
Can you share your future plans and hopes for yourself
So many!
As well as conserving the natural world and sharing stories about the amazing people at the forefront of preserving our precious biodiversity and understanding it – I am passionate about trying to encourage young women about getting into the camerawork in this male dominated field.
Whilst women are represented well in the editorial side of production, we are significantly underrepresented in the photography/film/technical craft world - especially in the wildlife filmmaking industry. A shocking 2% or less of the camera people used on natural history productions are female!
It's something I feel very passionate about and do give talks on to try to give advice/encouragement to young women not confident in their own abilities who want to pursue their love of camerawork. Equally trying to see changes in attitudes towards female camerawoman in companies is crucial. Even fewer women get the opportunity to both direct and shoot as well.
And of course finally, I hope that anyone watching the films, created by the amazing teams I'm fortunate enough to work with, feels inspired to help make the planet a better place to live in then that will make me very happy indeed.
Don't miss out on future posts so be sure to sign up for our Wild Tribe (scroll below to sign up).
New products and discounts first!
RETAIL STUDIO
The Farm House, R527
Hoedspruit LP South Africa
. . . . . . . . .
HEAD OFFICE
65/2 Arbor Ave, Robina
QLD 4226 Australia
. . . . . . . . .
contact@wildinafrica.store