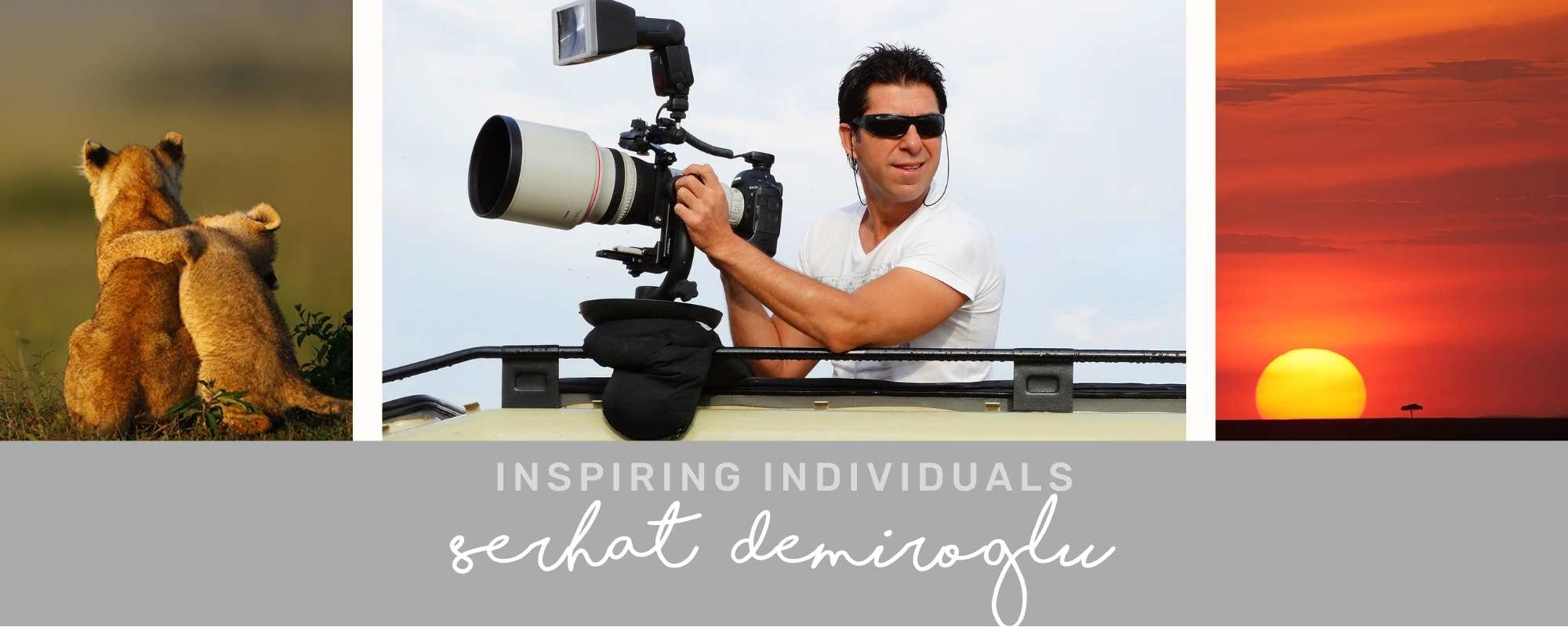 Posted on
---
Serhat is an example of changing the course of one's life to follow a dream.
From Turkish medical doctor to wildlife photographer with a calling in the Masai Mara; he gave up practicing his profession in his home country to travel with his camera and capture spectacular images of the world's wildlife.
There's no denying the place that changed it all was Kenya's Masai Mara, which is a special and inimitable place on the planet, and for Serhat it is the place that holds his most precious memories.
We admire his commitment to what makes his photos so special - natural light.
It's easy for photographers to get caught up behind the lens and be swept away from what's happening in front of their eyes, but Serhat is just as passionate about letting the memories be of the moment, and not always of getting the perfect image.
This was one inspiring interview.
Tell us about yourself.
l am a Turkish photographer, living in Istanbul and Bodrum, working as a medical doctor. 
Can you tell us a little bit about your professional background?
For me photography is a passion, having spent years working as a medical doctor with only enough time to make photography a hobby, l have now decided to fulfill my dream and focus full time on photography. 
What or who in your life influenced you to pursue this route?
My interest in wildlife photography began back in 2009 when l first visited Kenya with Turkish wildlife photographer Suha Derbent.
Since that time, Masai Mara instantly became my favorite place. 
Currently, what is the inspiration that keeps you motivated and passionate about your work?
l love animals and I am much happier when I'm watching them in their natural habitat and taking photos of them.
Photographers like Nick Brandt, and currently Shaaz Jung, give me inspiration. I admire their amazing work. 
What is the most impactful aspect of your work?
I like to follow the light. Natural light.
I feel that if there is no good light, there is no good photo.
Even if you catch the perfect moment but don't have good light, that moment would be better served as a nice memory. I always try to find my subject and take my position before sunrise or sunset.
If there isn't something that I specifically want to photograph, l would rather enjoy the moment in the beautiful African sunrise or sunset.
Where is your favorite place you've
 traveled and why?
Masai Mara. I have visited the Mara many times and each time, l feel like l am travelling to a different place.
It's so big and full of surprises.
Tell us about your strangest experience while traveling?
l was taking photos of a cheetah and her cub when she suddenly started getting very close to our vehicle. Within a second, she jumped on to the roof, which was totally open.
I was alone with the driver and I couldn't do anything for the first few minutes because it just felt like a dream. Then, l remembered my camera and started taking some shots while wondering how many people had had the opportunity to see a cheetah from that angle before.
That was an unforgettable moment in my life; 20 minutes with a wild cat with less than one metre's distance between us. After 20 minutes, the cheetah hopped from my vehicle and on to another vehicle nearby. I went on taking photos of her and those photos were subsequently published in the Daily Mail and Daily Mirror among many others. 
Why do you feel that wildlife conservation is important?
Future generations should see our natural spaces and the species that live within them. The animal I admire the most is the Siberian tiger, which is almost impossible to see in the wild because there are less than 500 individuals in the world.
I regret that l had one time visited a game farm to photograph this beauty when I believed I had no other option to see it. The people who ran the farm were animal lovers and were very kind, but it felt like I was supporting the animals being in captivity. I wouldn't do it now.
What is your favorite Wild in Africa bracelet style and why?
I like the Zambian Carnivore Programme bracelet the most. It has nice colours that remind me of the Masai Mara.
Are there any animals you feel especially passionate about?
Siberian tiger. Miracle of nature. Beauty and power combined.
Could you share the story behind your favourite photograph.
A photo titled Buddies. There were seven or eight  lion cubs in the Mara and I was following them for three days. My goal was to catch a tender moment in good light, and the two cubs I captured in the photo were very playful, behaving like buddies.
Just before I took the photo, one cub was enjoying the fırst light of the day, and the second one snuck up behind him, wrapped his front leg around his playmate's back, just like a human, and I took the photo that became Buddies. 
Any future plans?
l want to photograph the black panther in İndia soon.
New products and discounts first!
RETAIL STUDIO
The Farm House, R527
Hoedspruit LP South Africa
. . . . . . . . .
HEAD OFFICE
65/2 Arbor Ave, Robina
QLD 4226 Australia
. . . . . . . . .
contact@wildinafrica.store