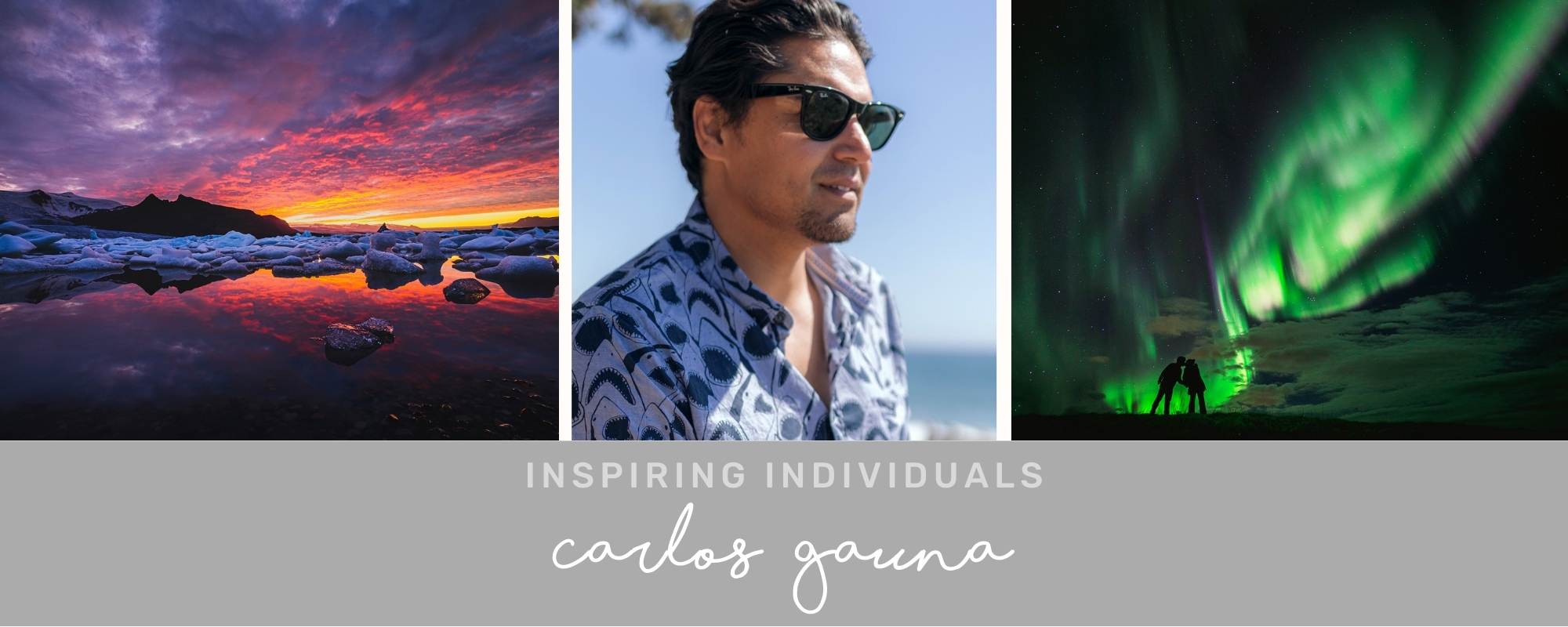 Posted on
---
Sunset-lover, seaside-wanderer, shark-seeker, and an adventurer of Earth's wildest places, photographer Carlos Gauna has captured the most magnificent corners of the planet, and his images are a source of inspiration and escape.
Most recently, Carlos has been recognised for his breathtaking drone footage of great white sharks off the Californian coast, where his aerial video clips reveal swimmers in very close proximity to these apex ocean predators.
These incredible clips are a powerful educational tool and reveal the natural non hostile behaviour of these feared, yet endangered, marine predators. 
We love and admire Carlos' work, not only for its staggering photographic beauty, but for its emphasis on environmentalism and conservation. Over to you, Carlos!
Please tell us about yourself
I've been a professional photographer since 2003.
I started out in a studio capturing school portraits, senior photos, and in the field capturing news photography. While not glamorous, I did learn much about Rembrandt lighting, assuming control of exposure, and telling a story with my camera from guys that used film, medium format cameras, and photojournalistic influences.
I jumped into digital photography in 2003 and focused primarily on wedding photography, which I still do to this day.
However, I currently offer portrait, commercial, and aerial photography services as well as host photography workshops. 
What or who in your life influenced you to pursue this route
In college, a friend of mine asked if I wanted to go photograph a lighting storm. He handed me a spare camera, and basically set it up for me. I just clicked the photo. The day I saw what I captured on film, I was hooked. 
However, I feel photography is more about a collection of influences rather than one single influence. It's a constant learning process. But that was my first "influence".
Currently, what is the inspiration that keeps you motivated and passionate about your work
I really enjoy capturing nature in its raw form.
My passion is mainly centered around my desire to express the beauty of our planet and its wildlife/nature. I feel that if one of my photos can give a person just a couple seconds of pause in their day, I've succeeded.
I truly think photography is a cornerstone of the awareness humans need about the importance of protecting our planet. Nothing makes me happier than giving someone a glimpse of a beautiful moment to escape to.  
What is the most impactful aspect of your work
I always say this:
hat if just one of my images can make someone think twice about tossing even just one cigarette filter on the beach, I've done my job.
I really aspire to remind folks of what really matters in the big picture.
Where is your favorite place you've traveled and why
Boy, that's a tough one. My wife and I travel to Iceland yearly, so that's saying something I guess. But watching the sun go down over the plains of the Masai Mara, that's magical too. So I really can't decide. 
Tell us about your strangest experience while traveling
My wife and I were stalked by wolves in -35 degree temperatures one night while we were photographing the northern lights north of Yellowknife CA.
We were in knee deep snow hiking back to our vehicle when I noticed paw prints larger than my hand surrounding the very path we took to our vehicle. Yikes!
Why do you feel that wildlife conservation is important
That's simple. We have to keep the wild. Earth is the only home we have, we can't take it for granted. 
What is your favorite Wild in Africa bracelet style and why
That's tough. But I like the Zambian Amethyst Bracelet. I often go looking for geodes. I love them, so a purple geode bracelet is perfect. 
Could you share the story behind your favourite photograph you've taken
I have way too many favourite moments to single one out. But I have favorite moments where I happened to have my camera.
But I have to say, the most magical moment of my life was the first time I experienced the northern lights.
It was during a rough time in my life, but was quite literally a turning point for me personally.
Do you have a favorite place or subject to photograph
I've been fortunate enough to see some very remarkable and beautiful places. But for me, there's nothing quite like standing under a sky full of northern lights. The aurora borealis is my favorite thing to photograph.  
Are there any animals you feel especially passionate about
I've recently been documenting Great White Sharks off the California coast. As I've learned more and more about them, and come face to face with them,
I've grown especially passionate about the shark species and their importance to the ecosystem of our planet.  
Can you share your future plans and hopes for yourself
I'm currently working on a great white shark documentary with a team of scientists and cinematographers.
My hope is to focus my career in aerial wildlife photography in the coming years.
New products and discounts first!
RETAIL STUDIO
The Farm House, R527
Hoedspruit LP South Africa
. . . . . . . . .
HEAD OFFICE
65/2 Arbor Ave, Robina
QLD 4226 Australia
. . . . . . . . .
contact@wildinafrica.store