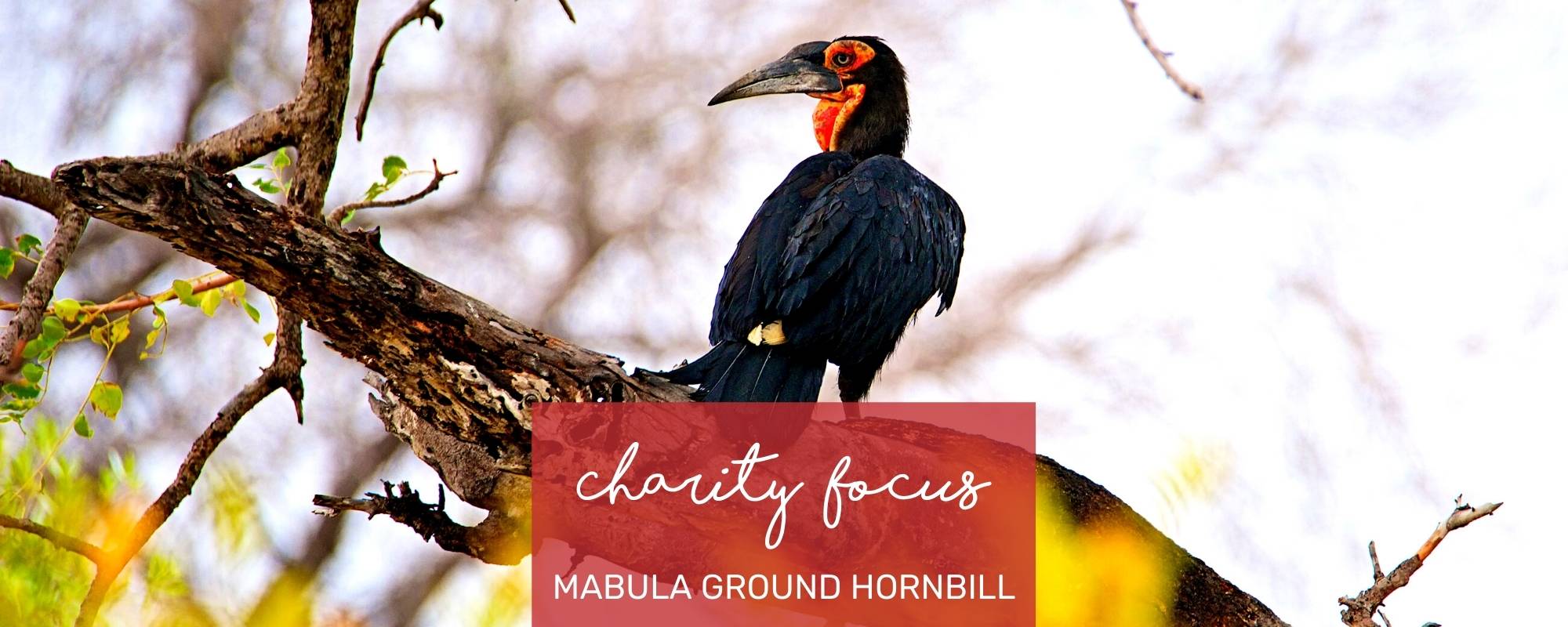 Posted on
---
New Digs for a Displaced Bird
Wild in Africa - Bracelets for Wildlife is ecstatic to present the Mabula Ground-Hornbill Project, an organization that is close to the heart of the company's South Africa roots.
This group, led by Dr. Lucy Kemp, seeks to conserve and protect Ground-Hornbills, a bird currently categorized as "Vulnerable" by the IUCN.
According to Dr. Lucy Kemp
"the organization's been up and running since 1999, and I took over the management about 10 years ago. We've got a 90% success rate of rearing birds. We know how to do the introductions and have done a lot of conservation biology on the side to try to cover other problems."
Our PR Consultant, Taylor, had the chance to talk to Dr. Kemp about the Mabula Ground-Hornbill Project, to learn more about the unknown world of some of the most interesting birds in Africa.
"Keep reading to find out how the Mabula Ground-Hornbill Project is fighting to save this species against all odds!"
Ground-Hornbills are known to be associated with good rains and prosperous harvests, although the species doesn't reap the benefits from these positive events. Farmers, whose land is ever-expanding, down the trees that Ground-Hornbills use for their homes. Lucy and her team of scientists and conservationists seek to rebuild homes that are suitable for those displaced by deforestation and habitat loss. 
Although the population of Ground-Hornbills is in danger, she feels her team is heading in the right direction. 
" I feel we can solve it. I know that if we work hard enough, and we think smart enough and we collaborate with the right people, we can actually turn things around for the species. So, you know, there are days when I do think it's a hopeless task. But actually, you know, we've got an amazing team of collaborators and partners. And actually, yeah, I yeah I do think we can turn it around." -Lucy
So, where does it all begin? For a long time, the team attempted to create nests with natural materials - mainly Pine and Gum Trees. They worked for a while, but after eight to ten years, the nests began to erode, and the birds were back where they began. 
It seemed to be a bleak situation - the human-created homes didn't seem to be a viable solution, and the agriculture that drove the birds out was only ramping up. There were two options: quit trying and let Ground-Hornbills die out or look for a new solution to the problem. 
Guess which one they went with……..
So, how did they build better nests?
After it was clear that natural materials weren't going to work, they had to look for more creative options. It was a difficult process, but they had no choice but to keep trying. 
They landed on an interesting material: the same insulation used for homes in the area.
"We started experimenting with artificial materials, and we developed this nice to the inside of the nest is a product called ISO board, which was actually used for insulating and homes, sort of the white padded stuff that would go between cladding in a home. So what that brings is really good insulation, because what we're finding with some of the wildness with a, you know, we're definitely seeing the effects of climate change here, and we're getting stupidly hot days during the summer here. So, we're trying to think ahead and future-proof these nests. You know, the microclimate would be insulated enough for embryos to survive."
As they began to experiment with the materials for homes, they also needed to make sure that the homes were safe for the birds. Obviously one of the most important things about the nests was that the birds would be able to live in them without being poisoned.
Although insulation for homes may not sound safe, it's actually perfectly safe for both humans and Ground-Hornbills. Humans are able to construct the nests without any kind of protective equipment or fume hood, and the birds are able to live in the nests without worry for poisoning, even if they do break through any of the inner layers.
 There's nothing that they can ingest, that would be dangerous for them. So it's essentially safe for them, safe for us."
Finally, they found at least the beginning of a solution to the destruction of Ground-Hornbill homes. Although there were still some issues - the birds are quite rough on their nests, and some of them became quite damaged - the team is now able to offer a good solution for birds in desperate need of a home.
In addition to finding a safe, durable material for nests, this discovery also allows the Ground Hornbill Project to become a resource to their community. When an issue comes up, locals are aware that the organization can provide help, and they call to notify them of potentially displaced birds.
" I don't think we were 100% ready to roll out, but essentially what that means is if a farmer phones us and say you know hey there was a big storm last night or a tree came down, we can actually before replace the nest, so that that group doesn't skip a breeding year. So we can try and keep the wild birds safe and as productive as possible while we try and fix all the human threats like electrocution and poisoning and all that kind of stuff." -Lucy
In addition to continuing to build and improve artificial nests, the Mabula Ground Hornbill Project also prioritizes community education, as well as rearing and reintroducing young Ground Hornbills that would have otherwise died.
Through this process of raising chicks, they are able to double the population of Ground-Hornbills each season. Although it may not sound like much, this work allows the opportunity for the species to begin to grow and hopefully thrive.
In our next segment, we'll tell you more about the process of harvesting chicks, raising them to maturity and reintroducing them to the wild habitat they were born in.
If you're interested in hearing more about the process of saving these interesting birds, look for the next Mabula Ground Hornbill Project articles in our Charity Focus blog!
You can also get involved and show your support to Mabula Ground Hornbill by purchasing a Wild In Africa Ground Hornbill bracelet.
With each purchase of the Ground Hornbill bracelet, not only will you receive a beautiful piece of jewelry, but you will also play an important role in supporting conservation for this amazing endangered bird.
Made from Red Jasper and Obsidian stones, these materials are thought to create a shield from negativity.
50% of the purchase price is donated directly to Mabula Ground Hornbill!
Written by Taylor Plate
Don't miss out on future posts so be sure to sign up for our Wild Tribe (scroll below to sign up).
New products and discounts first!
RETAIL STUDIO
The Farm House, R527
Hoedspruit LP South Africa
. . . . . . . . .
HEAD OFFICE
65/2 Arbor Ave, Robina
QLD 4226 Australia
. . . . . . . . .
contact@wildinafrica.store