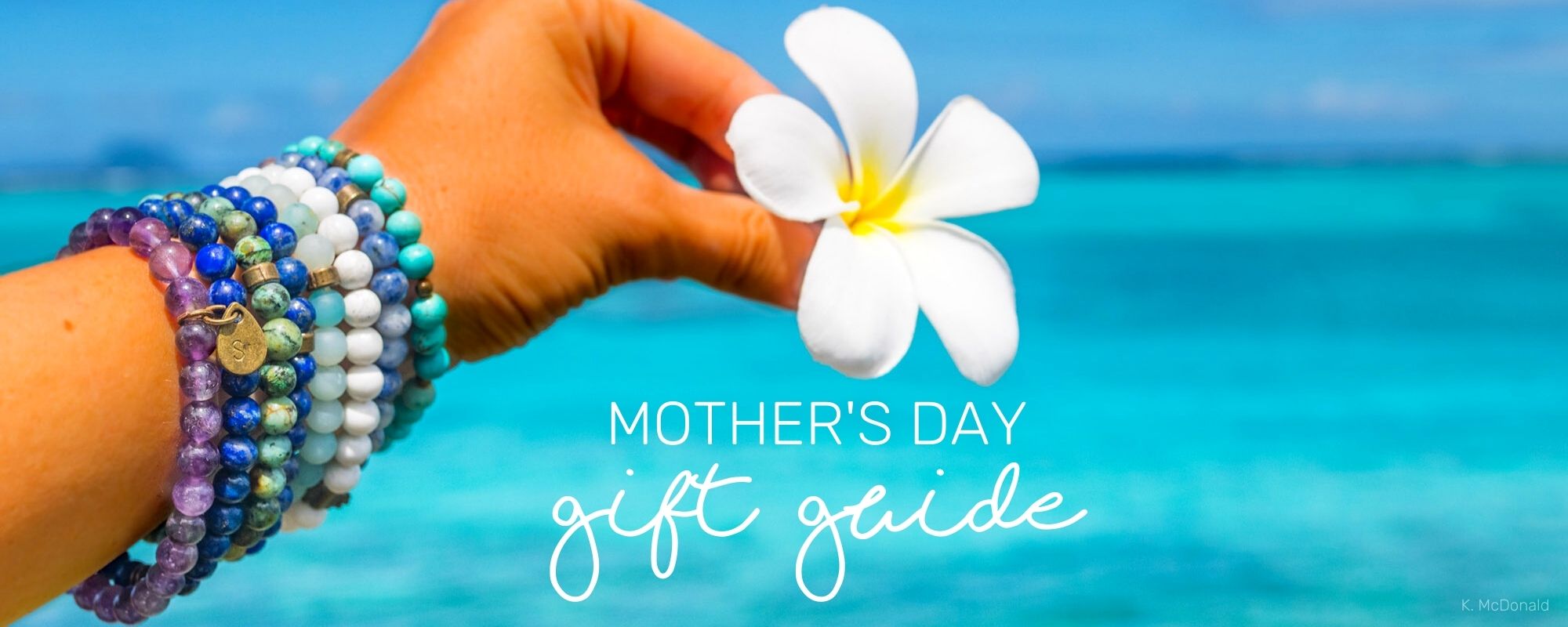 Posted on
---
Mother's Day is around the corner and we've put together a gift guide to give you all the help you need to pick out something great for the Moms in your life! Our bracelets, which support wildlife conservation, are made from natural jewels and semi-precious gems, strung together by hand, and inspired by the beauty of Mother Earth. From one Mother to another - what could be more fitting to celebrate the day we've dedicated to Moms around the world?

PLUS, we're running a special! We're offering 15% off when you use the discount code MOTHER15
The women who embody love and bravery and who teach kindness and strength. Mothers are our biggest fans and proudest supporters. Some mothers were ours since birth, while others became ours along the way. Motherhood is where nature and nurture come together to shape and guide and support. 
Every year we have the opportunity to shine some light back into the world in celebration of our female guardians who mother us and mould us. Mother's Day offers us a chance to signify our appreciation with a gift that will be uplifting and meaningful, and when it comes from a place of integrity it packs a message of love that will last a lifetime. 
Our GIFT GUIDE is designed to inspire a thoughtful, unique gift that not only means something special to your Mom, but that contributes to the wellbeing of Mother Earth. 
Our jewellery supports charities that work to conserve nature and wildlife by fighting poaching, restoring natural habitats, and protecting endangered species. By purchasing these handmade bracelets, designed by our founder and wildlife advocate, Shannon Wild, you are not only taking home a gift that is beautiful and unique, but you are donating funds to these hard-working, resilient conservationists on the ground. 
In fact, HALF (50%) of the retail price from each charity bracelet goes to the linked organisations!
Our store has a selection of bracelets that are eco-conscious, natural, and sustainably sourced, so they are loving on Mother Earth, and they come with a quality guarantee in the form of a one-year warranty. Long-lasting, and versatile, these bracelets will continue to remind your Mother of you, and of the special places and species in Africa and India that you have helped support. 
Here are some suggestions…
'Down to Earth' Curated 3-Stack
A simple stack of three earthy bracelets curated by Shannon Wild that includes African Turquoise, Red Jasper, and African Jade. This one is for stability and grounding, and it's perfect for Earth Mamas!


Create your own stack!
Make your own selection combining bracelets that your Mother would love. Choose from the deep blue of Lapis Lazuli, to the swirling golds of Tiger's Eye, the rugged beauty of Coconut wood, and the healing energy of Amethyst. 
Browse our shop to select the perfect gift for your Mom while supporting the incredible work being done to conserve and protect African wildlife!
Don't miss out on future posts so be sure to sign up for our Wild Tribe (scroll below to sign up).
New products and discounts first!
RETAIL STUDIO
The Farm House, R527
Hoedspruit LP South Africa
. . . . . . . . .
HEAD OFFICE
65/2 Arbor Ave, Robina
QLD 4226 Australia
. . . . . . . . .
contact@wildinafrica.store