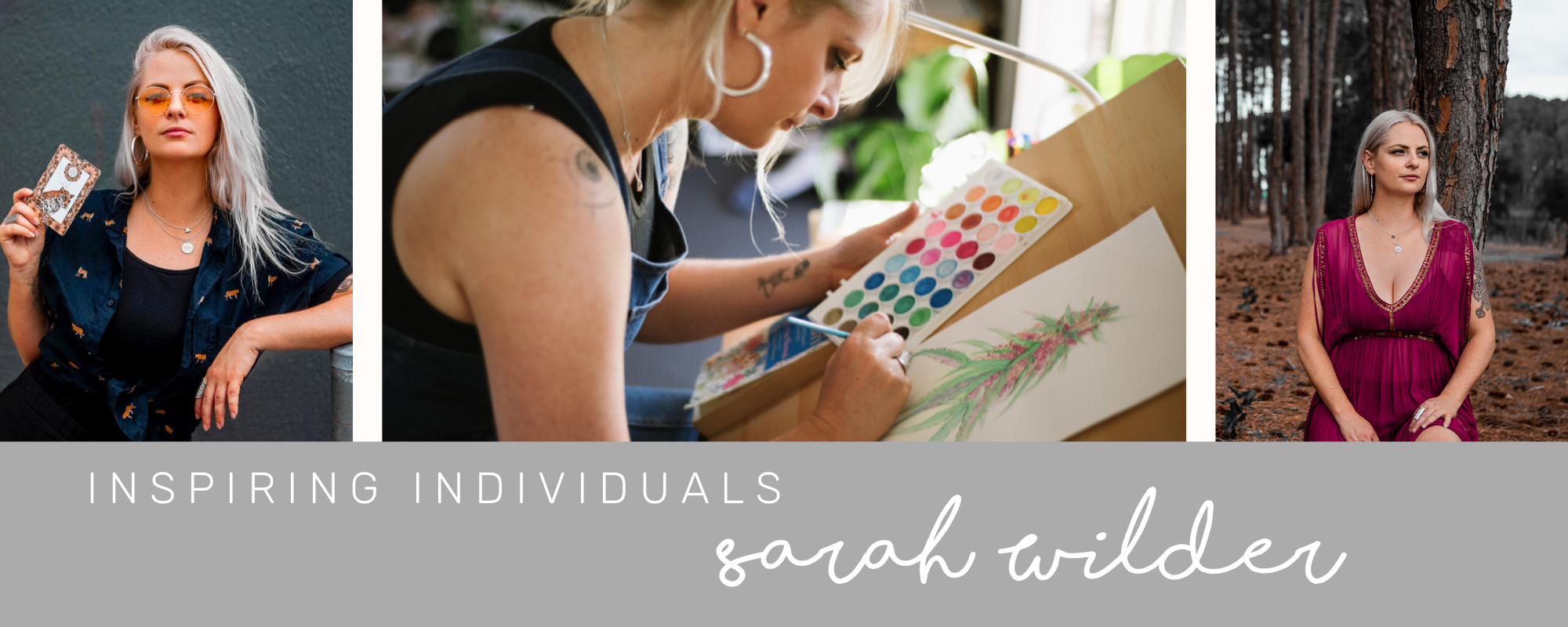 Posted on
---
Sarah Wilder is a conscious creator passionate about helping people connect with their inner wild nature.
She's an Australian jewellery designer, wildlife lover, and a firm believer letting go and dancing it off every once in a while!
Astrology, numerology, connecting with the cosmos and the Earth, Sarah is in tune with the moon, the stars, and the sea.
Her artistry extends beyond sterling silver creations to include illustrations, which represent her love for creatures great and small. 
We chatted to this self-proclaimed 'nature nerd' and self-made business woman to find out what makes her tick, how she stays motivated to pursue her dream career, and which Wild in Africa bracelets are her favourites! 
Tell us about yourself.
I'm a 34 year old mama from Brisbane, Queensland, Australia.
I work for myself in my dream job, which is designing symbolic jewellery and divination tools inspired by nature and the cosmos.
I'm a nature nerd, witchy artist and if I was a food, it would be a potato.
Can you tell us a little bit about your professional background?
I spent my entire 20's on the endless search for my 'one' dream profession.
I tried a little bit of everything, gathering information, tools, and trails of inspiration along the way.
My background is predominately in fashion design, product development, wholesale, sales and small business. I also studied native animal rehabilitation and volunteered at various wildlife organisations in my free time away from full-time work and running my small-scale textile based accessory business.
In 2012 I had my son, and everything clicked into place. I realised I had to create my dream job - so I did :)
What or who in your life influenced you to pursue this route?
I don't recall having any one influence - but I'd say it was just the world around me.
Animals inspired me to be a better custodian here on earth, nature inspired me creatively, my family influenced my belief in myself and in making money from my creativity.
I'll always have a soft spot for Steve Urwin though - I cried the day he died. I still cry now. He would be one of my guides to make the most of this life and create a legacy to be proud of.
Currently, what is the inspiration that keeps you motivated and passionate about your work?
My son. Being able to create a lifestyle and career around him always being a priority, as well as Australia's native wildlife too - they drive everything I want to do in this lifetime, alongside my son.
I'm also really passionate about inspiring other creative and entrepreneurial women with philanthropic hearts.
What is the most impactful aspect of your work?
Just knowing that in some small way it can shift someone's perception of themselves or the natural and mystical world around them.
For example, when creating my Animal Kin Oracle deck - I made a point to feature animals that aren't usually showcased or celebrated in this medium.
I've had people share how their relationships with certain animals have changed, and usually my work promotes a deeper connection, reverence and understanding of one's own inner nature - as well as that around them.
Where is your favorite place you've traveled and why?
The Yucatán Peninsula in Mexico!
I adore Mayan culture, colour, people, food, their celebration of the cycle of life, their connection to the land and the cosmos and their beautiful landscape! Visiting the cenotes was like a dream! Some are like real life faerie caves.
Tell us about your strangest experience while traveling?
On arrival to Mexico actually, whilst driving along to our accommodation, I noticed yellow warning street signs which had Jaguars on them!
It felt so strange seeing this as we don't really have predatory mammals here in Australia, our signs are usually featuring koalas and kangaroos!
It was super cool to learn we were on their country and that they were around this area. I felt very blessed.
Why do you feel that wildlife conservation is important?
I believe that humans are the custodians of all animal life on earth and it's our privilege and duty to live in harmony with them, as well as to protect them.
Without them, we suffer too. Everything is connected. We all need each other to thrive. It's really frustrating when there seems to be such a disconnect to this fact - which is why it's important.
No nature in the world leads to no nature within us.
What is your favorite Wild in Africa bracelet style and why?
My favs are the recycled sea glass (I'm wearing it now!) and the new rhino rescue project design.
Are there any animals you feel especially passionate about?
After working with them quite intimately, Koalas seem to hold a special place in my heart.
I love all animals, but there is something really special about seeing a Koala in the wild here. I feel even more strongly towards helping them off the back of the devastating fires our country endured 6 months ago. I can't even fathom the loss, so they are more precious to me than ever before.
Can you share your future plans and hopes for yourself?
My future plans are to continue to grow my existing business, keep creating amazing meaningful products and to then be able to build up the not-for-profit side of things and give back to my community in many ways down the track.
My ultimate goal is to purchase conservation land here in Australia, and have some kind of sustainable living / educational / rehab village on it.
Learn more about Sarah: @sarahwilder__  and www.wildertalismans.com
Don't miss out on future posts so be sure to sign up for our Wild Tribe (scroll below to sign up).
New products and discounts first!
RETAIL STUDIO
The Farm House, R527
Hoedspruit LP South Africa
. . . . . . . . .
HEAD OFFICE
65/2 Arbor Ave, Robina
QLD 4226 Australia
. . . . . . . . .
contact@wildinafrica.store