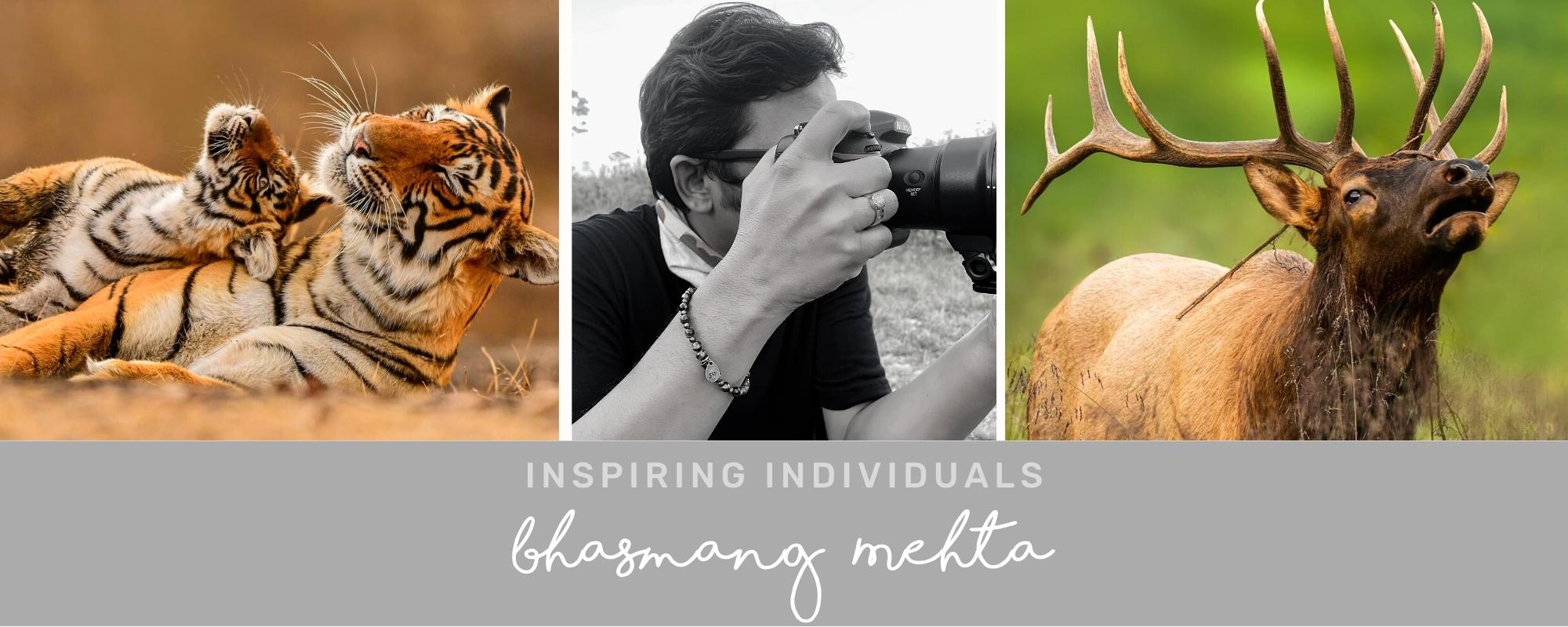 Posted on
---
A true example of following one's dreams and putting it all on the line in the name of destiny, Bhasmang Mehta left his family pharmaceutical business to follow his heart into wildlife photography. A qualified Chemist living in the US, Bhasmang is originally from India where his love for wildlife - especially tigers - was born.
Now, an award-winning photographer with a 20-year career under his belt, Bhasmang shares his love for wild places and animals by taking guests into India's most renowned National Parks where he leads photographic expeditions.
Africa and Asia's big cats are his inspiration, and it's no surprise it's the Tiger's Eye bracelets that catch his attention the most! We couldn't be more supportive of individuals who take their life's passion to the next level and make big changes to follow a dream.
It was a great pleasure to have this conversation with Bhasmang and share his inspiring story… 
Please tell us about yourself
I am a professional wildlife photographer basically from India & a resident of USA. I along with my wife run a wildlife tour company "Wildlife Sojourns" where we specialize in customized wildlife tours to India & South America.
Can you tell us a little bit about your professional background
I am born in a family of doctors and hold a bachelors degree in Chemistry. After the graduation I joined my family business of pharmaceutical formulations.
But with time I discovered that my passion lies in the field of wildlife photography and not in the industry I was in. So I moved out of my family business in 2011 and turned professional in this field that I am in right now.
What or who in your life influenced you to pursue this route
I would say it was destiny. I was destined to become a wildlife photographer. And my first trip to Gir National Park in the year 2003 proved to be a game changer. On that trip I saw Asiatic Lions & Leopards for the first time in the wild and got hooked on to them.
Currently what is the inspiration that keeps you motivated and 
passionate about your work
I get inspired by Mother Nature ... the excitement and anticipation of tracking these big cats in the wild & then capturing them in the camera wakes me up every morning...
What is the most impactful aspect of your work
Portraying the synthesis between humans and animals.
So many people see these animals as beasts but I attempt to show in my work that if you have respect, love and gratitude for Mother Nature, sightings are never difficult.
These animals almost always come around when I'm on my tours and allow me to observe them, since they're young, see them hunt for food, mark their territories, mate, and then see them transform into mature sub adults and adults while they look after their own babies.
What is your favorite place you have traveled and why
There are more than one places that I love visiting. But if I have to name, it's Ranthambhore National Park & Jawai- India's Leopard Hills both situated in the Indian State of Rajasthan.
Ranthambhore is a great combination of history & natural history and Royal Bengal Tigers seen in this national park are one of the most fearless & beautiful.
Jawai is one place where humans & Leopards coexist since hundreds of years, and most importantly without any conflict.
Tell is about your strangest experience while traveling
This happened in Ranthambhore few months ago. We were watching a Tigress who was resting in a water body. We always hoped that she gets up and walks in the direction of our vehicle.
After a while she got up and started to walk towards our safari vehicle. And she bisected the space between two Safari vehicles and started to move in the direction of the other safari vehicle.
The strangest part was that people in that vehicle were stunned and froze out of fear. While we stood there helplessly as we were the ones who wanted to see her up close and weren't afraid of her...
Why do you feel wildlife conservation is important
Wildlife Conservation is the need of the hour. Looking at a pace the deforestation is happening and forests make way for human settlements, it's very important to conserve wildlife for if we don't do it our next generations will have to see these animals only in Zoos or Televisions.
I liked Tiger's Eye & Ethiopian Brass the most, not only it looks elegant the finish the colors are perfect, something that I can wear off and on the field too.
Are there any animals you feel especially passionate about
Tigers fascinate me the most because of the grace & grandeur. And I love Leopards for their sneakiness and the ability to survive in the territories dominated by other bigger cats like Tigers & Lions.
Could you share the story behind your favorite photograph you have taken
My series of photographs featuring the Tigress "Arrowhead" and her cubs from Ranthambhore National Park are very close to my heart. I have been photographing Arrowhead since the time she was a sub adult. She delivered her first litter a couple of years ago but none of the cubs survived and I could never see them. So when she delivered the 2nd litter I was super excited to go and photograph them.
After 7 safaris searching for her and cubs in vain ... we saw them on the 8th safari. But as if she had decided to make up for all the hard work we had done to see her... she and cubs spent around 4 hours around my safari vehicle giving some heart warming moments to photograph.
Do you have a favorite place or subject to photograph
Yes, Ranthambhore National Park for Tigers & Jawai Hills for Leopards are my most favorites of all.
Can you share your future plans and hopes for yourself
Future plans... well, I let the master planner "God" decide about it and I enjoy the present.
I hope that live my life to the fullest being a good human being...!!!
New products and discounts first!
RETAIL STUDIO
The Farm House, R527
Hoedspruit LP South Africa
. . . . . . . . .
HEAD OFFICE
65/2 Arbor Ave, Robina
QLD 4226 Australia
. . . . . . . . .
contact@wildinafrica.store