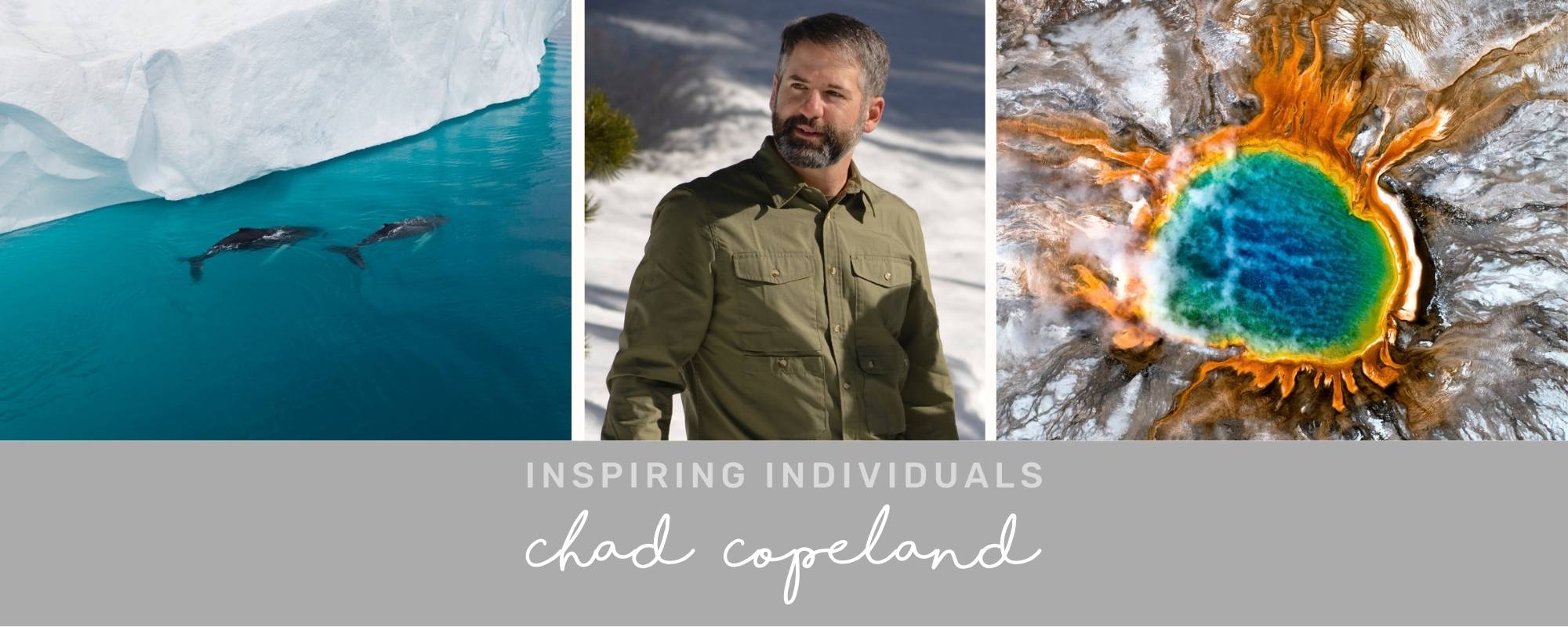 Posted on
---
A leader and an inspiration, both in the field of film and photography, and as an advocate for Planet Earth, Chad Copeland is a pioneer drone pilot and an ultra-adventurer with a portfolio to be admired.
It is an honour to meet and follow the journeys of individuals who turn their passion into a lifestyle for good, and Chad's life behind the lens has led the entire film community into the deepest and most remote crevices of the world.
His greatest inspiration and motivation are the intricacies of life itself - life under the sea, life in the firepit of ancient volcanoes, life in the crevasses of glaciers, and life in the clouds.
He takes adventure undeniably seriously and stays true to his innate nature as an explorer.
Learn more about his incredible life in our interview with him on our Inspiring Individuals blog. 
Tell us about yourself
My heart and mind are as wild as the creatures I seek. Exploration and discovery for me is a deep-rooted compulsion.
When I'm out there connecting with animals and culture, I feel alive. I belong in the wild.
Accepted as an honorary member of a tribe in the Kingdom of Tonga to stones of ancient castles turned to sand falling through my fingers in Scotland, adventure has become the fabric of who I am.
I travel the world meeting creatures in their natural habitat in hopes of learning more about them and ultimately more about our world. 
Can you tell us a little bit about your professional background
Lately, I've been hosting a series that takes people on adventure through rugged wild places with photography being the center concept.
However, I began my career making photos from the air while I was in the military. After 10 years, I left the service and used my aviation background as a pilot to develop drone technology before flying cameras was known.
My expertise as an aerial photographer caught the attention of National Geographic editors and I began my journey as a professional photographer.
Years later, Microsoft hired me for a global visual rebrand that circumnavigated the planet whilst making images that now live on over  8 billion computers and devices around the world.
From the tallest peaks to the deepest canyons, I've had the honor of telling ethereal stories on every continent.
What or who in your life influenced you to pursue this route
Life is happening on planet earth. Every day, every moment, something magic is happening and as a photographer, I love the ever-evolving challenge of where to put a camera and freeze a moment.
A number of years ago, I was hired as a cinematographer for a surfing film at a secret spot in the Pacific Ocean. Day in and day out, I watched my RED Digital camera burning mag after mag and felt a great anxiety as I watched precious moments pass by. I needed to be making still photos. By the end of the project, the Producer had asked me if we had enough video to create a film because he saw me holding my still camera so much. I told him there were too many important moments passing by.
If you hang a print on a wall, it becomes your spirit guide. That moment is frozen in time and never changes but you do. Every time you look at the image, you discover something about yourself if  you're paying attention.
When I look at my image of the endangered owl known to locals of the Hawaiian Islands as the Pueo, I find my reflection in its eyes.
I've always listened to the essence of the world and when I realized that a single image has the incredible power to give nature a voice, it gave me purpose and empowers my  journey.
Videos make the news, still images make history.

Currently, what is the inspiration that keeps you motivated and passionate about your work
I learn something new about wildlife through my process of making photos. 
Presenting peaceful energy to animals often results in peaceful interaction and  closes the distance between them and your lens.
I can't say that I'm a wild  whisperer, but I have found acceptance in the wild. My rule is to return home a more evolved person than when I left.
I've enjoyed a lifetime of wild moments. One of my favorites was a rare encounter with a female humpback and her calf. Imagine yourself suspended 1 atm (10 meters) below the surface of the ocean in cobalt blue water radiating around you. A mother resting peacefully less than 1 meter away and her week-old calf carving through the water with its new pectoral fins, full of energy.  Then, a gentle movement from the mother's tail and both rise to the surface for air.  Her behavior tells you she accepts you and, in some way, you sense she's communicating with you and you her.
The interaction left me in tears as she and her calf began their 4000-kilometer journey back to Antarctica.
Whales only eat while during a 6-month span while in polar regions and only male humpbacks sing. One song will make its way around the entire earth and transfer from male to male inspiring community and mating rituals.
These unique encounters keep me motivated for more!
What is the most impactful aspect of your work
People change behaviors from a single idea and when the right image is released to the world, many spread the message from it.
Impact is inspired through discovery, teamwork and sharing. 
Where is your favorite place you've traveled and why
As a global citizen, I see our earth as one place teaming with life and experiences that will change you if you open up to it.
I love peaceful spaces with hidden secrets.
Greenland is one of those places… In contrast, when you consider the vast landscape of wild Africa, constantly breathing and humming for survival. It's such a special place, I hope to return soon.
Tell us about your strangest experience while traveling
When you leave for an expedition you have to take in account that something is  going to go wrong. In fact, I have a rule that if nothing has gone wrong then you're probably not doing it right. There's a lot to learn when you have goals. Trouble is found on every path and we fail our way to success. Shoot, move communicate, repeat until you have reached your goal.
Years ago, I flew to Beijing from Seattle to meet up with my National Geographic team for a 6-week assignment. The Chinese government pulled me aside to question me about my batteries. This was before there were drones and they had never seen the likes of one. Apparently, they thought it looked like spy equipment.
Finally, after 12 hours of interrogation I was released and given one battery flight pack to work with for the entire expedition. What followed was countless hours searching for unregulated power in the most rural locations across China.
What came from that trip was a pot of visual gold and a two-page spread in National Geographic Magazine.
I followed my number one rule "Always Go" and it paid off.

Why do you feel that wildlife conservation is important
Our planet needs to re-wild.
Conservation is the idea of recognizing how humans have impacted micro ecosystems and the cornerstone of effecting real change. We need to interface with the world instead of damaging it through over population of humans, expanding cities and a sufocating carbon footprint.
When we hear "change is never easy, change hurts" we immediately think of ourselves and not what we've done to the voiceless wild.
The only thing separating people from not having enough is the bravery of letting go of material items and damaging practices allowing nature to fill the gap. 
There's a beautiful message through every wrist band intentionally created by Wild in Africa. The two that stand out the most to me because of personal experiences  are the Wild Tomorrow Fund Tiger Eye and the Nkombe Rhino.
A little research behind  the meaning of the bands elevates their incredible stories to the center of my heart.
What is your favorite wild African animal
There are so many unique African animals. When I was a child, I would stay awake at night thinking about African elephants.
Today, their numbers are down more than 60% with over 100 being killed every day.
Considered one of the world's most intelligent and sensitive animals, they hold a very special place in my heart and deserve protection and respected.

Could you share the story behind your favourite photograph you've taken?
Endemic to the islands of Hawaii, a sub species of the short-eared owl is in grave peril.
Studies have found that few of these endangered creatures exist and seeing  them is just as rare. 1000 meters (roughly 3000 feet) above the ocean, my assistant an I walked the narrow Nā Pali ridgeline. Clouds had just cleared as the sun hung low in the sky and as I looked across to the other ridge underscored by Jurassic lines were beautiful waterfalls.
I raised my camera to make a photo when, out of the corner of my eye, I saw something unusual flying through. Using a manual lens, I racked my focus to infinity opened up my aperture and increased my shutter speed. For just a moment, the Pueo flew through the scene and in two of those 10 images I shot the bird looked right at me.
The Pueo is one of the rarest "aumakua" or spirit  animals in Hawaiian culture and a moment I'll never forget.
Do you have a favorite place or subject to photograph?
I've always been an air, land and sea kind of guy but I believe that the majority of  my favorite images have been made from above.
Seeing the world from a higher place offers a lot of perspective. 
Can you share your future plans and hopes for yourself
My future plans are to host a series that would allow me to share the voice of wild creatures across Africa and offer moments from their lives to the world in hopes of affecting change.
New products and discounts first!
RETAIL STUDIO
The Farm House, R527
Hoedspruit LP South Africa
. . . . . . . . .
HEAD OFFICE
65/2 Arbor Ave, Robina
QLD 4226 Australia
. . . . . . . . .
contact@wildinafrica.store