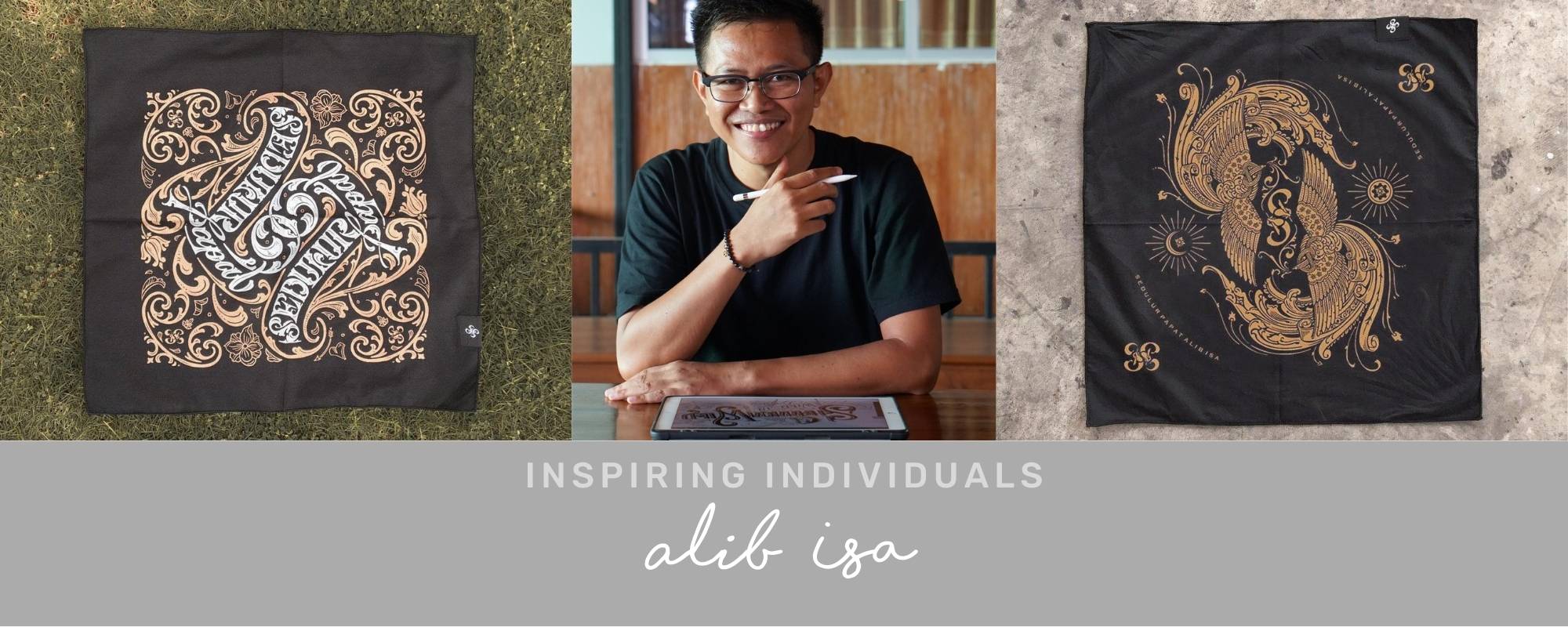 Posted on
---
The art of words, the shape of their letters, and the impact of the message they deliver; there is beauty in the intricate and meticulous creation of letter art and Alib Isa is a master.
This Indonesian artist draws and designs original works that transform simple messages into prints you want to display on your walls, your clothing, and your skin. Personalised and perfected by passion, Alib's designs are unique and expertly scripted.
His quiet appreciation for nature and the creatures that live in our wild places drive his support for conservation.
Take a look at his art and support a small business!
Tell us about yourself
My name is Alib Isa Abdullah Shomad, I am 37 years old, and a father of three. I am from Indonesia and I am a lettering artist.
Can you tell us a little bit about your professional background
I like to draw and design, and I've been in this profession since 2010, building my own business called Kacamata Studio.
What or who in your life influenced you to pursue this route
There are so many lettering artists and calligraphers who have inspired me and influenced my work. David Adrian Smith, Erwin Indrawan, and our lettering community, Belajar Menulis Indonesia @belmen.id
Currently, what is the inspiration that keeps you motivated and passionate about your work
I really like to draw letters and ornaments; they are my motivation. I always want to know how to improve my skill, and allow myself to meet a lot of figures in this journey. It has always excited me.
What is the most impactful aspect of your work
I think it's the message that we can deliver through artwork, and how I can communicate that message on social media and in my life.
Where is your favorite place you've traveled and why
I have not traveled a lot for a number of reasons, but in 2003 I spent a year on a small island called Kangean north of Bali. That place is awesome.
Tell us about your strangest experience while traveling
When I was living on Kangean, I heard a lot of spooky stories about the mortal combat called carok, traditional duelling using a madura sword. What made the scary stories worse was that I stayed near a small clinic without electricity. But that place also had a lot of adventure, and I had my first horse riding lesson there.
Why do you feel that wildlife conservation is important
It is important to protect animals and try and prevent the loss of endangered species.
What is your favorite Wild in Africa bracelet style and why
The Shannon Wild stack is awesome, because it has Shannon Wild's name on it! I love her photos and how passionate she really is about her photography.
Are there any animals you feel especially passionate about
I like white wolves. They are scary but good looking!
Can you share your future plans and hopes for yourself
I just want things to go back to normal in the near future - Covid-19 has changed a lot of things.
I want to travel, I want to work normally again, and I hope to grow my studio, develope some crews, and get some adventures together.
New products and discounts first!
RETAIL STUDIO
The Farm House, R527
Hoedspruit LP South Africa
. . . . . . . . .
HEAD OFFICE
65/2 Arbor Ave, Robina
QLD 4226 Australia
. . . . . . . . .
contact@wildinafrica.store