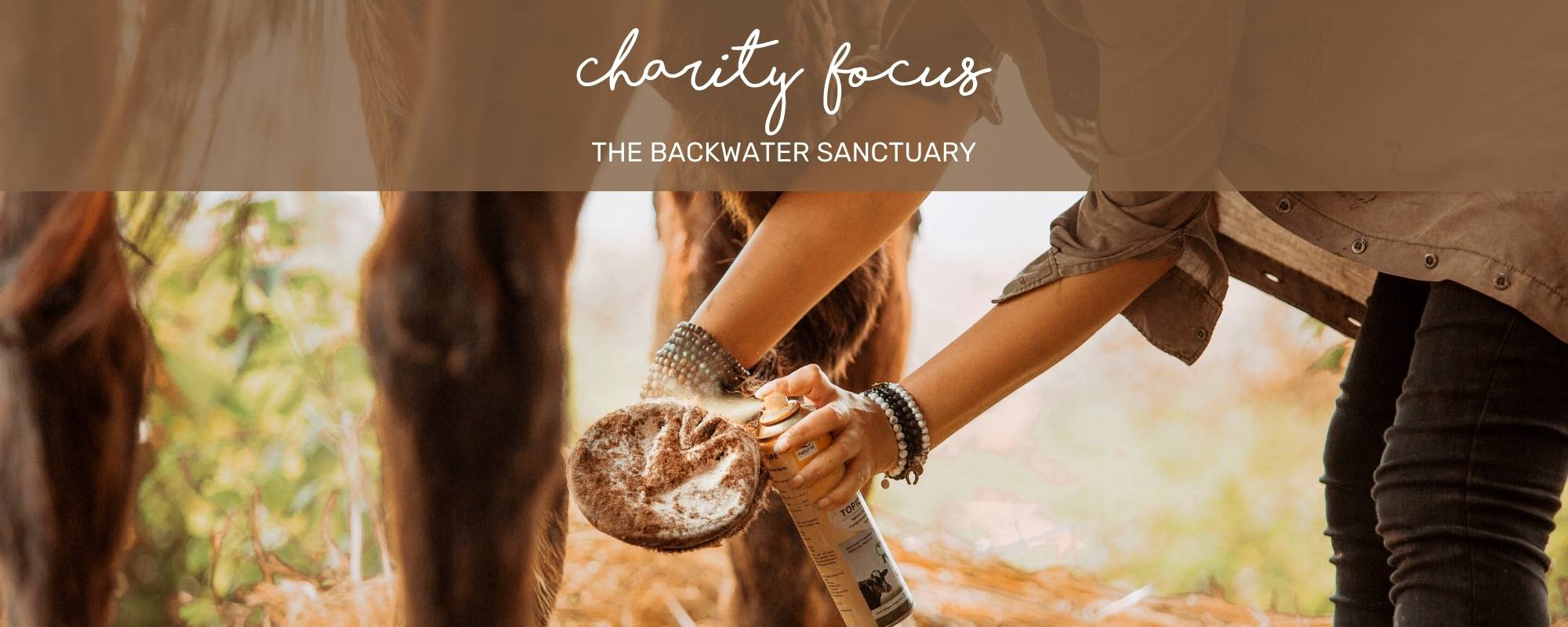 Posted on
---
Heroes Creating Happiness for Hooved Friends
What are equine animals? They're not as complicated as they sound! Equines are horses and other members of the same family, like donkeys and ponies. We're talking about them today because 1 in 4 cases of animal abuse involve horses or other livestock, and there's an organization ready to change this: The Backwater Sanctuary.
Continue reading to learn more about the Backwater Sanctuary, an amazing organization that rescues equines in need of a fresh start!
"Have you ever heard of the Backwater Sanctuary? If not, today you'll learn about their amazing, essential equine rescue team!"

What is the Backwater Sanctuary?
As stated previously, the Backwater Sanctuary is an organization that provides a home for equines in need. Whether these animals have been abused or abandoned, the Backwater Sanctuary  provides a safe place for equines to live a peaceful, healthy life. 
Many of the animals who arrive at the Backwater Sanctuary haven't lived easy lives. Some of them were found wandering, abandoned and injured. Others were competition animals, who were seen as worthless when they could no longer compete. At Backwater, every animal is valued, loved and protected.
Who Created It?
The Backwater Sanctuary was created by current owner Zoha Jung, who personally takes part in the rehabilitation and treatment of each animal taken in. The organization officially began in 2018, and it was inspired by Zoha's intense love for animals and lifelong experience interacting with equines. 
Zoha is joined by various other supporters, employees, veterinarians, donors and sponsors who make the mission possible. Although the organization was funded and created through Zoha's own personal funds, the Backwater Sanctuary has many devoted sponsors, and they even allow sponsors to directly fund rescued animals. If you're interested in sponsoring an animal at the Backwater Sanctuary, click here. 
How Do They Help Horses?
The main way the Backwater Sanctuary aids equines is by giving them a safe place to live and, eventually, thrive. Each animal is fed specific, specially formulated diets, given top-notch medical care and groomed regularly. 
In addition to normal treatments and healing methods, the Backwater Sanctuary also employees natural, alternative treatments for their animals. These alternative therapies include craniosacral therapy, which helps align horses body, as well as homeopathy, essential oils and Reiki therapy. Read more about these alternative therapies here.
Overall, this organization is doing excellent work to support the healing and rehabilitation of equine animals, and we are so proud to support and partner with them! Check back in soon to learn more about the Backwater Sanctuary!
You can also get involved and show your support to the Backwater Sanctuary by purchasing a Wild In Africa Backwater Sanctuary Bracelet.
With each purchase of the Backwater Sanctuary bracelets, not only will you receive a meaningful and beautiful piece of jewelry, but you will also play an important role in supporting the rehabilitation of equine animals.
This obsidian bracelet is made from cooled lava and is thought to fend off negativity.
50% of the purchase price is donated directly to the Backwater Sanctuary!
Written by Taylor Plate
Don't miss out on future posts so be sure to sign up for our Wild Tribe (scroll below to sign up).
New products and discounts first!
RETAIL STUDIO
The Farm House, R527
Hoedspruit LP South Africa
. . . . . . . . .
HEAD OFFICE
65/2 Arbor Ave, Robina
QLD 4226 Australia
. . . . . . . . .
contact@wildinafrica.store