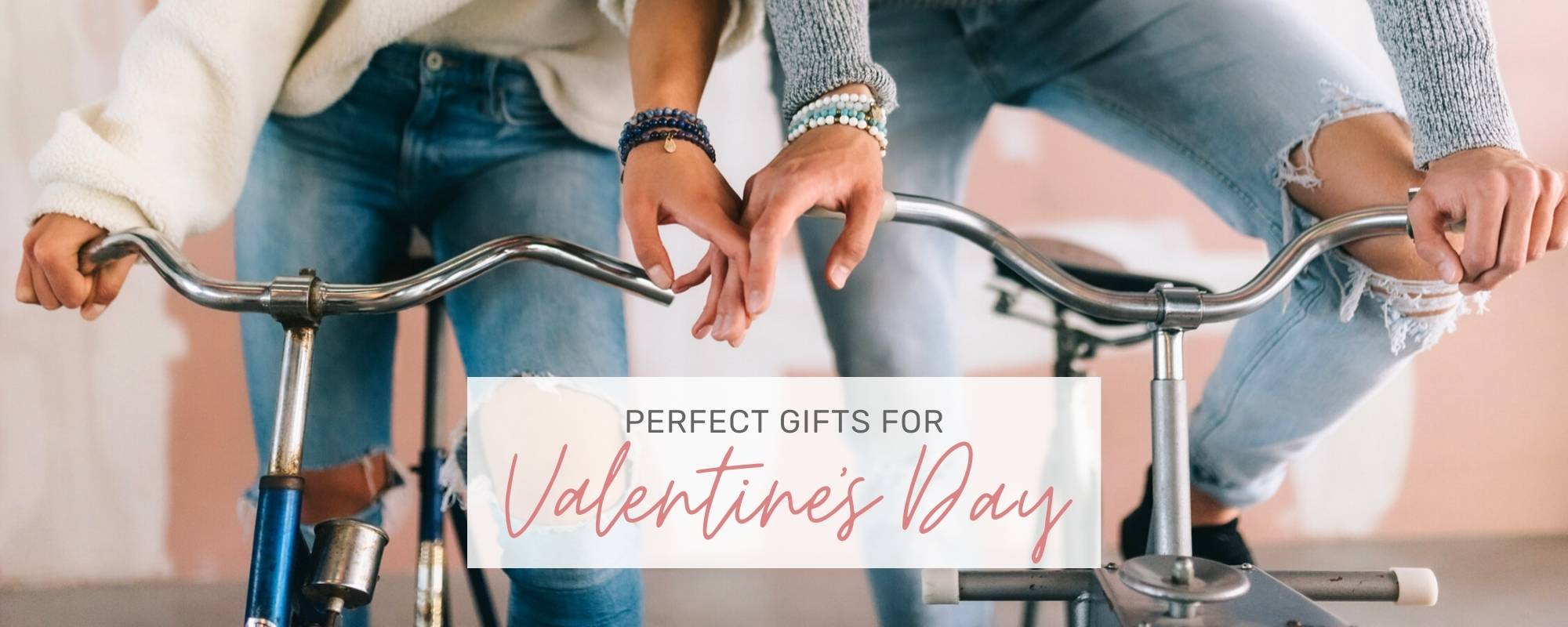 Posted on
---
We're rebooting 2021 with a month of LOVE!

 

From the 14th of January to the 14th of February, ALL our beaded bracelets are going on SALE! Let's be honest, we all deserve a treat, plus, we want to help you spread love this Valentine's Day. 
15% OFF store-wide from 14 January to 14 February to celebrate!
USE CODE:  VD15
We've got a bunch of amazing charity bracelets that support wildlife conservation, and beaded bracelet stacks specially created by our founder, Shannon Wild. All of our bracelets are made using high quality and sustainably sourced semi-precious gemstones and natural materials, like lava rock and wood. Plus, they are the perfect gift for both men and women. 
Jewellery-wearing men (we see you!) love our neutral tones, like tiger's eye with brass and obsidian, or our black and white stacks. Some of our styles that are most popular with men are the Earth Stack, the Invictus K9 charity bracelet, our Indonesian lava designs, and the Little Five Stack, which is a much-loved classic.
So, while we're often selling to women who buy for other women in their lives, we're here to tell you that Valentine's Day is the perfect opportunity for you to surprise a special man in your life too.
Our brand-new CHAKRA STACK has just been released and we're including it in the sale! 
Purchase this incredible stack of six bracelets for your Valentine and save over $30. We're so excited about this new release because it focuses on the powerful energy these gemstones possess. Each elasticated bracelet represents one of the seven chakras – crown, third eye, throat, heart, solar plexus, sacral, and root. Shannon's passion for self-care led her to explore the power of energy as a source of healing, and now she has carefully designed this stack as not only a beautiful collection of complementary stones, but as energetically charged jewellery that speaks to your chakras! 
Every year, Valentine's Day encourages buying gimmicky items that are not destined to last. Just like Christmas, Thanksgiving, and other annual celebrations, we try and promote the purchasing of plastic alternatives and longer-lasting, reusables to celebrate the occasion. We have worked to create an eco-friendly product that is both high quality and sustainably sourced and packaged, so when you buy from our collection, you won't be contributing to the overconsumption associated with an occasion like Valentine's Day. So, thank you! 
Feel good about your Wild in Africa purchase knowing that you're supporting a small business with wildlife conservation at its core. While our entire jewellery range is on sale, we are still committed to donating 50% of the purchase price of our charity bracelets to the organisations they represent. When you buy one of our charity bracelets, you are directly helping incredible people do the work of heroes.
What better way to spoil your loved one than with a gift that gives back? This is one way you can #WearYourKarma and be a part of saving endangered species and threatened habitats in Africa and in the oceans. Take that, 2021!

 
Written by Chloe Cooper

Don't miss out on future posts so be sure to sign up for our Wild Tribe (scroll below to sign up).
New products and discounts first!
RETAIL STUDIO
The Farm House, R527
Hoedspruit LP South Africa
. . . . . . . . .
HEAD OFFICE
65/2 Arbor Ave, Robina
QLD 4226 Australia
. . . . . . . . .
contact@wildinafrica.store